NEW

Economy & Corrections
Stimulus Package Response
One Corrections.com user speaks out about the recession and makes some really interesting points. Tell us your thoughts and we'll post them here next week.
...As for spending the country out of recession, as much as many do not like the idea, it does work. When the idea was first applied, unemployment was at 25%. Two years later it was just under 15%. That is a 10% decline; the current unemployment rate is less than that (8.1% as of 4/1/09). Congress and the President panicked at the size of the deficits and reduced spending sending unemployment and the GDP in the wrong directions again...
full post
featured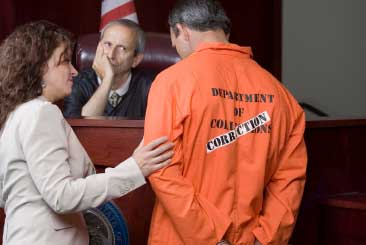 Non- Emergency Transportation of Inmates
by William Sturgeon
Over the past several months there have been some news stories about prisoner escapes during transports. In this month's session we are going to examine the Non- Emergency Transportation of inmates techniques and precautions. The transportation of inmates is a very dangerous task and every effort should be made to reduce the risks of the transporting officers getting hurt, the inmate (s) escaping, and protection of the general public. Any inmate, regardless of custody level, should be considered an ESCAPE RISK and therefore, all security policies and procedures must be followed.
full story
featured job
Correctional Officer - Nebraska
Do you want to make a difference? Join our innovative agency that is seeking key individuals to serve and protect the public by providing control, humane care and habilitation services for inmates. full job posting
ahead
May: Wellness
June: Minority issues
July: Women in Corrections
blogosphere
Want to Start A Female Correctional Support Group
usmccowgirl: I want to start a female correctional support group where I work. I have spoken with our Captain and he is in favor of it but I have to come up with a proposal. Any ideas of how I can get this started? Are there any out there that I can talk to to get mine started? full thread
biz news
calendar

interactive pocket calendar
quote of the week
"The best way to predict the future is to invent it."
- Alan Kay (computer scientist)