Become a fan of Corrections.com on Facebook!
Tell It Like It Is

The Road to Safety: Line Level Leadership
by Joe Bouchard and Tracy E. Barnhart
At the risk of sounding dramatic, corrections can sometimes be a lonely place. There are times during the course of our duties that feel stranded by the circumstances. On occasion, we don't know where to turn when we are faced with a new scenario...
full story
blogosphere
Use of Force
CHZBURGR: If the situation has escalated to the point of being hands on then it has escalated to the point of tazers and or OC...
full thread
featured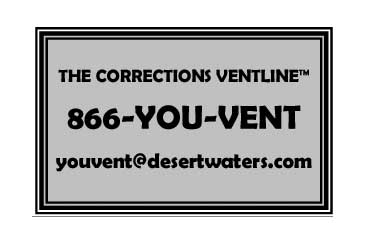 Stopping Correctional Worker Suicide
By Caterina Spinaris Tudor, Ph.D.
The corrections field is plagued with the scourge of staff suicide. Recent statistics from New Jersey show that corrections officers commit suicide at over double the rates of police officers and the general population.
full story
ahead
March: Security/Technology - New technology, conferences, managing gangs/threat groups
featured job
Deputy Executive Director for Programs & Professional Services – Illinois – Cook County
Cook County is currently looking for a Deputy Executive Director for Programs and Professional Services to work in the JTDC Facility. Under the direction of the Executive Director, the Deputy is responsible for formulating, organizing, and directing the overall support service functions for the facility's ten (10) operating Centers as well as staff from all ancillary divisions.
full job posting
biz news
quote of the week
"Associate with men of good quality, if you esteem your own reputation; for it is better to be alone than in bad company."
- George Washington