Become a fan of Corrections.com on Facebook!
Tell It Like It Is

Hot Tip - "Gangster Disciple"
by Tracy E. Barnhart
The history of the Gangster Disciples begins with Larry Hoover, who entered and rose through the ranks of the Chicago gang circuit in the 1960's and took control of the gang in 1974 by leading a series of increasingly powerful alliances. He ended up running the gang from prison until he was transferred to a higher security wing in the 1990s...
full story
blogosphere
External Peer Review
bwessel: Hello, Our facility is preparing for an ACA Accreditation inspection and one of the standards requires an external peer review of our physicians at least every 2 years. I am wondering how other facilities meet this standard...
full thread
featured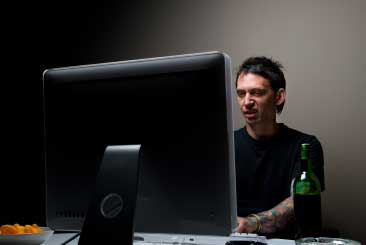 A High Tech Synergy to Managing the Cyber-sex Offender
By Art Bowker, Cybercrime Specialist, U.S. Pretrial and Probation Office, Ohio Northern
It is no secret that convicted sex offenders are increasing being found online, particularly on social networking sites. In February of 2009, MySpace had reportedly removed 90,000 sex offenders from its site since 2007.
full story
ahead
March: Security/Technology - New technology, conferences, managing gangs/threat groups
featured job
Deputy Executive Director for Resident Daily Life – Illinois – Cook County
Cook County is currently looking for a Deputy Executive Director for Resident Daily Life to work in the JTDC Facility. This position is located in Chicago, IL. Under the direction of the Executive Director, the Deputy Executive Director is responsible for formulating, organizing and directing the overall functions of the JTDC's ten (10) operating Centers. The Deputy will manage approximately ten (10) Team Leaders, thirty (30) Assistant Team Leaders and approximately three-hundred (300) direct care staff. To express interest or request additional information on this opportunity, please contact Carrie Hegenderfer at 312-433-7116 or carrie.hegenderfer@personified.com. To view a more detailed position description, please visit http://www.corrections.com/jobs/5012.
full job posting
biz news
quote of the week
" A faithful friend is a strong defense; And he that hath found him hath found a treasure."
- Louisa May Alcott