blogosphere
Cultural diversity
>>

what's your opinion?
SJ: i'm looking for any info or powerpoint presentations in ref to cultural diversity. this will be used for a yearly in service training class of new and veteran correction officers.

Any info provided is greatly appreciated.
full thread
featured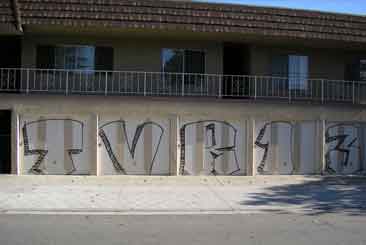 Sureno Gang Graffiti: Understanding the Art of War
By Andrew Eways, International Gang Investigators Association: Executive Secretary

Over the years, gang graffiti has been repeatedly called the newspaper of the street. This label, however, is an oversimplification. Gang graffiti is not only the newspaper of the street, but also the history books, the boundary markings, the billboards, and the public safety bulletins. Gang graffiti is intended to serve many purposes. The most significant of these are to mark territorial boundaries, to warn or threaten rivals, to show size and strength, and to memorialize deceased members. Even so, the so-called newspaper of the street is largely written in a different language; a language intended for gang members to understand. As for the rest of us that move find ourselves moving in their circles and operating in their territories, learning the basics of gang graffiti can prove useful. Since each gang can have its own unique symbolism and items of significance, this chapter will concentrate on the basics of gang graffiti as it relates to Sureno gangs in particular. full story

Also this week:

ahead
featured job
Counselor – Associate Director, Spectrum Health Systems Inc. - Massachusetts
Spectrum Health Systems is looking for an Associate Director to oversee correctional treatment programs thruout the state. The Associate Director provides leadership and clinical direction in the development, delivery, and evaluation of assigned programs under the direct supervision of the State Director. This position ensures consistency and adherence to all Department of Corrections and Spectrum policies and practices. The Associate Director provides supervision and training to assigned Supervisors and staff and works cooperatively with Spectrum management and the Dept. of Correction Program Services and Reentry Division.
full job posting
events
biz news
quote of the week
- Congratulations New York Giants!
"Perfection is not attainable, but if we chase perfection we can catch excellence. "
- Vince Lombardi