blogosphere
Ptsd and family members
>>

what's your opinion?
commander: I recently retired from Corrections. I was involved in a Riot, numerous hostage situations and an unknown amount of assaults. I was working the day a teacher was murdered and I saw her being taken out on a gurney. I was working the day an Officer, who was a hostage during the riot was murdered. I too, suffer from PTSD. I retired with 30 years in and I feel so different now. I did go to counseling through EAP in Ohio while I was still working. You are correct, know one knows what the employee or his/her family go through. We walked the silent beat. Society would rather not know what goes on inside our heads or what our families have to endure. Please understand, sometimes we don't want to talk about it. I started lifting weights again and it really helps. I hunt a lot and that helps too. I guess finding a hobby with no relation at all to my work is what helped the most.
full thread
featured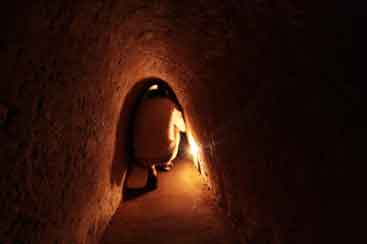 Checking for Tunnels
By William Sturgeon

When was the last time you checked for tunnels leading to and from your facility? This may appear to be an extreme question to people in many industrialized nations, and it may well be. Yet, if I were still involved in the day-to-day security operations of a correctional facility, I would certainly be conducting security checks for tunnels, and here is why.

Throughout the world, from the Middle East to the Mexican Border, tunnels have become a method of moving contraband and people. full story

Also this week:

ahead
featured degree
Advocate for Social Change by Earning an MSW
If you already work in social services or are considering this field as a career, you owe it to yourself to maximize your educational opportunities and potential earning power with a Master of Social Work degree. According to the National Association of Social Workers Salary Survey, those with an MSW degree can earn $15,000 more than their colleagues with only a bachelor's degree.

The MSW@USC offers the same great education online that students receive on-campus taught by faculty who are the best in their fields.
Once you complete your degree, you can look forward to a variety of career opportunities in child welfare, mental health, military settings and much more - including starting your own practice!


Click here to learn more about the MSW@USC:

We look forward to welcoming you to the Trojan Family!
Sincerely,

Julian Farmer
Director of Virtual Academic Center Recruiting
University of Southern California School of Social Work
877.700.4679
featured job
Superintendent – Chittenden Regional Correctional Facility - State of Vermont Department of Corrections
The Vermont Department of Corrections seeks a motivated self-starter experienced in working with incarcerated women in both a supervisory and management capacity, to oversee all functions of the Chittenden Regional Correctional Facility in South Burlington, Vermont. The Chittenden Regional Correctional Facility is a 180 bed progressive correctional facility for women. The facility houses pre-trial and sentenced women for all custody levels including a special unit for women with mental health needs. The staff provides services through an interdisciplinary team approach to meet the needs of the inmates and keep the community safe.

The ideal candidate will have comprehensive experience with release planning, risk reduction and community reentry.
full job posting
events
biz news
quote of the week

"You must do the thing you think you cannot do."
- Eleanor Roosevelt