blogosphere
Inmate entitlement!?!?
>>

what's your opinion?
Slim:
As a supervisor, I have made it my personal policy to never reward an inmate for bad behavior. I would never give an inmate a phone call for vandalizing a sprinkler or anything else. I do know however that some supervisors would rather give in to an inmate then have to do the paperwork. I hate the paperwork too, but I've found that once inmates relalize you won't give in, they stop trying. That in itself usually keeps me doing less paperwork than the other supervisors. full thread
featured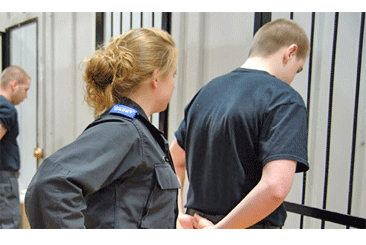 The 3 Essential Correctional Skills
Judith A. Yates
The three most important skills in corrections are report writing, the ability to 'read' nonverbal communication, and the ability to communicate. Sounds simple? It takes years of training, watching, and the ability to want to learn.

Report writing is essencial. We have become far to reliant on electronic means for spell check and grammar. You should have noticed there are already two spelling and grammar errors here: 'essencial' and 'to,' easy to overlook but sloppy in a report. A report can lose a case in court, can have your statement thrown out of the Lieutenant's basket, or can make your entire department appear disorganized, ignorant, and incompetent. full story

Also this week:

ahead
featured job
Lieutenant - Rolling Plains Detention Center - Texas
Reports to the Chief of Security. Directly supervises sergeants. Responsible for the custody and discipline of inmates in the facility. Serve as a shift supervisor. Supervise, protect, instruct, train, counsel and evaluate assigned employees and inmates; schedule employees' and inmates' work and off-duty time; assist in formulating security and work procedure. Supervise and provide custody and security of inmates including observation of inmates and inmates assigned to work duty.
full job posting
events
biz news
quote of the week

" You must do the thing you think you cannot do."
- Eleanor Roosevelt