blogosphere
The Concerns of Inmates
>>

what's your opinion?
BOPGIRL:
I agree that inmates are changing. I have worked corrections for 17 years and there are more young punks than there used to be. Or maybe I am just getting older. The one thing that doesn't change is the way I handle them. Firm Fair and consistant. The job of corrections is not to make an inmate understand that he is wrong. It is to consistantly make him understand that there is a consequence for an incorrect behavior every time... full thread
featured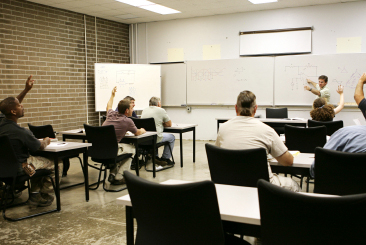 For The Trainers:
By Bryan Avila, TDCJ Correctional Training Instructor - Sergeant of Correctional Officers
As a trainer, there are many things we need to do prior to any class. These may include reviewing all the course material, making sure we have all the training aids and all the good stuff that we already do. We strive to do the best that we can in the classroom or whatever environment we will be training in that day.

My question to you is: Is that all you do? When was the last time YOU increased your knowledgebase? When was the last time you took care of yourself? full story

Also this week:

ahead
EKU Online: Your goals. Your terms.
Named one of the Top 10 Online Colleges in the Nation, Eastern Kentucky University and EKU Online offer accredited 100% online programs:
Choose the EKU College of Justice and Safety, one of the foremost institutions in the field, which has prepared students for success for more than 40 years.

Take the same classes from the same professors as on-campus students and earn the same degree.

Study with faculty who have professional experience, as well as academic credentials.

There are multiple start dates for your convenience. Learn more.


featured job
Jail Manager - City of Olympia - Washington
About the Position The Corrections Services program is responsible for ensuring that the City meets its legal mandate to provide for the incarceration of misdemeanor offenders. The City operates a 28-bed, short-term municipal jail and contracts with other providers for longer-term service. The Department currently contracts with Lewis County to house inmates who are sentenced to more than thirty days in custody. The Corrections Services group works closely with the Olympia Municipal Court and Olympia Probation Department to assure that alternatives to incarceration are appropriately used. The Corrections Officers are members of Teamsters Local 252. The Jail Manager is an independent exempt position.

Ideal Candidate Profile...
full job posting
events
biz news
quote of the week

" The quality of a person's life is in direct proportion to their commitment to excellence."
- Vince Lombardi