blogosphere
Correctional Staff and Their Unwillingness to Learn Defensive Tactics.
>>

what's your opinion?
DT Instructor:
I'm simply amazed by the lack of training or willingness to learn defensive/offensive tactics by the staff in my department. Our job is one that requires us to use force in certain situations, if that situation does occur then why wouldn't you want to be as quick and efficient as possible!?!? Not saying you've gotta be the next ultimate fighter, but hey why not train like it?

Believe me I have a lot more to say on this topic, just wanted to get this started and see where evryone is at on this. full thread
featured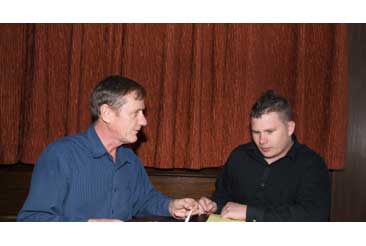 A Correctional Officer's Nightmare: Inmate Informants
By Carl ToersBijns, Deputy Warden of Administration & Operations (Retired)
Correctional Officers remain our last line of defense within the criminal justice system. They stand watch over our convicted felons and do a job nobody else wants to do or contemplate applying for because of the potential dangers and the environment they would be working in. working inside the penitentiary is not a glamorous job to say the least. In fact, it is sometimes one of the worst jobs one could think of taking but with the economy and the jobless rate climbing, this remains to be a premier choice for returning war veterans, college grads, those laid off and those looking to get into law enforcement.

Part of this job includes ethical and competent performance standards. There is no room for error and every decision can be fatal or flawed where someone either gets hurt or worse, killed. full story

Also this week:

ahead
EKU Online: Your goals. Your terms.
Named one of the Top 10 Online Colleges in the Nation, Eastern Kentucky University and EKU Online offer accredited 100% online programs:
Choose the EKU College of Justice and Safety, one of the foremost institutions in the field, which has prepared students for success for more than 40 years.

Take the same classes from the same professors as on-campus students and earn the same degree.

Study with faculty who have professional experience, as well as academic credentials.

There are multiple start dates for your convenience. Learn more.


featured job
Manager, Correctional Facility (Major) - Orange County Corrections Department - Florida
Minimum Qualifications:
Bachelor's degree in Criminal Justice/Public Administration or a related field and five years of full time custody and control experience in a Correctional Facility to include four years in a management capacity at the level of Captain or equivalent.

Must possess and maintain a State of Florida Class "E" driver's license.

Must possess and maintain State of Florida Correctional Officer certification within first year of employment.

Preferences:
Master's degree from an accredited institution in Criminal Justice/Public Administration or a related field

Management experience in a large Correctional System with 800 or more staff members ...
full job posting
events
biz news
quote of the week

" It is that little bit of insanity that keeps us all sane."
- Kevin Cunningham