"You Animal!" – ACA recap
By Joe Bouchard
Published: 08/24/2009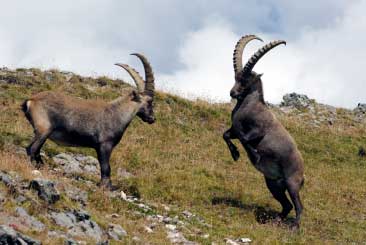 Most of us find it easier to complain than to solve. In other words, identifying problems are often easier than finding solutions. This is not some scathing admonishment of humanity. Rather, it is an observation of how we tend to think.

On Sunday, August 9, 2009, while at ACA in Nashville, I presented a module on division between staff in our vocation. "You Animal! An anthropomorphic look at staff relations in corrections" is the full title. This hour and a half presentation included: definition of staff division, assessing the damage done by division, recognizing staff division in corrections, applying the animal template, and fostering staff unity.

The working definition of staff division that we used is "…discord among corrections staff members. It is any action or inaction that disrupts the overall feeling of unity in a correctional facility." This is from – Division in the Ranks: A Corrections Guide to Staff Unity from LRP Publications 2002.

After I unveiled the definition, I suggested that we make this more tangible with examples. The exercise is called "The dysfunctional 13". It is a quick and effective manner to gather data about negative behaviors on and off work. I asked participants to name a negative behavior, but not to name names. After all, we are attacking unhealthy concepts, not individuals. In a short manner, these are the problems that they came up with.

Lying
Lack of responsibility
Incompetence
Gossiping, especially in front of inmates
Calling in sick when not ill
Bringing personal problems to work
Lack of integrity
Use of foul language
Whining or complaining
Consistently inconsistent
Lack of leadership
Apathy
Alcoholism


The group was lively, and exceeded the suggested thirteen negative traits. Of course, the limit was thirteen. Thirteen was selected as a number because of the unlucky connotation. Also, it is a manageable, yet meaningful amount – enough to work with yet not too much to overwhelm the reader.

It is no surprise that corrections is a sometimes negative vocation. In light of that, I suggested that a list of thirteen positive traits might be less easy to compile. The group, contrary to my experience with this exercise, developed a list of positive behaviors quickly. They follow:

Generous
Trustworthy
Good work ethic
Supportive
Honesty
Integrity
Optimistic
Passionate about job
Creative
Thrifty
Enthusiastic
Team player
Capable of sharing knowledge

This was more than compilation of two lists. It is also a snap shot of how an active group of corrections staff responded on a Sunday afternoon. From this I learned that solutions can come quickly at times. In fact, in a group setting with some motivated individuals, solutions can come faster than the identification of problem areas. I saw this recently, and it was a beautiful thing.

"You Animal!" Is just one component of the day long module "Recognizing and repairing staff division in corrections." This is a training session filled with many classroom exercises and solutions for the worksite vexed by disunity. For more information on this program, please contact me at bouchard@up.net

Visit the Joe Bouchard page
---