Maintaining Balance to Protect Against Correctional Stress
By Barbara S. Granner, NCCHC
Published: 06/26/2017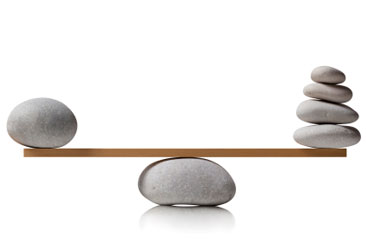 Are you a human being, or a human doing?

That question was at the heart of a workshop on stress, mindfulness and work–life balance presented at the Spring Conference on Correctional Health Care by Dana Neitlich, MSW, program executive director of the Massachusetts Partnership for Correctional Health (MPCH).

Neitlich defines doing your life as driving to work, going to meetings, mindlessly exercising – essentially, checking things off a list. In contrast, being in your life involves connecting with your values, not getting hooked into what is unimportant, saying "no" and "yes" deliberately … and preferably breathing deeply.

Sound like some kind of new-age mumbo-jumbo? Neitlich believes that, in fact, that kind of mindfulness is essential to combating stress and maintaining a healthy work–life balance. That is especially true for those who work in the correctional environment, where stress and exposure to trauma are real occupational hazards. She defines correctional stress as "what happens to us both physically and emotionally when our work regularly exposes us to traumatic stories and/or distressing situations. It is a serious occupational risk for all correctional professionals who must control their reaction to trauma every day," she says.

You may be suffering the effects if you feel burned-out, overwhelmed or numb or are experiencing recurrent, intrusive thoughts, PTSD symptoms, self-doubt, withdrawal from people, other behavioral changes or changes in your work performance.

Faced with correctional stress, some people have been known to turn to alcohol, drugs or gambling. Less obvious but equally unhealthy strategies include being in denial, isolating and maintaining a code of silence.

Fortunately, there are healthy coping strategies that you can adopt. One that Neitlich believes is especially effective is mindfulness.

What Is Mindfulness?

Author Jon Kabat-Zinn defines mindfulness as "paying attention in a particular way, on purpose, in the present moment, and nonjudgmentally." Mindfulness involves intention (acting and thinking deliberately rather than automatically reacting to events and other people), attitude (choosing positive interpretations of events) and attention (focusing on the present moment and letting go of negative thoughts.)

Practicing any of a variety of breathing techniques is also useful, says Neitlich. "If you are looking for one thing to include into your daily stress routine, it would be breath work. Breathing is our life-sustaining force, and when we learn to mindfully control our breathing, it brings us closer to controlling our thoughts and emotions."

Neitlich suggests the key is to learn to control what you think and say to yourself. Think about it: Thoughts drive actions, and actions create results. It takes practice, but it is possible to change the way you think about things if you accept that you can choose how you react to your thoughts. This practice is most important when you are under stress and during painful or frightening experiences.

Work–Life Balance

Another important stress-defying practice is maintaining a work–life balance. That can be easier said than done, but it is essential for good physical, mental and emotional health.

So what is work–life balance? There is no universal formula that magically creates the perfect balance. Rather, the best work–life balance is different for each of us because we all have different priorities and different desires. "The secret is finding 'The Spot' – the proportion of work and life that allows you to be that 'human doing' but also lets you get back to existing as a human being," says Neitlich.

She suggests thinking of it as a triangle with work, relationships and self-care as the three points. Work is what we do: career, chores, housework, etc. Relationships include those with coworkers, friends, spouses, partners, children and other family members. And self-care means tending to your own emotional, intellectual, spiritual and physical health.

At work: Focus on what you are doing. Stay present. Always put in your best effort, even if it's not your core competency. And don't be a slave to your phone or computer. You need downtime to refresh mentally, emotionally and physically.

In relationships: Don't try to do everything on your own without asking for help – it can only result in a sense of isolation, martyrdom and exhaustion. Make time with family and friends a high priority; talk with them about your stress. Don't forget to laugh.

Self-care: "Make a commitment to practice some form of self-care every day, even if it's just mindful breathing," suggests Neitlich. Take time for yourself. This is difficult for people who believe they are in responsible positions. "Think of yourself as a finely tuned instrument," adds Neitlich. "You need periodic maintenance."

Here are some other suggested tactics:
Maintain clear boundaries.
Take full responsibility for your behavior.
Allow yourself to experience emotional reactions, and remind yourself that that is natural.
Maintain realistic expectations for yourself.
Exercise. "It doesn't have to be a triathlon!" says Neitlich.
Get plenty of rest. Establish a bedtime and stick to it.
Take more frequent (though short) breaks.
Worry only to the point that it helps you to take action to solve a problem.
If you're preoccupied with worry, seek help.
Finally, sustain optimism and hope. Focus on the positive aspects of work. Take pride in what you're doing. Believe in outcomes you can't see or measure.
Remember: New habits need to be practiced. Living mindfully, striving for a work–life balance and practicing self-care might not come naturally at first. But Neitlich urges those who work in corrections to "just do it"—for the sake of your family, your clientele and yourself.

Barbara S. Granner is the Marketing and Communications Manager for the National Commission on Correctional Health Care.

For information on NCCHC's upcoming conferences, including the Correctional Health Care Leadership Institutes and Correctional Mental Health Care Conference in Las Vegas, go to www.ncchc.org.
---