Department of Corrections Employees Reflect on Recent College Graduations
By Matt Schuman, New Jersey Department of Corrections
Published: 08/13/2018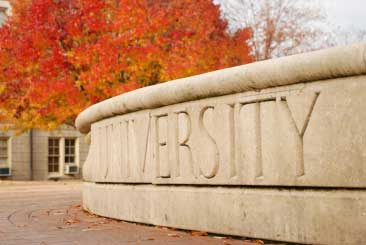 Nicole Sargenti made sure her first visit to State College, Pennsylvania, was an experience she'd always remember. After earning a master's degree in public administration from Pennsylvania State University, an accomplishment achieved almost entirely online, she made the journey to State College to take part in the university's commencement this spring.

"One of the negatives with online classes is that you don't get that campus experience," said Sargenti, an executive assistant in the office of Acting Commissioner Marcus O. Hicks, Esq.

"I took a weeklong course at Penn State's Harrisburg campus, but otherwise everything was done online," continued Sargenti, one of the many New Jersey Department of Corrections employees to earn a degree from an institution of higher learning in 2018. "So going to a college town, a place where everything revolves around Penn State, and taking part in the graduation ceremony, was surreal, and it was emotional."

Like most of the department's other graduates, the 35-year-old Sargenti returned to academics after an extended break.

"After I got my undergraduate degree (from Rider University), I decided to take some time off, maybe a summer, before going to graduate school," she said. "Then, life more or less took over. Marriage. A house. A child. Finally, after 10 years had elapsed, I decided this is something I was going to do.

"It was a huge adjustment, especially from a technological standpoint, but I was determined to stay with it, and I'm so glad I did."

Diane Charlesworth, a communications operator at Southern State Correctional Facility who became a technical assistant in Classification earlier this year, left Glassboro State College just six classes short of a bachelor's degree. That was 25 years ago.

Glassboro is now Rowan University, and Charlesworth is now a college graduate.

"When you're working full time and you have a family, school is tough, but you have to be willing to sacrifice if you want to achieve your goals," said Charlesworth, who took courses both online and in the classroom, earning a degree in general studies.

"I wanted to put myself in a position that would increase my chances of getting promotions. Honestly, it was scary at first, but once I got used to it, I genuinely enjoyed what I was doing."

Another Rowan graduate who works as a technical assistant in Classification is Mary Haggar of Garden State Youth Correctional Facility. She, too, left college before earning a degree and promised herself she'd return to the classroom at some point. That point came when the youngest of her four children began high school.

"There were summer classes and a lot of late nights spent studying, but I was determined," said Haggar, who not only earned an associate degree in criminal justice but graduated with honors. "I was nervous at first, particularly because a lot of my fellow students were in their 20s, and I'm over 50, but I wanted to advance myself academically in order to have a better opportunity to advance professionally.

"My family was extremely helpful, encouraging me and even cooking a dinner here and there. Looking back, I don't think I could have done this without them." Sergeant Wesley Bailey of Northern State Prison, who earned a master's degree in public administration from Farleigh Dickinson University, expressed similar sentiments.

"No way this happens without the support and understanding of my wife and kids," said Bailey, 36, a father of three.

Bailey, who graduated from Rutgers University in 2004, decided to pursue a graduate degree when he was promoted to sergeant. He selected Fairleigh Dickinson in large part because a program designed specifically for professionals in which students attend classes every Saturday, 9 a.m. to noon.

"It was one of the most difficult things I've ever done," admitted Bailey, whose thesis, focusing on being mentally fit for duty, was more than 80 pages long.

"When you have a job – and a demanding job, at that – as well as a family, you cannot ignore your obligations as a student. In order to succeed, you have to use your time wisely. You have to want to do it. You have to be committed to reading, to learning and to bettering yourself."

It took eight years but Longinus Ugwuegbulem, a chaplain at Garden State Youth Correctional Facility, is now a doctor, having earned a Ph.D. in higher education leadership, management and policy from Seton Hall University.

"I set my heart on this, and I was able to achieve it," he said. "It's like I tell the inmates with whom I interact, all of us can have a positive impact on others, and one of the most effective ways to do so is through education."

Ugwuegbulem sees education as a tool to break the cycle of crime and to overcome a lack of confidence. He cited a conversation with an inmate who related that he was classified as incapable of learning while in high school, although the inmate somehow managed to receive a high school diploma.

"Then he took a college class here at Garden State, and he got an A." the chaplain said. "He told me he surprised himself."

Speaking of surprises, while working toward his doctorate, Ugwuegbulem delighted in letting would-be student inmates know that he is more than just an advocate for education.

"Whenever they would ask," he said, "I'd tell them that I, too, am still a student."

Matt Schuman is a former newspaper reporter and editor who serves as the Public Information Office for the NJ Department of Corrections. He has been with NJDOC since 2000.
---