CRITICAL THINKING: CINT Team Collaborates with BOP in Unique Exercise
By John Cokos, New Jersey Department of Corrections
Published: 07/29/2019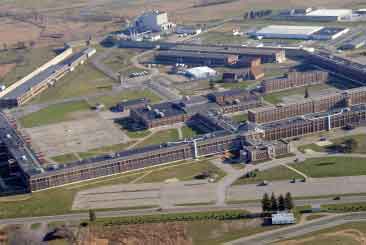 Members of the New Jersey Department of Corrections' Critical Incident Negotiation Team (CINT) don't spend time pondering the possibility of a crisis.

"It's never a question of if a crisis will occur, it's only a question of when, and we train with that in mind," said Diane Patrick of East Jersey State Prison, a member of CINT since its inception.

In April, the highest levels of planning and practice took place during a training exercise involving CINT and the Federal Bureau of Prisons' (BOP) Crisis Negotiation Team.

In an early-morning training exercise at the Federal Correctional Institution in Fairton, individuals from the state and federal prison systems converged for the first time to hone and coordinate their crisis negotiation capabilities.

Since 1999, NJDOC's all-volunteer group has proven to be an effective and cohesive ensemble. Consisting of NJDOC custody and civilian staff, the team has been educated in critical incident negotiating by the Federal Bureau of Investigation and meets frequently to participate in rigorous, daylong training exercises.

As a result, the team has won multiple "Best of the Best" critical negotiation team competitions. More importantly, it has responded to and deescalated several actual crisis situations.

"This team is the real deal," Patrick said, "and we believe in the good of what we are doing."

Despite the group's effectiveness, most members would agree the quest for additional knowledge and improved tactics is endless.

"We are always looking to expand our training opportunities," said Correctional Police Sergeant David Kuperberg of Northern State Prison, who serves as a CINT training coordinator.

Patrick agreed that working with an outside agency is healthy.

"You can be on the team for a thousand years, and every single exercise presents a new learning experience," she said.

The training exercise in Fairton involved an "officer held hostage" scenario that engaged all levels of the organizations' hostage negotiation components. Despite slightly different approaches, both CINT and the BOP team have a similar goal.

"It's all about the preservation of life," said Correctional Police Lieutenant Bertha Lowery of Albert C. Wagner Youth Correctional Facility, the CINT team leader.

"The bottom line is to get everyone out safely, including the hostage taker," added Patrick.

Critical incidents appear to be increasingly common, but the exact moment a situation becomes volatile can be complicated. The pressures of everyday life take a toll on society, especially within the law enforcement community.

"We have a saying. It's, 'Why today?'" said Lowery. "People are in big debt. The cost of living is high. Parents both have to work – some have more than one job. People are caring for chronically ill family members. Divorce continues to rise.

"We all have stress, but in recent years, many people are simply unable to get a respite so they can detoxify from it."

During any scenario, real or simulated, the NJDOC team has a dynamic approach with many moving parts. There is a coach to assist the primary negotiator, information trackers, a timekeeper and various other levels of support, in the field and at the command post, to help develop and implement a multi-leveled plan of action.

At the end of the recent joint exercise, the BOP hosted an in-depth debriefing during which members from both teams were afforded the opportunity to discuss various aspects of the training.

"The high levels of mutual respect and professionalism led to a successful day of training for both teams," Kuperberg said.

April's crisis negotiation training has given way to new possibilities for NJDOC and BOP future endeavors, including the increased likelihood that the two organizations will work together during an actual incident.

"We are trying to usher in a new era of cooperation and togetherness with the BOP Crisis Negotiation Team," Lowery said. "We are recognizing each other as valuable assets and are building a network.

"It's not time to find out how we can work together when a real crisis occurs," Lowery added. "It's time for us to already know and have a plan now."

John Cokos, a former Navy Mass Communication Specialist, began working for the New Jersey Department of Corrections' Office of Public Information in May 2018.
---