Emergency Management: A very different perspective
By Susan Jones, Ph. D.
Published: 09/23/2019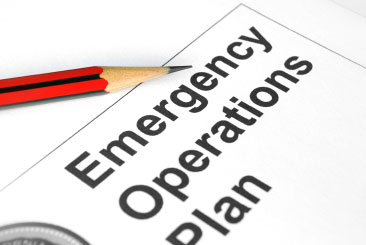 Throughout my life I was very involved in emergency management, both within my agency and within my community. I was part of a team who re-wrote the emergency management plan for my corrections agency and then I was part of our local school's safety committees that were formed after the Columbine tragedy. Most recently, I have worked with my church to develop and implement a plan for the congregation. As such, I thought I had seen had considered this issue from virtually every point of view, that was until I went camping one weekend with my family.

We arrived at a campground at the foot of the Rocky Mountains. This campground was situated along a major river that was flowing above normal levels due to snowpack melt off that was higher than normal. As we crossed the river on a small bridge within the campground to be directed to our site, the worrier in me thought – this isn't a good idea. I was on vacation and trying to let down my guard of all things negative, so we set up camp. That evening was great, sitting around the campfire while we listened to the roar of the river. As we turned in for the night, again I thought about the rising river, but I turned off the worry and went to sleep. We were awakened about midnight to be told that the river was rising and the bridge might not hold. We were told to be aware and they would get back to us regarding evacuation to the other side of the campground. However, the messenger stated that in his opinion the bridge would be washed out before morning.

Well, there was no going back to sleep then. We sprang into action and we were the first RV to pull out of our spot on this beautiful little island and pull into a less desirable spot on the other side of the river. As soon as we fired up that diesel motor on our rig, other campers began to follow our lead. Soon, a total of 25 rigs were exiting the island and moving across the bridge. Many of these campers kept right on going out of the campground and down the highway. A handful of campers, set up in the main part of the campground near where we selected. Then, we went in search of our friends to make sure that they were off the island and in a good spot for the night. I helped them by walking their teen-aged children with their bikes across the bridge and to our campsite while we waited for their parents. Then, I spent some time talking to other people in the area that looked like they were alarmed, confused, or trying to decide what to do.

Later, as I tried to go back to sleep my mind began to think about everything I had just seen and heard. I could still hear people outside and rigs pulling by. I thought about where the people who were leaving were going in the middle of the night. I thought about the safety of our new site and of course I wondered if our vacation was over.

The next morning, I went to the security area to check in on the status of the rising river. I was told by the person in charge (who by the way was a temporary employee appointed to be in charge of the campground while the owner was away for a few days – the first time this person was given this type of responsibility) that there were in fact no evacuation warnings or orders issued at this point and the sheriff was just doing routine rounds of the campground. As he explained to me what his staff were telling people I realized that his version of events was very different from the young man who came to my door last night. This did not surprise me. What did surprise me was that not everyone left that island last night or this morning and that later that day new campers were being directed to sites on that island, as the river continued to rise. It was at that point that the social scientist in me kicked into action. I began to look at the whole picture and think about the motive behind the actions that were taken.

I set out to talk to people, first to the people who saw most people packing up in the night and leaving but they stayed. I was curious to find out how they made a decision to stay put. What I didn't expect was to talk to six different groups of people who stayed put because no one told them there was a problem. No one knocked on their door in the middle of the night so when they got up this morning, they found that most of their neighbors were gone. One couple told me that they heard all the noise and got up at about 1 am to see where everyone was going. They even walked across the bridge to talk to a campground representative to find out what was going on. They were told that some people were worried about the rising water level and decided to leave, but nothing about the campground sending around employees to advise people in the middle of the night about any concern.

Other people who were not awakened in the night seemed to be excited to have more room around them to themselves. They were taking advantage of the extra space and freedom. When we talked about a potential threat, these people were quick to dismiss the idea that something bad may happen, after all, they were on vacation.

I then went in search of the people, like us, who had moved to the other side of the campground. I even talked to one couple who were staying in a very large Class A motorhome because I noticed their behavior the night before. During the night, this particular rig was being driven in a very aggressive manner and actually cut off two rigs that were waiting in line to cross the one lane bridge off the island. When I saw them driving the night before I didn't know if they were afraid, inexperienced, or just feeling entitled. As I talked to them, I decided it as a little of all three of these motives. They were obviously "out-rigged" and had very little experience driving this type of vehicle. However, the most obvious emotion that was communicated was one of fear-they were afraid of the water, afraid of getting stuck on the island, and afraid that they wouldn't get a "good" spot on the other side of the campground. They communicated a strong sense of entitlement to not be robbed of what they had coming from the campground and for their vacation. They communicated no concern for anyone else in the process.

Most of the other people I talked to that day, who had moved to the other side of the island, were just interested in getting back to vacation activities. One group had only one day left before heading back to work so they were trying to make the best out of a night with little sleep and move on. Most of these people told me that they made the decision to move, not because they really thought they would be stranded on the island, but because they didn't want to have the possibility of a mess. They were inconvenienced a little bit, but they felt like it was the smart thing to do so that were inconvenienced a lot.

As I gathered my "data," I thought about the people I talked to (or overheard talking to others) in the middle of the night that were choosing to leave the campground. Some were just calculating the odds of having to move again the next day, or deciding that their best bet was to move on out before the rest of the campground had to be evacuated. One couple didn't want to risk getting up in the middle of the next night again and trying to pack up. Others were furious that that the campground would let this happen and were arguing with the campground staff about a full refund on their stay. Then, there were the group of people who were asking logistical questions about amenities they had reserved (horseback riding) or about the status of the amount they paid for the rest of their stay. I asked a couple of people where they were going to go, in the middle of the night. Most were just heading out and would probably drive till they found an open space to park to get a few hours of sleep, then they would figure it out. One couple was arguing (loudly) with each other about the stupidity of coming to this campground and state in the first place. The husband was certain that he had mentioned that he didn't want to come to this state for vacation because of the liberal politics and the fact that marijuana was legal throughout the state. This proclamation made total sense to him, there in the middle of the situation in the middle of the night. (I wonder, did the legalization of marijuana affect the rising river levels and heavy snow this winter?)

The most fascinating people to talk to were the new campers who were setting up their sites on the island part of the campground. I was eager to hear what they had been told about this area of the campground and why they accepted the risk. The first people I talked to were so excited to "upgraded" for free to the river front sites, even through they couldn't use the front half of the sites because it was under water. They were excited that they found a bargain, even though they were told that the island part of the campground was in a voluntary evaluation zone as ordered by the county.

One group of campers pulled into their island spot in a very expensive motorhome. When I talked to them, they came close to telling me, (but not in so many words), that this rig was too costly for them so they hoped it would be affected by this pending disaster. Apparently, they were hoping for an insurance policy to get them out of the purchase they had made. Another person also spoke of insurance, but differently. When I asked him why he chose to set up in this area he said that he considered it and decided that he would take the spot and then he immediately went into town to get insurance on his rig, just in-case. I didn't share my skepticism with him about his plan. Afterall, if the bridge was destroyed and his rig was not damaged… would the insurance he acquired cover a loss of use?

Other new campers I talked to that day were much less interesting. Most of them had apparently lived lives where, in general, bad things didn't happen to them and they really didn't expect it to happen now. They didn't really see it as much of a risk and were happy just to start their vacation time. I was intrigued by these people so I asked them more about their lives and their careers.

In the end, the bridge did not wash out and the water began to decrease. So, nothing bad really did happen, but what I learned has stayed with me: not everyone expects bad things to actually happen to them, there are people who see any bad event as a time to take advantage, and not everyone in the middle of a bad event cares about the others who are also in dealing with the same potentially bad event.

I have told this story to many of my friends, mostly current or retired corrections people, and I ask them what they would have done. 100% of my corrections friends have said that they would have moved in the middle of the night and most would have left the campground, scrapped their vacation, and returned home! After all, most corrections people expect the "bad" thing to happen and perhaps we even expect that bad event to be worse than anyone else expects. Is this a direct result of the environments where we have worked? Probably so. You see, corrections people prepare for the worst possible situations all the time and many times they encounter these negative events. It is the goal of many corrections leaders and trainers to never be unprepared for the worst so we are constantly identifying the things that can go wrong.

The people I talked to that were easy going about the events were not engaged in any type of corrections or law enforcement work. In fact, most of them were in "fun" occupations like school teachers, day care, retail, and banking. I can actually think of bad things that happen in each of these types of work settings, but these people didn't seem to carry that with them, at least not on vacation.

The people who saw this type of an event as a time to make a profit or get something for nothing didn't surprise me at all. This is probably a direct result of working in corrections. We have all known these people, many of them are the criminals that we supervise. These are the people that would take advantage of insurance, try to get their whole stay for free, or pick up items that others left behind in the middle of the night (many items that were left behind were gone when the owners went back to next morning). Of course, some of the schemes were based on short-cut logic or lack of information about how things like insurance actually work.

The people that showed no concern for others around them was also not a surprise to me, probably because of my corrections career. The people in the big rig that cut to the front of the line to get across the bridge did so by endangering others. In the middle of the night, there were people walking around the bridge area, kids riding or walking their bikes across, and other people driving RVs of varying sizes, yet the driver of this particular big rig either didn't notice this or didn't care. The lack of caring for anyone other than yourself or your family is something that is not that uncommon in any type of emergency, but I would hope that it is not the majority of people.

It is my experience that most people take immediate actions for their own safety and then look around to see what else needs to be done. In this instance, not a lot needed to be done to help others off the island (most experienced people in RVs can pack up and move out with a precision that is not helped by others who don't know their routine or their rig, particularly in the middle of the night). The only action that would have helped, and did in fact help many people, was a showing of respect while waiting at the bridge and waiting at the campground exit and a showing of concern for others-particularly children.

What I learned, or re-learned that night made sense as I reflected on all of the emergency situations that I have dealt with, personally and professionally. These lessons also stayed with me as I reflected on all the "bad" situations I have dealt with. In the end, whether in a prison or a campground, people react the same – some expect the worse and take action, others expect that nothing bad will really happen and ignore the pending issue, and others take advantage.

Dr. Susan Jones retired from a warden's position within the Colorado Department of Corrections. She worked in a variety of corrections positions in Colorado for 31 years, including: community corrections, correctional officer, sergeant, lieutenant, manager, associate warden and warden. Dr. Jones research interests have focused on the issues that correctional employees face on a daily basis. Visit Dr. Jones's Facebook page "A Glimpse Behind the Fence".
---