The Next Evolution of Mara Salvatrucha
By Andrew Eways, Aurora, Colorado Police Department
Published: 10/21/2019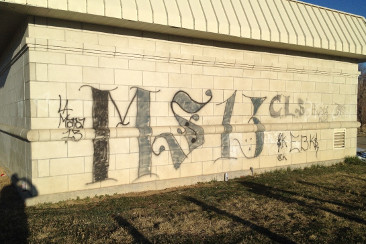 More than a decade ago, I wrote an article about Mara Salvatrucha; a gang with its roots among the El Salvadoran immigrant population in Southern California. At that time, the influence of the gang's Central American factions - factions which formed as violent gang members were deported in large numbers to their home countries - was only just beginning to show.

Along with the burgeoning influence of a small number of charismatic leaders in El Salvador and other countries, there came a sharp divide in behavior and ideology. Those Mara Salvatrucha cliques operating in Los Angeles and Southern California largely remained a loyal Sureño gang, paying taxes to and doing the bidding of the Mexican Mafia. As other cliques distanced themselves from Los Angeles, however, they distanced themselves from the Mexican Mafia as well. Initially, many east coast MS cliques appeared to hold no significant loyalties at all outside of loyalty to their own clique. With little or no Mexican Mafia representation in the prisons of the Mid-Atlantic region, there was a void in the overall chain of command; a void to be slowly filled by leaders from Central America, most of whom could be found in the prison systems of their respective countries.

In 2007, a long-time source within the ranks of Mara Salvatrucha told me of new edicts coming to the gang from leadership in El Salvador. Under these new rules, MS members were to stop wearing overt gang colors or styles of clothing which were associated with gang affiliation. They were being directed to dress like "preppies"; a word I would later hear repeated from several other members of the gang. Specifically, they were to wear jeans or khaki pants and Polo-type-short sleeved or long-sleeved shirts. They were also to discouraged from marking their territories with new gang graffiti so as not to draw unnecessary attention to themselves. Furthermore, members were directed to cover their existing tattoos to the extent possible and to avoid any future tattoos which would be above the collar or below the sleeves, giving them an appearance closer to that of a prep school student than a gangster. Along with edicts regarding their appearance, the members were given instructions as to how they should modify their existing criminal activities. Members of cliques that engaged in the illegal drug trade were now being told to act as wholesalers rather than retailers. In lieu of street-level operations which are often easy targets for law enforcement, they were being instructed to make larger, single-buyer sales to people who would then dilute the illegal drugs and sell them as a retail supplier. Many were told to wholesale their drugs to a trustworthy member of the Caucasian, African American, or even Asian community who would then take the drugs outside of the gang's territory before selling it in smaller quantities. In other cases, members of certain cliques were being introduced to such crimes as video cassette and compact disc bootlegging. As one source explained, police don't generally understand these crimes and they are not romantic and exciting enough to draw large-scale law enforcement attention.

In the same year, according to multiple sources, members of Mara Salvatrucha in the Mid-Atlantic region were being groomed to leave street-gangster life behind and move as an institution toward becoming an international organized crime group. Coincidentally, it was at the same time that partnerships between Mara Salvatrucha and the Sinaloa Cartel were taking shape south of the border, bringing the gang to another level of influence in the world of organized crime. Their lack of any true organization and the chasm between the two factions, however, would hamper any major progress toward this goal for many years to come.

In the summer of 2011, Mara Salvatrucha member Luis Gerardo Vega; known within his gang as Little One; was elevated to membership in the ranks of the Mexican Mafia. In large part, Vegas induction had been an effort to secure Mara Salvatruchas participation in a three-way criminal alliance which was being referred to by those involved as "The Project". Under the terms of this alliance, the Mexican Mafia would use members of Sureño gangs; primarily members of Mara Salvatrucha; to distribute methamphetamine and other drugs they obtained from the Knights Templar Cartel in both Los Angeles County and Orange County. Once the terms of The Project had been agreed upon by all involved parties, Vega and other Mexican Mafia representatives wasted no time in meeting with members of Mara Salvatrucha and other affected Sureño gangs to inform them of their roles in the plan.

One attendee of the early meetings, Jose Rodriguez Juarez, saw other opportunities in the seeds that had been planted by the overseers of The Project. Rodriguez, an MS member who had been under the tutelage of reputed Mexican Mafia member Danny Roman while in prison, had returned to the free world shortly before Vega and others had announced their alliance with the Knights Templar Cartel. Rodriguez, known within his gang as Dreamer, took the opportunity to elevate his own status in the criminal underworld by spending the next two years establishing himself as a prolific methamphetamine distributor in and around Los Angeles. His purpose in establishing his own reputation had arguably been two-fold. On one hand, he wanted to make the money that came with large-scale drug distribution. But also, Rodriguez wanted to elevate his status by gaining enough influence and respect to be allowed into the ranks of the Mexican Mafia. By the middle of 2013, as Vega and others were arrested and the threads of The Project were unravelling, Rodriguez's efforts paid off and he rose to the status for which he had worked so hard.

In October of 2013, Rodriguez continued his efforts to bring organization to the ranks of Mara Salvatrucha. By extension, Rodriguez was also expanding his own wealth, influence and power within the criminal underworld by seeking to organize the gang; both nationally and internationally; under his own command. During that month, Rodriguez held a conference call with representatives of the gang on the East Coast, West Coast, and in El Salvador. During this call, he outlined his plans; deemed by many as 'The National Program'; to set up a nationwide drug distribution network using the various Mara Salvatrucha cliques. He also explained that he wanted to collect a monthly tax from each MS member outside of Southern California; money which would be used in part to pay the Mexican Mafia in California so as to remain in good graces with Sureño gangs as a whole. He also rebranded himself, telling MS gangsters to call him El Sacerdote, a Spanish term meaning 'The Priest'. But although Rodriguez gained support from some MS members on the East Coast, it caused significant discontent with others. With the Mexican Mafia virtually unrepresented in the Eastern United States, they lacked the influence to enforce their rules and edicts on the Sureño gangs of the East Coast; most especially Mara Salvatrucha. MS cliques and members in the Mid-Atlantic region knew little or nothing about the hierarchy and politics of Sureño gangs and had little interest in paying homage to the Mexican Mafia. With a great many members having joined the gang in El Salvador and other Central American countries, the East Coast MS members felt loyalty to leadership in their countries of origin and not to the West Coast. As a result, the National Program set forth by Rodriguez gained little traction despite his efforts.

In addition to his proposal of a national program, Rodriguez also sought to influence MS members and cliques in El Salvador. Through telephone calls and intermediaries, Rodriguez directed leaders and members in El Salvador to cease specific criminal behavior which brought the gang unwanted law enforcement pressure. Specifically, Rodriguez felt the killing of women and children reflected poorly on the gang and brought additional law enforcement attention to them, thus interfering with their ability to conduct their criminal enterprises. And as with the National Program, Rodriguez sought to impose a tax on the El Salvadoran cliques as well, which would in part be used to maintain his good standing and influence with the Mexican Mafia. But these efforts met with even less success than the National Program, and Rodriguez was told in no uncertain terms that MS leadership in El Salvador would rule over their own and did not want nor need Rodriguez and the Mexican Mafia.

Even as Rodriguez's efforts to unify Mara Salvatrucha continued to unravel with the threads of discontent, another problem emerged which would undo everything he had accomplished. His October of 2013 conference call; the call in which he had announced his plans to unify Mara Salvatrucha under his command, collect monthly taxes, and organize a nationwide methamphetamine distribution network; had been monitored by law enforcement officers. In early 2014, Jose Juan Rodriguez was indicted by a Federal Grand Jury in New Jersey for Racketeering and other crimes. Along with Rodriguez, more than a dozen other members of MS; many from cliques operating in New Jersey; were indicted as well. Prior to these indictments, Luis Vega was also indicted in a separate Racketeering case in California as a result of his efforts to organize La Programa. And with their indictments, the efforts to unify Mara Salvatrucha nationwide as well as internationally seem to once again have come to a stop. But as before, someone else will eventually take it upon themselves to try again.

Today, members of Mara Salvatrucha remain ever-present, but they maintain a lower profile in many regions than they once did. This is in no way an indication that their criminal activities have lessened, but rather that they have – in some respects and some locations – elevated to the level of a more sophisticated organized crime entity. Members of MS who are loyal to leadership in El Salvador, Honduras, and Nicaragua have begun to replace the number thirteen; indicative of loyalty to the Mexican Mafia; with area codes of their native countries such as 502 (Guatemala), 503 (El Salvador), and 504 (Honduras). In Southern California the original Sureño Mara Salvatrucha gang is still alive and well, but they have found themselves in conflict with their Central American cousins, even to the point of occasional violence between members of the two factions. And the National Program proposed by Jose Rodriguez has largely become nothing more than a division in Mara Salvatrucha between California, and "not California".

In May of 2019, I attended the International Latino Gang Investigators Association's Inland Empire Gang Symposium in Ontario, California. During a class presented by a long-time friend and noteworthy Mara Salvatrucha expert, I learned that new rules had been imposed on the gang. Under these regulations, members of the gang are now to avoid overt gang colors, to change their manner of dress away from stereotypical gang clothing, to limit new acts of graffiti, and to avoid tattoos visible below the sleeve line or above the collar. I was taken back to a time twelve years ago, when my informant had told me of the same new rules for his gang almost verbatim. And whether the efforts to organize are successful sooner or later, national or international, the gang remains a serious threat to the safety of law enforcement and corrections, the public in general, and now even to themselves.

Andrew Eways has more than twenty-five years of law enforcement experience; first with the Maryland State Police and currently with the Aurora, Colorado Police Department. Eways was certified by the Maryland Police and Correctional Training Commission, as well as various courts, as a subject matter expert in criminal gangs and specific organized crime groups and has also been called upon to provide training in gang recognition, conducting gang and organized crime investigations, and many other related fields to federal, state and local law enforcement agencies as well as other groups. He has authored numerous articles about gangs which have been published in law enforcement publications, law enforcement and correctional websites, and online police magazines. Additionally, he has appeared on the Reelz Network documentary Gangsters: America's Most Evil, where he provided background on Toonerville Gang leader Timothy McGhee. He also co-authored two books; Mara Salvatrucha, Eighteenth Street and Other Sureno Gangs Across America, and Sureno Gangs and the Inland Empire. He is a member of several professional organizations and is the current Secretary of the International Latino Gang Investigators Association, an associate instructor for the Homefront Protective Group, and the president and owner of Blue Line Academy LLC.
---