Funding and Operating Costs Remain Top Issues Facing Corrections
At the ACA 140th Congress of Correction in Chicago, attendees visiting the Performa Inc. booth took an informal survey.  We asked them what they thought were the top issues facing corrections in the next 12 months.
Attendees ranked Funding (57%) and Operating Costs (48%) as the top two issues.  In January, at the ACA 2010 Winter Conference in Tampa, FL, these issues were also rated the top issues.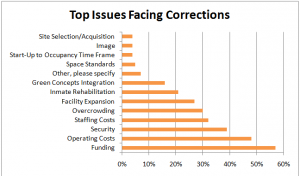 Prison of the Future
Performa also asked booth visitors about their view of the challenges and areas of focus for the Prison of the Future.  There was strong consensus that Programs (63%) should be the primary focus, followed closely by Housing Unit Configuration (52%).  Many challenged whether the current corrections model was sustainable, considering the incredible growth in the prison population.  There was open debate about alternative models that keep marginal offenders from merging with the chronic criminal population.  Stay tuned for more debate.