Stop the Vicious Staffing Cycle and Cut Costs
Stop the Vicious Staffing Cycle and Cut Costs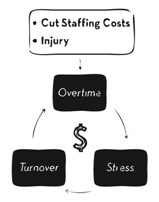 The costs associated with correctional staffing is a vicious cycle that only results in more cost, if not accounting for the entire problem. Operators dealing with budget cuts have reduced staff, put a freeze on hiring, reduced salaries and benefits and eliminated pay increases. While looking good in the books, these solutions only solve half of the equation and actually add more cost when taking into account injury and stress corrections employees encounter when dealing with the ever-growing inmate population.
A sustainable solution for cutting costs is found in reducing injury and stress.
The case for reducing injury: Safer working environments result in lowered costs. When an employee is injured on the job and has to take leave, the remaining employees are left to pick up the vacant duties, resulting in overtime. By reducing injury, the costs of overtime are greatly reduced.
The case for reducing stress: In addition to injury, stress is another cause of time off and turnover. In fact, the ACA concluded that stress and burnout were the biggest factors for the high turnover rate among corrections professionals.
To learn how to cut staffing costs by reducing injury and stress, click here to receive our free eBook guide How to Lower Costs Without Putting Staff At Higher Risk.