Avoidance management Part II: The Garden
One does not have to be a farmer to grasp this fact:  It is not easy to grow crops.  Often the cultivator is at the mercy of the environment.  But even in good years, the wise farmer will apply the proper measure of sun, water, weeding and fertilizer. Those who let nature take its course will usually gather a lesser harvest.
"Nip it in the bud" is a phrase that comes to us from our agricultural history. It is used in modern terminology to describe how one should tend to a potentially bad situation before it grows unmanageably large and wild.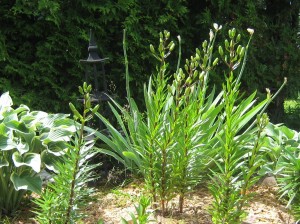 Avoidance management happens frequently and in many forms.  It comes from any combination of interactions. Avoidance management happens between staff, involving prisoner interactions, and from staff to prisoner. 
Here is a short list of common instances where avoidance management may occur:
Ø Dealing with a pattern of absences
Ø Reacting to incidents of insubordination or insolence
Ø Correcting a prisoner's work performance or behavior problem
Ø Assessing and asserting the "fair share" of work between parties
Ø Confronting chronic rule breakers
Ø Oiling the squeaky wheel
Ø Rewarding mediocrity out of friendship
Ø Ignoring unprofessional behavior due to intimidation
Whatever the specific dynamics, it is uncomfortable for those involved.  But is this simply a nagging inconvenience?  Or is it really dangerous to the well being of an institution? 
Ø Staff who become disconnected due to this style of leadership are quite aware of the negative examples.  It is like the rotten apple spoiling the whole bunch.  The bar is set lower as the bulk of staff see that bad deeds will be rewarded with inaction.
Ø Control is harder and harder to maintain.  It is like a vehicle with bad tires skidding out of control on an increasingly steep and icy sloping road.
Ø The institution becomes dangerous.  Those staff who are inclined to take advantage of avoidance management will do so.  Their laxity creates an area where some inmates will capitalize on laidback rule enforcement.
Ø Faith in leadership is lost.  Morale drops as leadership roles are diminished.
Ø Apathy grows as the future looks unvested. Many gifted professionals have transferred to different jobs due to flaccid leadership.
There are spin-off effects of the negative growth inherent under the avoidance management style.  Untended problems inspire other problems.
Official supervisors are not the only group that is potentially guilty of avoidance management.  It is for all leaders, including line staff.  And it is also for anyone who supervises prisoners.  In short, any situation is in control unless any staff person does not allow it to be.
Here are some things to remember about avoidance management.   Tend your work garden. Reap the benefits of well-grown harvest. Weeding has to be constant.  Otherwise, the healthy and vital plants are choked by the growing parasites and weeds. 
Not all problems need immediate attention.  Sometimes answering a challenge may be simple venting rather than chronic complaining.  It is up to the professional to determine the difference. The only action needed to address someone who is venting is an empathetic ear.  Action for the chronic complainer should be more involved than that.
There is room for some discretion.  Not all problems are the same.  However, the range of discretion should be tempered by a solid sense of uniformity and consistency.
Little things seem to grow out of control over night.  Before you know it, the seed that you planted have transformed into tall stalks of corn.  The question is, did the corn develop as you intended?  Did you apply the proper measure of sun, water, weeding and fertilizer?  Or did you let the environment take total control of the process.  Unmanaged and initially minute concerns can turn into insurmountable problems with avoidance management.

Email This Post

Print This Post

joebouchard Assessing the organization, Staff relations