Simple contraband control tools
The fight against contraband is perpetual.  Slowing the inevitable tide is like sweeping the ocean back with a push broom.  Your forward momentum in attacking the pervasive problem is tediously slow.  You feel like you are trying to navigate a tricycle through a sand dune.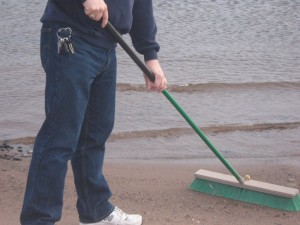 Like any facility through history, the one at which you work is full of contraband.  Inmate ingenuity seems to strip the potency of staff experience and diligence.  You recognize the potential peril in every bootleg transaction. 
Do you declare contraband control futile?
Is there any hope of a solution?
Can you ever restore safety?
Do you give up?
First, it is prudent to employ a dose of reality.  No one but the most jubilant optimist would ever suppose that contraband trading will ever be totally eradicated.  The true and realistic goal is to mitigate the flow of bootleg.
I believe that anything taken out of the economic loop enhances security.  One never knows the chain of events tied to the exchange of a simple piece of candy.  Contraband control is like the tip of the iceberg.  Until one delves deeper, one never knows what is beneath the surface. Still, it is important to keep chipping away at the ice that freezes security.
Unfortunately, not all agencies employ a large-scale, coordinated assault on this fundamental safety issue in corrections.  Yet, that is not an admission of defeat.  Until contraband control committees are formed and training is conducted, there are simple methods that individual corrections professionals can use. Not every institution can afford crime mapping technology.  Until then, here are some low tech, inexpensive solutions.
Create a contraband file. In corrections, we look for patterns.  A contraband file collects any and all misconduct reports, notes and log book entries concerning contraband.  From these documents, patterns can be established. On the  primary level, this file can be collected from your own experiences.  When the net is widened and others in your work area contribute to this file, more patterns can be discovered and investigated. Of course, there is one caveat which may be obvious.  Keep the file out of the hands of prisoners.
Communicate with the facility inspector. Ask about hot smuggling issues and common methods.  Declare your intention to help as you can. Respect discretion and do not abuse this communications chain.
Use technology to increase contraband awareness. Reach out to other facilities in your agency. With permission of the chain of command, use Email to exchange contraband information. Share what you discover with your supervisor and in your area of control.
Vary your search.  Pull away from the routine manner that you look for contraband.  Change your routes, time of search, and direction from time to time.  Utilize the covert search when you want do not want offenders to be directly aware of your search.
Contraband control is a proposition in which the term "every little bit helps" fits well.  Naturally, concerted efforts will   reap a bigger harvest of bootleg.  However, we often find ourselves searching in a smaller circle.  Even with a small search, you will never know what one less item out of the system will do for the safety of staff, offenders, and the public.

Email This Post

Print This Post

joebouchard Contraband Control, Security