Eating the etraining elephant
If you were to ask a correctional trainer "How do you eat an elephant?" chances are you'll get the answer "One bite at a time."
E-training does not have to rigidly exist as an entire week of staff perched in front of computers.  Quite simply, that pachyderm-sized chunk of time can be broken down into smaller, more manageable units.  And the training can be done with a versatility hitherto not seen.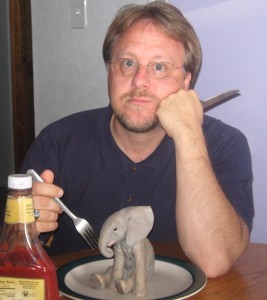 I have no way of knowing if this conversation ever took place.  But, let's turn the clock back 40,000 years.  Imagine that two pre-bronze age trainers are discussing the pros and cons of hunting a large mammoth or mastodon.  One of them might suggest that the tribe would not go hungry for quite a while because of the kill.  However, the other could assert that too much is a waste.  The excess meat that the tribe could not immediately consume might rot and draw dangerous scavengers. A few hunted deer could suffice, filling the needs of the tribe.  The mammoth is too much at one time.
For most of us, consuming mega fauna does not evoke images of efficient scheduling of training.  Still, it is an interesting point to consider. One size does not fit all.  This is true of t-shirts, shoes, meal proportions, and corrections training.  Certainly, some agencies will do well with a comprehensive, out of the box, forty hours of online training.  Other agencies simply cannot schedule to fit that paradigm. 
Of course, e-training done with computers should be flexible.  The need is particularly acute in cash strapped facilities where it is difficult to schedule staff to cover the absence of other staff engaged in prolonged blocks of training time. Ideally, it could be executed in smaller bits if the forty hour blocks do not fit the needs of staff and the institution. 
Self-made e-training
The e-training world is expanding.  As technology advances, what was once only possible in a studio is now a staple of a growing number of corrections trainers.  Self-made mini-training sessions will take the field by storm in much the same way the music video changed the way we experienced music in the 1980's.
In short, e-training does not have to be an extravagant production, complete with all of the bells and whistles and gee-whiz wizardry.  Short, facility-made films can be done quite easily and can be tailored to the specific audience.
The software is increasingly easy to use and is often free.  Many agencies will use a web-based or downloadable platform for parts of their training.
Line up training with internet content
Non-classroom e-training can take place in small, easily digestible chunks without computers.  That is to say, articles and news items featured on corrections websites can be read and discussed at daily line-up.  This concept is not new, but there is more information and a wider array of corrections articles available with the rise of corrections websites and blogs. It is now a simple matter to search a specific topic rather than to hope that the professional print journals feature something that your staff need to know.
E-article discussions
Sometimes, an online article can spark some heated debate, as seen by posted comments.  Any facilitator with a well-developed sense of diplomacy (tempered with the devil's advocate stance) can inspire such discussion.  The conflicting comments posted after the articles can serve as a platform for discussion.   From there, the actual policy mandates of the facility can be reviewed to tie the concept into local application.
Article Test
There is also the Article Test, a quick method of e-training that is gaining momentum.  It works like this:  A trainer sees an article online and develops a short quiz from the content.  The article and quiz are forwarded to student's email.  Each student completes the quiz and mails it back to the Institutional Training Officer.   And while it is unfortunate that not all trainers will seek the permission from the editor or the original author, this is a growing form of e-training in corrections.
Sometimes, when the providers bring an elephant to the table, it simply cannot be eaten in one setting.  This is true even if it is done one bite at a time.  Just like the tolerance threshold of a dull and unvarying diet can be challenged, so, too, can the limits of training saturation be modified.  And this can be done to the benefit of staff and the facility.  It makes sense in many cases to break the e-training elephant into many smaller parts, put divided parts on ice, and use as needed or as possible.  Any facilitator with basic organizational skills will be able to devise a recording system to tally the smaller bites of what was once a large, formidable training meal.
Remember:  "One bite at a time."