Risk Indicators for Misconduct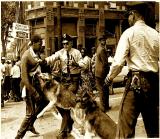 The goal is to identify officers who pose a liability to the department and themselves.  Even though obtaining a position in corrections and law enforcement is a difficult process at best we must consider the individuals who slip through the cracks.  These are the officers who get the most complaints and consider themselves the mavericks or rock stars of the agency.  These officers are the superheroes of the shift whose arrests or forcible takedowns are sometimes questionable and overly aggressive.  The following is a profile of high risk officers with a propensity toward misconduct.
Ø     Under 30 years old
Ø     Less than 5 years on the job
Ø     High school education only
Ø     Assigned a 2 officer housing unit
The following are problematic risk indicators of officers that may be involved in misconduct or overstressed from job related incidents during their careers:
Ø     Complaints, disproportionately high
Ø     Use of force, disproportionately high
Ø     Domestic Violence incidents
Ø     Sick time usage
Ø     Shooting incidents
Ø     Resisting arrest incidents
Ø     A lot of Assault on an officer cases
Ø     Arrested subjects with injuries
Ø     High rate of Officer injury incidents
Ø     Pursuits
Ø     Preventable vehicle accidents
Ø     Civil litigation
Ø     Head Strikes on inmates or arrested subjects
Ø     Loss of equipment
Ø     High proportion of Involvement in major incidents
Ø     Below satisfactory performance evaluations
Ø     Excessive overtime
Informal indicators to officer misconduct or corruption that should throw up red flags: 1) Large sums of money, 2) Personality changes, 3) Lifestyle changes, 4) Circle of associates, 5) Rumors

Law enforcement and correctional administrators throughout the country have long recognized that a small percentage of officers are responsible for a high disproportionate share of complaints, which can tarnish the reputation of the entire agency.  The benefits of an early agency identification and investigation into suspected officer misconduct are:
Ø     Can salvage an officers career
Ø     Defend the agency in a "Custom and Practice" lawsuit
Ø     Force supervisory involvement in the officers development
Ø     Control complaints and use of force incidents and restore public confidence
Ø     Supports termination of problem officers
Ø     Provides information to develop training, policy and tactics

The fact is that police & corrections officers experience high levels of job stress is well established, as is the reality that high stress is unhealthy and often has a negative affect on an officer's performance.  These experiences often change an officer's conduct toward the public; conduct characterized by discourtesy, anger and occasionally inappropriate use of force.
Examples of LAPD Rampart police brutality that should have been indicators of misconduct and corruption that was never flagged:
Rampart Shooting Incidents:
Ø     In 1996, CRASH officer Kulin Patel shot and wounded Juan Saldana when he was running down an apartment hallway. Patel and his partner then planted a gun on Saldana as he lay bleeding. When their CRASH supervisor, Sergeant Edward Ortiz, arrived, Ortiz delayed calling an ambulance until the officers concocted a cover story. Juan Saldana bled to death before arriving at the hospital.
Ø     CRASH officers fired 10 rounds at Carlos Vertiz, a 44-year-old man with no criminal record, when they mistook him for a drug dealer. To justify the shooting, the officers planted a shotgun on the dying Vertiz and claimed he had pointed it at them.
Ø     In 1996, officers Rafael Perez and Nino Durden handcuffed 19-year-old gang member Javier Ovando and then shot him in the chest and head, paralyzing him. The officers then planted a gun on him. Ovando received a 23-year prison sentence based on the officer's testimony.
Ø     On New Year's Eve 1996, Rampart CRASH officers opened fire on and wounded two holiday revelers and then arrested them on trumped-up charges. According to Perez's testimony, the officers rehearsed a story claiming the revelers fired guns in the officers' direction, and were shot in self-defense.
Ø     Perez testified that a rookie Rampart patrol officer shot an unarmed man he discovered hiding in a closet. When the rookie's supervisor arrived at the scene, he directed the rookie to claim the man was holding a mirror, causing him to see his own reflection with a gun and open fire.
Ø     Officer Melissa Town shot at a youth in a park that fled when she approached him. When her supervising sergeant arrived, he pulled a 5-1/2 inch piece of chrome from the bumper of a nearby car and instructed Town to say the suspect pointed it at her.
Rampart Beating Incidents:
Ø     Rafael Perez told investigators of an occasion when officers broke up a party and ordered several dozen gang members to their knees with their hands behind their backs. Officer Brian Hewitt walked down the line, randomly assigning a fictitious charge to each youth.
Ø     Perez relates how after a Rampart officer's tires were slashed; a group of officers drove around the neighborhood indiscriminately beating any youth they encountered. On a similar occasion, a gang member suspected of slashing a tire was beaten, stripped naked, and dropped into rival gang territory.
Ø     On one occasion, a youth was repeatedly shot with a bean bag gun for amusement.
Ø     For another suspected gang member, officers drew a target on a wall, and used the youth's body as a battering ram. The young man told investigators his head smashed through the plaster and was pierced by splinters from the wooden studs inside the wall. The officers were attempting to obtain information from the youth about a missing gun.
Ø     Some officers, notably Officer Brian Hewitt, preferred administering beatings to gang members, rather than bothering with booking procedures and reports. According to Perez's testimony, Hewitt in particular was known for beating handcuffed suspects, and beating for sadistic pleasure.
Ø     Officer Daniel Lujan, Brian Hewitt's partner, beat a youth at the end of a foot pursuit, badly injuring the suspect's knee. When his supervisor arrived at the scene, Lujan admitted having no reason for the beating. To justify the beating, the supervisor instructed Lujan to book the man on a drug charge. Perez testifies that on another occasion, Lujan dislocated a handcuffed suspect's elbow for sport.
Ø     Perez's testimony also recounts a story of officers approaching a man sitting on a bench, handcuffing him and throwing him to the ground, and kicking his head and body. According to the police report the officers filed, the man injured himself by jumping out of a third floor window head first. Rampart supervisors rubber-stamped this fictitious account.
One of the fundamental causes of the Rampart Scandal was a breakdown in managerial oversight.  While the department's mission statement clearly emphasizes "Respect" and "Character," the officers in the CRASH unit were not held accountable for upholding these principles. This unit created an autonomous culture that was distant from the influences of upper management. "Pursuits, injuries resulting from uses of force, officer-involved shootings and personnel complaints had a clearly identifiable pattern…yet no one seems to have noticed and, more importantly, dealt with the patterns."  The heralded officers of the department were cutting corners and breaking laws, which made it easier for others to follow suit.
It is not our job to punish people even though we see a visible need for the corrective change.  It is our job to "report violations of the law."  Individuals above our pay grade are responsible for the issuance of punishment to our citizens and inmates within our institutions.  It is when we cross this delicate line of reporting and institute punishment this is where we go too far and get caught up in misconduct and corruption.

Email This Post

Print This Post

Tracy Barnhart Misconduct / Curruption