My introduction to contraband control
Last week, a corrections training colleague from a North East state contacted me regarding contraband control.  He wanted  to converse about about an article that I published in 2006. The article was called "A big Deal About a Little Contraband".  His main goal was to expand his agency's contraband control training module.
With that in mind, I explained a bit about the article.  Then I mentioned other resources on the topic, including Wake Up and Smell the Contraband (2nd ed. – LRP Publications).     
No idea exists in a vacuum.  The many tributaries of thought that flow from a single steam of consciousness is astounding. His comments nudged me into consideration of my corrections origins. I had no idea when I took this job that I would be so involved in writing about our constant battle against bootleg.  I reflected on my awakening to the idea of the pervasive danger of contraband in our facilities.
I have always been aware that some prisoners are very creative in moving bootleg.  That perception was with me before I started employment with the Department of Corrections.  The many prison movies and television programs promoted that image.  1
The notion that contraband creation and movement can be inventive was reaffirmed in my initial training. I had heard stories of what could be made by inmate ingenuity from seemingly useless raw materials.  I learned of the innovative avenues and methods of trade.  Truly, necessity is the mother of invention.
Out of the classroom and into my first few weeks as an employee, I found that it was all true.  The theories manifested into practice. If I ever disbelieved media presentations and the war stories of corrections veterans, they were now proven by actual observation. 
Any corrections professional can certainly attest to the fact that no matter how much you prepare, you will still be surprised when you start employment in a correctional institution.  It is sobering to someone that engages in a little active vigilance.
For the first few years on the job, I did just that. I operated with a little active vigilance.  At the time, I thought that I was very hawk-like.  In retrospect, I realize that I was merely alert. And that was only relative to the way I watched events prior to my career.
Then I was given a special assignment by the then current Warden.  That directive was to look harder.
The impetus for this was the newly enacted smoking moratorium in any government building.  Smoking could be done on the outside, at a predetermined distance from buildings.  Because there was no smoking in buildings, prisoners housed in segregation were particularly impacted.  They were essentially forbidden to smoke.  They, unlike general population prisoners, had no opportunity to smoke outside. 
Tobacco became the undisputed bootleg of profit for prisoners.  There was now an opportunity for general population prisoners to make huge profits from segregation prisoners.  The underground economy was invigorated.  It was a sellers market. Cigarettes were in a greater demand.  Therefore, tobacco became even more expensive. 
Segregation prisoners also coveted matches.  Because of the possible gain to be made by enterprising prisoners, the modes of delivery became an issue of contemplation for all.
I personally had no opinion on whether prisoners were allowed to possess tobacco in segregation units.  However, I had a professional obligation to ensure that my area of control was not Grand Central Station in the tobacco transportation network.  My assignment came down from the top of the chain of command, the Warden.  My new duty was to search all law and general books coming from and going to segregation. 
Part of library service that I provide is to ensure the integrity of the collection.  Therefore, I restructured my work habits and incorporated a shakedown routine that I use to this day.
I was stupefied by what I found in books!  Some would-be traders were clever, concealing just a little of the precious tobacco in unobtrusive pocket parts.  Others were more brazen, perhaps counting on staff apathy and the sheer number of books to be delivered.  They simply used adhesive bandages to adhere tobacco-filled envelopes to the inside cover of the book.  And some inmates recycled the old Hollywood cliché of hollowing out a portion of the book and inserting tobacco there.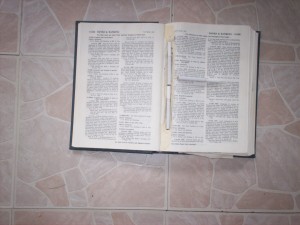 As I continue in the role of tobacco hound, I find other items not related to the prisoners' lucrative, but illicit cigarette trade. I have encountered many notes, some keys to codes, correspondence that warranted immediate attention to the inspectors, book mutilation, matches, yards of string, make-shift ropes, and coiled wire.  
 That was the time in my career that I truly woke up and smelled the contraband. I realize that initially I was relatively blind.  Realistically, I know also that I may not see all illicit activity in the library.  But, the wake up call had been made.
It would be another year before I started writing professionally about the dynamics of contraband in prisons.  And I have come a long way from the green staff member with just a little experience.  However, I often consider the many inspirations on the road from novice to present. 
And while my level of expertise in contraband detection has improved, one thing has stayed constant.  Prisoners will continue to move contraband under the noses of staff.  Corrections professionals of all varieties must continue the search in order to keep prisoners, staff, and the public safer.
1 Bouchard, Joseph. Wake Up and Smell the Contraband 2nd ed. – LRP Publications: (2005). 

Email This Post

Print This Post

joebouchard Contraband Control, Self Scrutiny