Destination Intimidation Part 2: The Benevolent Bully
For an institution to run efficiently and effectively, the three "C's" of effective operations need to be in place.  These fundamentals are:  Chain of command, Communication, Clique control. An effective leader will best drive these lessons home and make them part of the institution's values. 
All three of these foundation elements are challenged by the specter of bullying in the workplace.  Bullies of all varieties thrive on control.  They rule through coercion.  Their presence often makes achieving the mission statement of any agency more difficult.  And sometimes when we endeavor to control bullying (or take out the trash) we might consider some unorhtodox methods.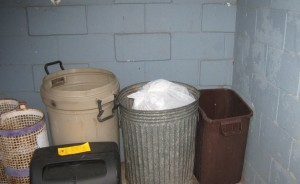 There are times where the bully is best handled by the determination and bold assertion that many bullies use.  And it must be tempered with policy and procedure. The Benevolent Bully is a leader who is the champion of the oppressed, an anti-bully type of bully.
This may go against conventional wisdom.  But those who think "Might makes right" may be ruled by that. Sometimes, the situation quite simply warrants a Benevolent Bully. 
Benevolent bully seems to be a contradiction in terms. Benevolence refers to kindness.  Bully refers to coercion.  This is merely a term used to describe a colleague or leader who will stand up to bullies in the workplace in a decisive manner.  The bully component really points to assertion, rather than to aggression. .  The benevolent part is kindness and compassion toward the smooth running of an institution.
The benevolent bully is flexible, yet operates in a uniform manner. One can be hard on bullying offenses, for example, but still lenient on minor infraction. A good example of this is the leader who, ironically, has a zero tolerance of coercion among colleagues.
Through the POINTS system, we see that there is a complex array of bullies: Physical, Obnoxious, Intellectual, Necessary, Together, and Sexual bullies.  (See "How to identify corrections bullies: the POINTS system" The Corrections Professional 9.5 (2003): 3.) 
There are so many leadership styles.  But there is no single manner is appropriate for all situations.  Facilities vary and foci are never quite the same. In addition, the intangibles of culture make the mix more interesting. But the introduction of a benevolent bully could help an institution to run more smoothly and attain the 3 C's.

Email This Post

Print This Post

joebouchard Assessing the organization, Self Scrutiny, Staff relations