Adventures on paperwork mountain
It was an intimidating stack of paper that accumulated during my absence from work.  It was roughly the same dimensions as three large law books.  Though the pile of paper was an inanimate object, it seemed to mock me. Like it or not, I had to deal with the tedious task of filing.  I had no choice but to assail Paperwork Mountain.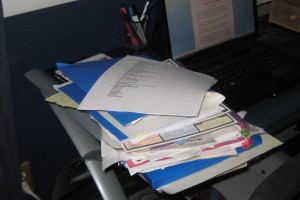 Despite our steady movement into the digital age, corrections still runs largely on paper.  And while we may one day bid adieu to paper, do not count on this happening in this part of the decade.
We could lament over the copious reams that we shuffle as a normal course of our duties.  Yet, it is too easy to overlook the many useful benefits that are brought from managing so much paper.
There is a valuable hoard of information contained in each pile of paper that we assign to its proper place in our files.  One of the chief utilities of the paper paradigm is the paper trail.  This often provides clear and solid evidence to refute allegations and deficiencies.  There is nothing like a signed and dated document to demonstrate receipt of a valid service.
Also, handwriting comparisons are facilitated. Bulging files provide an excellent collection of writing and printing samples.  Many an anonymous threatening note have been positively identified because of clues in the housing units matched to paper files in other areas.
For students of trends, the paper files offer a peek at active segments of any population. Currently, for example, it seems that prisoners with fifteen years of their terms served comprise a large portion of those who request and receive library services.  Of course, this is just a factoid.  But it is interesting to see the trends shift over time. 
Staff who file offer themselves the benefit of a memory building exercise.  As each paper is deposited in a numeric file, the name is also registered in the mind. Naturally, this is not done to reduce an offender to a simple number.  The usefulness is manifested in your mental index.
Perhaps someday corrections will go completely digital.  Paperwork Mountain may be a distant memory someday.  But for now, it is the reality with which we work.  In the meantime, there is a priceless accumulation of information contained therein.  Filing duties may not be glamorous or even remotely interesting. But the many benefits are appreciable for the safety of corrections staff.

Email This Post

Print This Post

joebouchard Security, Self Scrutiny, What the...?!?