Words from a mentor "pay day and quitting time…"
At first glance, a colleague of mine seemed like a crusty corrections veteran with a predilection for enforcing the rules.  We often joke that in his spare time he goes to a local discount store and writes misconduct reports on shoppers who are not wearing regulation shoes.  We know (or suspect) that it is not really true.  That is the nature of camaraderie in corrections.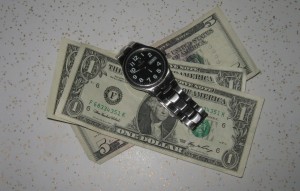 But, still water runs deep.  If one waits and listens patiently, nuances of others' personality slowly appear. Above all, our profession teaches us that there are more than surface impressions to consider.
Although my rule enforcing colleague used his well-cultivated work persona to maintain a balanced, formidable exterior for an often precarious vocation, he surprised me from time to time.  He would let slip some corrections truisms from on occasion.  One of my favorites was, "Pay day and quitting time will get here on time".  Like his work persona, on the face of it, it is what it is.  However there is more, if one delves a bit deeper.
 Admittedly, these are my interpretations. And I offer them to you for what they are worth.
Focus on a goal – Little things are important and may be part of an interconnected network of events.  To solve these, we should always have in mind the chief objective – safety. We must always have an eye on the finish line as we deal with the smaller tasks.  Final goals are important, even if the route that we take is somewhat convoluted.
Safety counts – What he was trying to say is that any day that we go home safe is an excellent day.  As quitting time comes as scheduled, we still have to leave the facility whole. 
Cherish the time off – Quitting time is a daily goal.  When we are off the clock, of course, starting time will come as scheduled.  But it is the time off that we need to recharge our vocational batteries.  Without down time, our time in corrections is less effective and more stressful.
Enjoy the compensation – Whatever one's view of monetary compensation, pay day is a goal to keep us motivated.  It is no secret that one has to search diligently for work rewards in our vocation.  Quite simply, they are fleeting.  And while the services we render are valuable – indeed priceless – when all goes well, our labors are not tangible. 
Gain strength from rewards during a bad day – Whenever the day was not so good and challenges accumulated, my colleague would point to pay day and quitting time.  That was one of his mantras, something that brought him solace in the face of adversity.
It is interesting to me that such a short phrase from a rather quite man could mean so many things.  But, that is his nature.  He was the source of other quick and punchy maxims.  But that remains my favorite.
He has since retired.  But his excellent work habits, corrections common sense, and dedication to the profession have left an indelible mark on others.  And when I am faced with a particularly challenging day, I just focus on these comforting words: "Pay day and quitting time will get here on time".