Destination Intimidation: A survey
At the American Correctional Association Conference in Chicago last week, I presented a workshop called Destination Intimidation.  This dealt with recognizing bullies in correctional workplace.  It was well attended by energetic and insightful participants.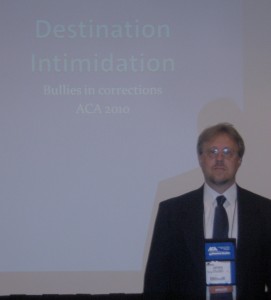 At the conclusion of Destination Intimidation, I distributed a survey about the bullying topic.  Almost everyone shared their knowledge.  So, in the spirit of expanding the base of corrections knowledge, here is what our colleagues had to say.
1.      Is bullying a problem in your facility?
92 % said yes
8 % said no
2.      What are some possible negative consequences of bullying in the workplace?
In no particular order, these are the possible negative consequences suggested by participants:
·         Diminished productivity
·         staff division, lawsuits
·         grievances
·         hostile/negative work environment,
·         poor staff and offender rapport
·         turnover, expensive retraining
·         unnecessary discipline
·         separation
·         increased sick leave
·         revenge
·         distrust
·         assaults
·         suicide
·         and homicide.
3.      In your professional life, have you ever crossed the line from persuasion to bullying in order to get your way?
66 % admitted that they had used bullying
31 % said no
3% said maybe
4.      Can bullying in facilities be completely eliminated or simply lowered?
Simply lowered – 92 %
Eliminated – 8%   Many who answered that it can be eliminated indicated that it is a difficult proposition, but it is possible.
5.      What are some ways that corrections professionals can stem the tide of bullying?
·         Education/training
·         do not hide the problem under any circumstances
·         communication, pay attention to staff dynamics
·         consistency
·         positive leaders
·         teamwork
·         make the consequences of such behavior clear to all staff
·         continual building of awareness
·         a positive example is worth a ton of teaching
·         supervisor accountability
·         zero tolerance for bullies
·         and basic professionalism.
It is truly gratifying to present to a receptive group of professionals.  It is even more of a thrill when the group shares it knowledge.  Thanks to the participants of the Sunday, August 1, 2010 session of Destination Intimidation in Chicago.  I appreciate it very much.  And the corrections profession benefits from your experience and honesty.

Email This Post

Print This Post

joebouchard Assessing the organization, Self Scrutiny, Staff relations, Training