"Bloods" More Gang Knowledge
"Ash to ash, dust to dust, bloods I trust;
Crabs we bust, kill a crab, win a prize;
Kill a blood your whole family dies."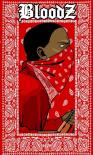 As the Crips grew in South Central Los Angeles in the early 1970s they began targeting other gangs.  It was during this time of conflict that several gangs joined forces to combat the growing Crip threat.  The most well known gang within this group was the Piru Street Boys.  They lead the revolt against the Crips and were instrumental in creating the Bloods gang in 1972.  During the next 10-years the Bloods continued to operate and grow in a fragmented manner.  Conflict with the Crips continued and the Bloods found themselves heavily outnumbered. 

Between 1982 – 1984 the violence between the two groups skyrocketed.  It was during this time crack hit Los Angeles. Crack or more properly called rock cocaine was cheaper and much more addictive than the powder form of the drug. Gang territories became more important as the many Blood and Crip sets fought over drug sales locations.  Some Blood members moved to several large cities throughout the West Coast to expand their drug market. To minimize attention from law enforcement, many Blood gang members abandon wearing obvious identifiers of gang affiliation so they could continue illegal activity with little fear of apprehension.

It was during the late 1980s that the Bloods became a household name. The movie Colors, staring Sean Penn and Robert Duvall was released which focused on the gang problem in Los Angeles. It has been rumored that some movie theaters actually promoted the movie by offering a bandana to movie attendees. It was after this movie that many teens with no connection to the Los Angeles based gang began creating their own Blood gangs. Although many of these groups were nothing more than childish groups mimicking dress and slang they saw in a movie, some soon became involved in violent activity and drug sales comparable to gang activity committed by original Blood gang members in California.

In 1993, a group on the East Coast created a gang known as the United Blood Nation.  Born in the Rikers Island New York jail, African American inmates created the group as a way to protect themselves from the Latin Kings, which was the most prevalent group in the jail system at that time. Although the United Blood Nation (UBN) was born in the prison system, as members were paroled to the streets, they formed street gangs on the East Coast under the same name, while emulating the Los Angeles Blood lifestyle.

Although the majority of Blood gangs identify with the color red, members may not always wear gang identifiers when engaging in criminal activity. On the West Coast members are more likely to use a bandana for identification, while some Blood sets on the East Coast will use a colored beaded necklace. Although Blood gangs share the same name, there is no formal leadership structure that controls all Blood gangs. A Blood gang member in Springville, Utah may be very active in the gangster lifestyle, yet will have no connection to Blood gangs in the West or East Coast. Bloods will align themselves with other gangs to engage in criminal activity, including their rivals the Crips, although most alliances quickly fade away. The Bloods are known to be involved in all forms of criminal activity, but are mostly known for drug sales.
Blood Tattoos

Tattoos are among the most common way that gang members identify themselves. This training will cover the tattoos that blood gang members use. Below you will find a list of tattoos/brands that bloods use for identification, show of rank and what set they claim.
MOB - These letters represent "Member of Blood" Most of the time the gang member will tell you that is stands for My Only Brother, Money Over Bitches or Mamas Only Boy. These are rehearsed answers and used to confuse you. Please do not fall for this but keep in mind that this tattoo alone may not be enough to say he/she is blood. There are individuals that tattoo these letters on their body because they honestly think it means something other than "Member of Blood".
Three Triangle Burn Marks/Tattooed - In the blood world, these are referred to ass Dog Paws and are one of the most common ways for a blood to identify. The most common place you will find these is between the index and thumb but I have also seen them on the right shoulder and on the stomach. Although the majority of dog paws are burned onto the skin, you will also find them tattooed.

Five Pointed Star - Bloods rep the number five and use a five pointed star as another identifier. You will see the number 5 inside of the star sometimes and also the word Blood written from right to left around the points.
Five Pointed Crown - Again using the number five they will incorporate that number into a crown. A lot of times there will be an upside down pitchfork holding the crown up. This shows disrespect to Crips and Folk Nation gangs.
These are some of your universal blood tattoos. Below I will give examples of numbers and letters that will specify an area, a specific set and codes used by blood gang members.
Ø     GKB - This represents "Gangsta Killa Blood", also referred to as G-Shyne
Ø     BHB - Bounty Hunter Blood
Ø     SMM - Sex Money Murder
Ø     GMB - Get Money Boys/Bloods
Ø     TTP - Tree Top Piru
Ø     804 - Virginia Area Code (Richmond Area)
Ø     757 - Virginia Area Code (Tidewater Area)
Ø     311 - Third letter of the alphabet is "C" and the eleventh letter is "K". This is Crip Killa
Ø     31 – Blood Love
Ø     2.12.15.15.4 – Blood
Ø     23 – Get Him
Ø     51/50 – 5-King, 1-Nation, 5-Wins, 0-Losses / 5-Kings, 1-God, 5-Queens, 0-Crabs
Ø     000 - means OG
Ø     031 - love/solidarity/number code for blood
Ø     212 - Blood code - 'let me holla at you.'
Ø     5 poppin 6 droppin - Bloods are shooting and Crips are dying
Ø     B-one-eight-seven - means homicide, or the act of killing a rival member, such as the Crips, reflecting the police code for homicide, 187.
Ø     B Unit - Blood Unit
Ø     Bang'Em - Kill A Crip
Ø     "Blaaaat, Blaaaat" The Blood saying to let each other know something is about to happen. (An assault, meeting or etc…)
Ø     Bomedy - comedy
Ø     B L O O D- Blood Love Overcomes Our Depression or Brotherly Love Overrides Oppression & Destruction
Ø     B.R.A.A.T. - Bloods rule all around town
Ø     Bro - means Blood (way of seeing if there's a blood in jail)
Ø     Bool - cool
Ø     Boompady Bop- Phrase said by a Blood to disrespect a Crip
Ø     Dipset - blood faction (There has also been sets identified with this name)
Ø     Bunny Hunters - Bounty Hunters
Ø     Burners - mean guns
Ø     C.K. - means "Crip killer"
Ø     C.R.A.B. - Crips Really Are Bloods
Ø     Ike - dude
Ø     Rips refers to Crips
Ø     B-rabs - refers to Crips insult - "Brabs" means Crabs, what Bloods call Crips but since they cannot pronounce the C they use a B.
Ø     Erickets - refers to Crips insult
Ø     Denver Lames - refer (derogatorily) to the Denver Lane Bloods
Ø     GS- Gay soldier, said by a Blood to disrespect a Crip
Ø     Hard Backs- derogative terms for Crips
Ø     Jungles - ghetto areas belonging to Bloods 
Ø     OG - Original Gangster (The highest rank you can receive in the gang)
Ø     OTM - "Out That Mob"
Ø     Red DoggTags - Identifies EastCoast Bloods
Ø     Rice Crispies refers to the Raymond Ave Crips
Ø     Nappy Heads for the Neighborhood Crips
Ø     Paisley - design used by Bloods on bandannas
Ø     pu55y - variation of pussy
Ø     Swayhooks - Swans
Ø     Sissies - Pejorative term for Rollin Sixties
Ø     Tramps - Eight Tray Gangster
Ø     Peter Rolled - is a Bloods term for murder
Ø     "What dat B like homeboy!"
Ø     "What It B-Like"
Ø     "What's Poppin" - "What's up/happening"
Ø     "What's Brakin"
This was a brief overview of blood tattoos, sets and codes. Keep in mind that it is vital to know if your area has gangs and attempt to suppress them by enforcing laws and developing policies if necessary.

Blood gang members use several ways to identify themselves. They show respect to the gang and disrespect other gangs on a normal basis. One way for them to identify themselves is through handwriting characteristics. This should be considered a gift to all Law Enforcement because some of these gang members only now one way to write and in that you can see the gang identifiers.
Some of the most common blood handwriting characteristics are as followed:  All "B's" will be capitalized, no matter there location in the word. Some examples of that would be the following: aBility, staBility, craB and staB.  All "P's" will be capitalized. This shows respect to Piru, the original Blood set. Again, the "P" will be capitalized no matter is location in the word.
All "C's" will be crossed out or replaced with the letter B. This shows disrespect towards the Crips. An example of replacing the "C" with a "B" would be the word "BeBause". IT should be because but as you can see the "C" has been replaced.  Make the letter "T" an upside down pitchfork. This shows disrespect to Crips and all Folk Nation gangs. The "T" is made into an upside down pitchfork by drawing a line down from each side of the horizontal part in the "T".  Cross out all "f's". This shows disrespect to Folk Nation.
Cross out all "6's". The 6 represents Folk and crossing it out shows disrespect. Writing the number 5 very large and/or BOLD, this shows respect for the gang. There are others characteristics, such as signing a letter BKA to represent Blood Known Alias and Drawing five pointed stars and five pointed crowns.

Email This Post

Print This Post

Tracy Barnhart Gang Information, Hot Tips