Pride and Prejudice
By Jim Montalto, News Editor
Published: 10/27/2008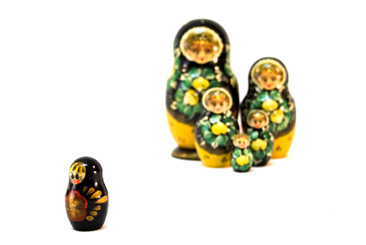 My family and I moved to a new town not too long ago, so when a neighbor invited me over to share tips on growing herbs and vegetables, I eagerly accepted. As can be the natural course of any get-together our conversation turned to the challenges, and wonderfulness, of raising our kids, which included the stress associated with caring for our family while balancing careers.

Well, he mentioned it actually. I gladly popped open a summer blueberry ale, breathed in the fresh scent of just-picked dill, and listened. He spoke about working a full-time teaching job in a town several miles away, while his wife taught in a school district also quite a distance from their home. All of this being done while figuring out who got which kid and when since the children were in different preschools in different towns. I nodded, and added the occasional "wow," and "I hear ya," at appropriate times.

Despite the distractions of the dill and beer, I'd heard every work he said, but truthfully, I really hadn't been listening too closely. I'd like to blame the "I've heard it all, and you're not much different from the rest of us working folks," excuse, but that wasn't it.

The neighbor is a nice guy, smart and funny too, and he was quickly becoming a good friend. So I did care. It was the stress that did me in. The kind that gradually appears and then slowly crawls like large, dark storm clouds over me when any conversation occurs that has to do with jobs, work and careers.

The stress builds in me because I know how this particular conversation will end, as predictably as I know how it will begin; all with a simple question. "So, what do you do?"

I've thought of a million ways to respond, but none seem any good. Each time I think that if I'm not straightforward and serious about my answer, then nobody will take me, or what I do, seriously. However, it never seems to matter how I respond because the reactions are the same.

"I'm the editor of a website called Corrections.com," I tell my buddy, who is now plucking cilantro leaves from its stem. His response, the Homer Simpson two-blink stare, is one I've seen numerous times, and I wasn't surprised to see it now.

"You know if you chop up some of the stem and toss it into whatever you're making it gives the herb flavor a bit of a boost," I quickly add, thinking, wishing, hoping, that a culinary tip will wield us away from the corrections talk and into a lengthy discussion on my passion for food. He doesn't take the bait, but instead gives me an inquisitive look, and hands me the cilantro.

"I write for them too," pretending to believe that the confusion is really with the website editing. Perhaps he thinks editing was too simple, and clearly I must do something else.

He's still quiet, so I give in.

"You know, jails and prisons and stuff? Corrections. My website covers information for and about jails and prisons." I end with the line I use when introducing myself to a source when I'm reporting, because surely that will clear everything up.

It doesn't, as it usually doesn't. It does bring the predictable responses. It's an uneasiness that reveals itself in two ways; either with a joke, which I hate, or with some strange string of "oh, ok, I see," words that pretty much end the conversation.

My neighbor goes for both.

"Oh, ok, I see. So like you write about the latest gang riot or prison escapes? Like 'today two inmates killed each other, oh and by the way, there's a sale on shanks in cellblock four.'" He laughs and continues for a few minutes more. As usual, I do nothing to stop the idiocy. "Here's news, the uniform stripes are now vertical, ha, ha. And in other news jail food sucks, ha, ha."

As usual, I chuckle along. And, as, usual, I feel like a slug for doing nothing to support my field or my job, or worse yet, those folks out there putting themselves in harm's way to ensure everyone's safety.

I leave my neighbor, and ponder our conversation. He, like others with whom I've spoken, really can't be blamed for their ignorant behavior. Why should they be? Like it or not, corrections is an uncomfortable part of society people either shun or fear, or they get caught up and disappear into.

I know I'm not even close to those actually doing the real work inside our nation's jails and prisons. I just write. But, still, I should know better.

I've encouraged, even scolded at times, public information officers and administrators for not being more open and communicative with their local media about the good they do.

What makes me any different? I should be open and supportive of my field and explain the good it does, and the reason it exists. But, when asked about my work, I don't. I don't because I try to avoid the uncomfortable feelings and ideas with which this field can be associated. As a result I too feel isolated, much like, I imagine those working in the field do.

Later, as I watch my kids run around the playground, a man walking up the driveway next to the park catches my attention. I notice his uniform along with the badge that's reflecting the late afternoon sun. He looks like a CO, and I get excited thinking about the chance to connect with someone who must know what I go through each time the job topic comes up.

Despite his weary and withdrawn appearance I walk to the fence and call to him. He examines my posture and the clothes I'm wearing. I offer my hand to show I'm not a threat and he reluctantly shakes it.

Then, I enthusiastically ask if he's a corrections officer. He says yes. I tell him I work for a website that covers his field.

"Good for you," he says, but not much else.

I ask him how he deals with the difficulty of explaining his job, and the stigma attached to the field. He looks at me strangely.

It's just a job he says. He doesn't see it much differently from any other difficult job, but he likes it. His face fills with pride as he explains his ability to do something that not many can or will do. He says he doesn't care what others think about his field or about the misgivings they may have about it. He does his job well, as do his fellow officers, and that's enough for him.

As he excuses himself and heads into the house, his words sink in. Perhaps it's not about the prejudice, I think, if the pride in what one does outshines all else.

This is a lesson that can be applied to everyday tasks too. Whether it's nurturing friendships, building a career, or even growing herbs, the essence isn't so much in what we do, but the pride with which we do it.
---