Nature's Little Helpers
By Ofc. L. Ruiz, Miami Dade Corrections & Rehabilitaiton Department
Published: 09/27/2010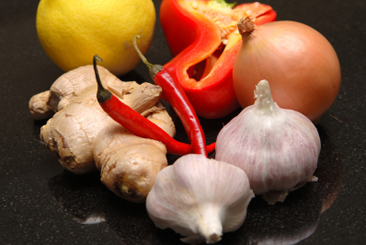 There are several foods in this world which are nature's little helpers. The following three foods are your greatest weapons for staying healthy and keeping yourself clear of sickness. These four amazing foods are classified by many as superfoods and each have amazing claims behind them for being health promoting. Every CO should include as much of these four foods in thier diet as possible!

GARLIC

Garlic is an amazing food and a true gift from heaven. It is antibacterial, antiseptic, antispasmodic and a cure for just about everything that ails you. However, it only retains these properties when it is eaten raw. Once you cook it, it's worthless.

But…it can be hard to get down.

Eating raw garlic can be off-putting for some people. It is such strong food that its taste can just be too strong.

Try it in a homemade dressing. Drop a few garlic cloves into a blender with your oil, Raw Apple Cider Vinegar, spices, and a chopped up rib of celery. Celery becomes creamy once blended and omit's the use for additional fat or dairy.
Extrude the garlic finely through a garlic press and smear it thinly on a piece of bread or cracker. Or, rub a clove directly onto toasted bread!
Garlic can also be added to frements. When added to kim chi, sauerkraut, pickles, chow-chow, chutneys, pickleeze, or other cultured products that you make at home it imparts a wonderful flavor and it's life giving properties.
Make a nice dipping sauce for your raw veggies by blending 1 juiced lemon, 2 cups of raw cashews, 3 stalks of celery, 1/8 of an onion, 2 tbl of thyme, 2 garlic cloves, water as needed. Blend till smooth and creamy. It'll keep in the fridge for a few days.
Use in salsas, guacamoles, and pico de gallo recipes.
Make your own homemade hummus with lots of garlic and onion.
Make tangy drink. Juice a tomato with a rib of celery, ¼ tomato, two garlic cloves, and an organic lemon skin and all. Add a little raw apple cider vinegar, salt to taste, and cayenne to taste. Enjoy!
If you regularly use any one condiment like: vinegar, ketchup, mustard, hot sauce, or chutney. Pour your sauce out of its container into your blender add several peeled cloves of garlic and blend. Pour back into your container and use as you normally would.
For a quick veggie dipping sauce mix real yogurt, with live active cultures, with finely chopped garlic, finely chopped onion, salt, pepper, cayenne, and your favorite blend of herbs. Remember that pasturize and homoginized milk products are not good for your health. They cause mucus in your intestines, throat, and lungs. Never give pasteurized and homogenized milk products to the sick, elderly, or children!!!
Blend any raw nuts with water to form a cream. Add garlic and herbs. Stain in a nut milk bag, cheese cloth, or as a last resort in several layers of coffee filters. You wind up with a very cheese like product that is protein rich and flavorful.


Tip: Some people find garlic hard to digest. Slice it in half and remove the green inner sprout which can give sensitive people heartburn and be bitter.

GINGER BENEFITS

Suffer from Migrains? Denmark researchers have discovered that ginger can block the effects of prostaglandins. These are substances that cause inflammation of the blood vessels in the brain, which leads to migraines.

Also I have found medical studies which support ginger's health benefits regarding: Ovarian Cancer Treatment, Colon Cancer Prevention, Morning Sickness, Motion Sickness Remedy, Reduces Pain and Inflammation, Heartburn Relief, Cold and Flu, Prevention and Treatment, Migraine Relief, Menstrual Cramp Relief, and Prevention of Diabetic Nephropathy.

Ginger can be taken as:

An iced or hot tea
Grated, chopped, or sliced into just about any food you make including, soups, casseroles, stir-fry's, or any vegetable
It goes very well with any meat, fish, or vegetable
It can be juiced in small amounts with your usual vegetable or fruit smoothies. Careful, a little goes a long way.
Ginger chopped and mixed into meatloaf or meatballs makes a lovely accompaniment
Can be picked alone or used as an flavor enhancing ingredient in any frement: sauerkraut, pickles, kim chi, chow-chow, chutneys, pickleeze, etc.


CHILI PEPPERS

Chili peppers are one of the healthiest foods that you can eat. Chili Peppers Fight Migraine Headaches and Sinus Headaches. Chili Peppers Prevent Sinusitis and Relieve Congestion. It's the heat it clears the mucus. Chili Peppers also contain antibacterial properties.

If you don't like the heat try:

Jalapenos are one of the more mild pepper. Slice vertically, clean out the seeds and membranes which contain the most heat. And then use as you see fit.
Drop into blender with your salad dressings to add a little zing.
Mix more peppers than you think you can take into meat loaves or meat balls, once cooked the heat reduces.
Slice and add to meat or vegetable dishes.
Eat with fatty foods like avocados or nut pates. The fat naturally cuts the heat by half and make it easier to eat.
Mix into salsas, pico de gallo, guacamoles
Pickle jalapenos for a tangy and much milder product or add to the frement of your choice.


HORSERADISH

Horserasish has a spicy and pungent taste. It's antibiotic, anti-inflammatory and aphrodisiacal. As a medicine horseradish root is a: strong antibiotic, expectorant, bronchodilatator, antibacterial, coronary vasodilatator, it increases the blood pressure, it heats up the body, stimulates the body's immune system, anti-inflammatory, antiparasitic, antianemic, antiscorbutic, diuretic, stimulates the appetite, has a cardiotonic effect and is recommended to the people that suffer from high blood pressure.

Horseradish syrup: mix grated horseradish root with 4 spoons of raw honey. Allow the flavors to blend for several minutes or hours. Strain the mixture through a cheesecloth to obtain the raw syrup. The remains from the cheesecloth are set to boil in a little bit of water. After boiling, the mixture gets strained and then left to cool off. Mix the cooled water with the raw syrup. Take 3 spoons of the mixture a day.

Horseradish vinegar is made by filling a bottle or jar with grated horseradish. Pour in raw apple vinegar to the brim. You can start to use this after a few minutes. If kept in the refrigerator it should have a very long shelf life. An ideal amount of horseradish vinegar to be use is 1-2 tbsp. a day.

Horseradish sauce is made by grating and pounding the fresh root and then adding lemon juice. Use as a condiment on bread, crackers, on sandwiches, or with meat dishes.

As poultice, grate the fresh horseradish root and spread it on a linen cloth or thin gauze. This is then applied on the affected area once or twice per day until the affected area heals.

Corrections.com author, Ofc. L. Ruiz is a Corrections Officer working at the Metro West Detention Center, Miami Dade Corrections & Rehabilitaiton Department in Miami, Florida. She had been heavy her entire life which was always normal for her... Until her weight went out of control. At 25 she was a size 28. Her health declined and she felt powerless. She started Weight Watcher's at work; Then, her research rat instinct kicked off and she began a quest to learn. She learned about food, nutrition, and health related issues. In the course of research, she kept reading about the Raw Food Movement. It was interesting enough that she tried it out. The weight simply fell off and her health improved dramatically. When her weight was finally under control she found that she suddenly had options and became a Corrections Officer.

"If people let government decide what foods they eat and what medicines they take, their bodies will soon be in as sorry a state as are the souls of those who live under tyranny." – Thomas Jefferson (U.S. President)

Other articles by Ruiz:


---