Is Chemical-Free Floor Stripping an Option?
By Daniel Frimml
Published: 07/02/2012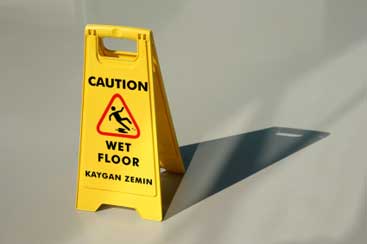 Floor care is a key consideration in most correctional facilities. Administrators want their floors to be safe for staff and inmates, sanitary and clean to help protect health. In addition and in many cases, they want the floors to have what is known as a high-gloss, "wet look" shine.

The reasons for the high-gloss shine are many. Among them:

Floor finish (wax) helps protect floors so that the floors last longer and can hold up to the heavy foot traffic typically encountered in a crowded correctional facility.
A well-finished floor tends to be easier to care for. Spots, stains, spills, and so on, are invariably easier to remove when floors are finished than when they are left dull, without a finish applied.
Floors look better when shiny, and this has a number of psychological implications. Hospital, grocery store, hotel, and other facility managers find visitors have more respect for their facilities and their staff when floors are well-maintained with a high-gloss shine. This often applies to correctional properties as well.


However, it must be admitted that maintaining floors with a high-gloss shine can take time and attention, which adds to operating costs. Further, there are some environmental considerations because floor care chemicals, specifically the strippers used to remove old finish, are widely recognized as some of the most powerful and potentially harmful chemicals used in professional cleaning.

Because of this, many building administrators are showing increasing interest in technologies that can strip floors and help keep floors clean overall using little or no chemical whatsoever. This is part of a growing movement within the professional cleaning industry known as chemical-free cleaning.

Chemical-free cleaning is an outgrowth of Green cleaning that took the professional cleaning industry by storm about a decade ago. The goal of Green cleaning is to reduce cleaning's impact on the environment. However, when no chemicals are used at all in the cleaning process, whether for floor stripping or other cleaning tasks, this takes it to a higher level, potentially eliminating cleaning's impact on the environment entirely.

What's in Floor Strippers?

Before addressing chemical-free cleaning technologies, we should explore more thoroughly the reasons this is important to correctional facility administrators. Conventional strippers contain a variety of ingredients that can be dangerous not only to the user but to staff and inmates as well. These dangers increase if the chemicals are improperly used or when accidents occur, both of which are far more common than most administrators are aware of.

Research by the Washington State Department of Labor and Industries finds that conventional floor finish often contains butoxyethanol, sodium hydroxide (also known as lye), and ethanolamine. The amounts may vary depending on the product and manufacturer but are commonly found in all conventional floor strippers. All of these chemicals can be dangerous if they get in the eyes, on the skin, or in the lungs.

Butoxyethanol is of particular concern. It can be absorbed through the skin and is viewed as a poison targeting the liver and kidneys. It can be so dangerous the "slurry" that forms when stripping floors with butoxyethanol and similar chemical ingredients can no longer be poured down drains in California. Instead, it must be placed in sealed containers and treated as hazardous waste.

The No-Chemical Option

While it is true that many of these health and environmental problems can be resolved by transferring to Green floor strippers, making the switch is often easier said than done. Many administrators find they must try several Green strippers before they locate the one that works as well as the conventional strippers used before. Additionally, costs can be a consideration since some of these strippers come with a higher price tag than their conventional counterparts.

What can work, however, is selecting a floor machine that employs cylindrical brush technology. These machines, which are available to strip and polish floors as well as automatic scrubbers,* use counterrotating brushes instead of the rotating pads of conventional floor machines. While rotating pads are designed to clean the top surface of the floor, cylindrical brushes are designed to dig deeper into the pores and grout of the floor, removing finish and soils. In addition, depending on the manufacturer, these systems have four to six times more contact pressure on the floor, which gives them more cleaning, finish, and soil-removing power.

It is chiefly because of the brushes and the added pressure that some experts now believe these machines can adequately perform floor stripping using no stripping chemicals at all. Of course, this can depend on how much finish has been applied to the floor as well as how soiled the floor is overall. However, even with significant buildup of finish or soil, the machine does more of the work, meaning less stripper will likely be needed.

The emerging goals in cleaning are to protect the health and safety of cleaning professionals and building users, adequately maintain the appearance of the facility, and do so with the least impact on the environment as possible. Chemical-free cleaning is emerging as one of the most promising ways to make this happen.

Daniel Frimml is Technical Service Coordinator at Tornado Industries, manufacturers of professional cleaning equipment.

*Automatic scrubbers are designed to scrub, clean, rinse, and dry floors in one pass.


---