Choice officers graduate, ready to serve
By Jim Montalto, News Editor
Published: 06/13/2007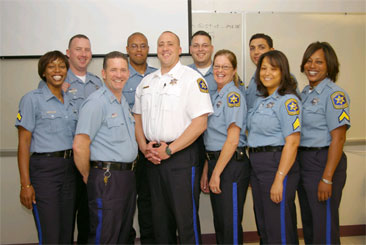 BOSTON, MA - Eleven Suffolk County Sheriff's Department cadre officers recently completed a week of instruction at the department's training division as part of the Sheriff's Choice Program. These officers will now visit schools, camps and community centers to help youths lead positive lives by avoiding peer violence and drugs. The new graduates join fourteen other officers who graduated in January 2006.

The Choice Program began last year as a way to encourage children to respect themselves and others and help them prepare for their future. Participating officers speak with youths about the dangers of drug use and gang involvement and the consequences of criminal activity.

"We're always working to reduce the rate of inmate recidivism, but with the Choice Program, we stress prevention and keeping kids from ever coming to stay with us," says Choice Program instructor Deputy James Cochrane. "When you consider that we can positively influence kids, this is a very important program."

This year, Choice officer training included a new civic education component.

"I requested the opportunity to come to the Choice Program so I could speak to kids about the importance of making the right choices, getting good grades in school, and resisting peer pressure to use drugs and join gangs," says graduating Choice officer Deputy Gioacchino Curiale. "I really think that we can make a positive impact in their lives."

Choice officers will be making presentation visits to community centers throughout the summer and, beginning in September, to Suffolk County schools.

The June 2007 class of Choice Program graduates are Deputy Dennis Manning, Deputy Justin Manning, Corporal Christina Chaney, Deputy William Miller, Lieutenant Bruce Owen, Corporal Helena Roberts, Sergeant Mary Holton, Deputy Luther Miles, Deputy Gioacchino Curiale, Deputy Joanne O'Brien, and Deputy Paul Darcy.
---