Know your body language
By Barry Evert, Sergeant
Published: 08/06/2007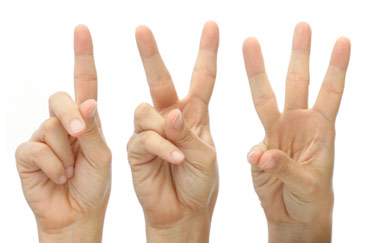 Many people have attempted to decipher body language as a means of predicting human behavior. Many of these people are self-proclaimed professionals who have never spent a day in a job where reading body language can be a life saving skill. Many of us in corrections and related law enforcement careers already possess the skills to "read" a person based on their physical behavior, but have a hard time articulating it in a report or in court.

Many of us have faced an inmate or suspect that we know has violent tendencies. We can usually base this on the first five seconds of contact. We'll assess the environment, and ask if we have a tactical "out" - is there a way for me to get out of the situation should the inmate or suspect gain the upper hand on this situation? Second, we should look at how the person is standing. Commonly we associate a "bladed" stance (one foot in front of the other, standing sideways to your adversary) as an aggressive posture. The person will be standing partially sideways, commonly with his hands above his waist.

Third, we are subconsciously watching the person breathe. Quite often agitated people breathe in short fast breaths. This, combined with an unusual skin tone, usually red or flushed, tell us there is something wrong.

As a law enforcement specialist, you already know this, so the question becomes: "how do I deal with this efficiently?"

The short answer here is to error on the side of caution. Call for support right away, and approach the person in a non-confrontational manner. Most commonly we achieve this by "keeping him talking." Communicate with the person as you move closer to evaluate the situation. Position yourself in a "bladed" stance, but position your hands carefully.

If you are actively able to communicate with the subject, position your hands in a "high ready" position. I have taught this as follows: One hand across the chest, with the other "scratching" your chin. The high ready position allows you tactical advantage, as your hands are ready to defend yourself if needed, but keeps the suspect at easy by telling him you're listening to him.

If communication has broken down, take a pro-active stance. With your hands positioned on your self-defense tools (one hand on baton on belt, the other on OC on belt) This will let the subject know that you are ready for battle, but are not willing to instigate a confrontation.

The hardest part of reading body language is the inevitable report that follows if you end up using force.

Someone once told me that communication and using force are like going to a junior high dance. All the boys are standing around the dance floor waiting, while all the girls are dancing by themselves on the dance floor. You don't dare go out there and dance with any of those girls unless you are asked.

Although it is a weird parable, it does apply to this type of situation. You cannot use force, unless the subjects asks you to. He can do this by clenching his fists, coming towards you, or use other "dangerous and threatening" behavior.

The problem we all run into is when we try to write a report when we have taken action to defend ourselves or others based on reading body language. We have a hard time articulating why we had to use force on a subject when he/she never physically assaulted us or others, but was about to.

So here are some helpful lines out of reports I have written and read through the years that describe some of the situation we see everyday, but are hesitant to act on.

1. The subject suddenly moves towards you and your partner:

In this case, a heated exchange lead to the inmate walking towards the officers with a clear intent to assault them. The officer used OC and physical force to subdue him, and described the situation like this:

" Inmate X became silent and clenched his fists. Inmate X began to walk toward us quickly, leaning his body forward as if to lunge at us. Inmate X began breathing rapidly and yelling unintelligibly. Officer Y and I, fearing for our safety, discharged one burst of OC at the inmate's facial area after ordering him to "get down: numerous times…
In this case the officers were exonerated when Internal Affairs conducted an investigation into their actions, as their reports accurately described the inmate's behavior and body language that led them to use force to protect themselves.

2. The subject becomes irate and begins to incite other inmates.

In this case, an inmate upset with his canteen order begins to yell that he is "tired of this B.S." and is going to do something about it. The officers were able to place restraints on the inmate, but not without a scuffle.
"Inmate X was yelling loudly about his canteen order when we arrived. Inmates in the immediate area could hear inmate X, and began to speak loudly and move towards us. Officer Y activated his personal alarm, and we ordered the inmates in the area to "get down." Inmates in the area complied with our orders. We then attempted to place mechanical restraints on inmate X, but as we applied the restraints his arms tensed and he began to pull away. Officer Y and I used our combined body weight and control holds to hold inmate X to the ground as we finished applying restraints."
In both of these cases, a jury may not have understood why an officer elected to use force. However, through good report writing and tactics, the officers were able to make it clear why they had to take action. My point is this: You cannot attempt to read body language and act on it, if you cannot articulate it in a report or in front of a jury. Most of us understand when a person begins to become a danger to others or to us, but we have a hard time writing about it.
If you have a problem articulating what you did and why you did it, step back from the report and call a colleague. Tell the colleague what happened, then quickly write down what you said. More often than not I have found that many officers try to "put too much on" their report, rather than simply explain what happened.

If your partner has a hard time with a report like this, have them tell you what happened, then tell them to write down exactly what they just told you. This is the sure-fire, easiest way to articulate your instincts, and why you acted on them. Your instincts will save your life, but your report can ruin it; take the time to write a good, clear, concise report. Everything else will fall into place from there.

Sgt. Barry Evert began his corrections career in 1999, and is now a Correctional Sergeant at California's Pelican Bay State Prison. He has been with the California Department of Corrections and Rehabilitation for eight years. His specialty lies in teaching, tactical emergency response, riot tactics and officer safety improvement.

He is a firm believer that a good home life breeds a good officer, and is currently writing a book, which supports that idea and details the essential skills and techniques new COs should learn in the first two years of their job.

Other articles by Evert:

Treating an infection within, 7/11/07

Check it at the gate, avoid the burnout 6/13/07


---