Mass. Sheriff honored for reform, innovation
By Jim Montalto, News Editor
Published: 09/26/2007
Guy Glodis, Sheriff of Worcester County, Massachusetts, recently received the 2007 John R. Manson–Carl Robinson Award for his commitment to corrections reform and innovation. He was honored by the New England Council on Crime and Delinquency for his efforts in introducing more than 15 new programs at the Worcester County Sheriff's Office and for his aggressive reform agenda, which was based on inmate rehabilitation and community service.

"What sets an effective administrator apart is leadership, and the ability to combine decisive action with definitive results; and Sheriff Glodis has done just that," says NECCD President, John McDermott.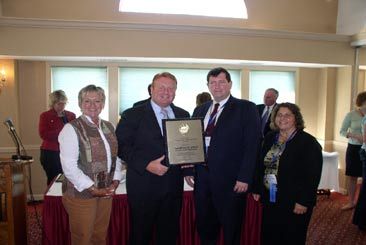 Guy Glodis (second from left) receives his award

Sheriff Glodis was recognized for implementing the Almost Home, Fathers and Families, and Substance Treatment Opportunity programs, and the Responsible Fatherhood Initiative. He also initiated community-oriented efforts like the Community Service, Christmas Dinner, and Winter Coat Donation programs.

"While it is truly humbling to be recognized by NECCD, this award really belongs to the 650 officers and staff at the Sheriff's Office," says Sheriff Glodis. "They work tirelessly to make our vision of reform and modernization a reality."

The NECCD is a 500-member organization comprised of practitioners, supervisors, administrators, volunteers, officers and employees in local, state, regional and federal law enforcement and criminal justice agencies. The John R. Manson–Carl Robinson Award honors individuals who have made a significant contribution to the criminal justice field within the New England area. It was named for former Connecticut Commissioner of Corrections, John Manson, and former Connecticut Warden of Somers State Prison, Carl Robinson.


---