CDCR graduates largest CO class of 2006
By Jim Montalto, News Editor
Published: 10/24/2007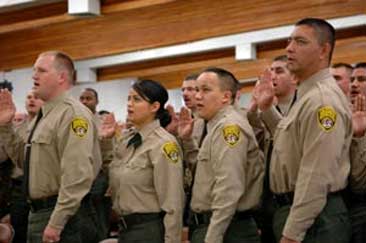 This month, the California Department of Corrections and Rehabilitation (CDCR) graduated its largest CO class of the year at the R.A. McGee Correctional Training Academy. The 408 graduates already have been assigned to adult correctional institutions around the state.

"I applaud these newest correctional officers, who are committed professionals and dedicated to this honorable profession," says CDCR Secretary James Tilton. "We salute you as you begin this next phase of your career, by committing yourself to the public safety and service of California communities."

During the 16-week academy, cadets receive 640 hours of instruction, which include physical fitness training, classes in leadership and ethics, and instruction in crime scene investigation, inmate supervision, emergency operations, and first aid. Upon graduation, new COs will earn more than $45,000 annually.

CDCR has intensified its recruitment efforts to meet the increase in COs needed throughout the state. It receives about 7,500 CO applications per month, but four percent of the potential candidates pass the selection process, which includes a background investigation and psychological, academic, medical and physical fitness evaluations.

During 2006, about 2,595 cadets were added to the CDCR's existing group of approximately 23,260 officers.
---