Terrorism in corrections, a ticking time bomb
By Ann Coppola, News Reporter
Published: 11/12/2007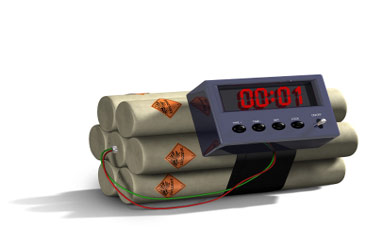 On October 24, 2007 Corrections.com spoke with emergency preparedness and counterterrorism planning expert, Bill Sturgeon, about the growing risk of terrorism in our jails and prisons. Sturgeon has more than 35 years of experience in the criminal justice field, and has managed security operations for sheriffs' offices and correctional agencies across the United States.

He is currently working on a book, due out in early 2008, that discusses how terrorism presents a much greater threat to the corrections world than we might think. Read the below transcript of our conversation with Sturgeon or listen to the podcast.

Corrections.com: What is the connection between prisons and jails and terrorism?

Bill Sturgeon: Throughout history prisons have proven to be the targets for numerous disgruntled groups with names such as: terrorists, rebels, freedom fighters, revolutionaries, etc. I don't think that anyone would argue that prisons throughout history have been places where some horrible atrocities have taken place. In a variety of foreign countries, prisons represent brutal and inhumane governments. These prisons employ torture, murder, rape, mutilation, etc. The international terrorists know only what they have been told. For instance, they don't know that there are private not-for-profit organizations that set standards for the care and custody of inmates. They also have not been told that inmates can access the courts to address, what they believe to be, constitutional violations of their civil rights. Because of the above example, prisons and jails are seen as tentacles of the "federal" government and thereby are justifiable targets.

CC: When you say 'terrorists,' who or what groups are you talking about and how are these terrorists different from other kinds of inmates?

BS: For this podcast, when discussing terrorists we will, for the most part, be talking about international terrorists. The major and, in my opinion, the most important difference between international and some domestic terrorists and other inmate classifications, is that a majority of the international terrorists have a deep seeded religious belief that to die for their belief/cause will win for them heavenly rewards for all of eternity. Additionally, in some foreign cultures, the families of dead terrorists gain a great deal of respect and wealth.

Here's an excerpt from my book: "When your enemy does not fear death, you have a formidable force to guard against. Most of the inmates in American prisons and jails have not given-up the desire to live. Even some hardcore gang members have come to the realization that doing life in prison is better than being executed."

"The terrorists, however, live for the opportunity to use their status to gain status in the organization and/or entrance into heaven. If this should mean killing staff or other inmates, then the terrorists will not hesitate to do so."

CC: If corrections administrators have inmates like what you just described in their facilities, what kinds of programs or activities that should be developed for them?

BS: There are numerous issues that have to be examined when trying to develop programming for terrorist inmates. Here are a few to consider:


There is a language barrier that must be overcome.
There are several cultural /religious barriers that must be overcome.
All telephone conversations must be monitored and, recorded and as soon as possible, translated and shared with other intelligence sources and counter-terrorism agencies.
Visiting must be closely monitored and all visitors should be thoroughly searched and scrutinized. Scrutiny should be conducted before the visits, during the visits, and after the visits.
CC: That sounds a lot like what corrections officers and personnel do in their day to day routines.

BS: One of the wonderful things about corrections is that the non-routine is routine. By that, I mean during training, correctional personnel are instructed not to set a routine, yet correctional day-to-day operations are as routine and punctual as Big Ben. While this expedites and stabilizes the operations of correctional facilities, this is very inviting for terrorists to exploit should they target a facility. Minor changes in the daily routines and schedules can be disruptive to terrorists planning activities. Some very basic changes could be:


Change the schedule of outside patrols;
Increase the number of outside patrols;
Change the time for relieving tower officers;
Start or stop school or industries early;
Increase area searches and conduct them at odd hours; and
Double or triple staff during visiting hours.
CC: In addition to these day-to-day operations, what about during an emergency like a terrorist attack on a jail or prison?

BS: Emergency operations can be the result of a variety of circumstances ranging from natural disasters, terrorist attacks, pandemics, and manmade incidents. No matter what causes the emergency, if provisions have not been made for the terrorist-inmates to be closely supervised, they could take advantage of the situation to escape, assault staff or other inmates, etc.

If the emergency incident is, in fact, a terrorist assault on the facility, there is a good chance that the terrorist-inmates have prior knowledge of the attack and will do what they can to insure the success of the attack.

Developing correctional emergency plans since the terrorist attacks of September 11, 2001, requires those writing the plans to actively change their paradigms. They now must 'expand' their emergency planning activities to the exterior of the facility as well as the interior. The interior emergency planning for a facility that incarcerates terrorist-inmates also requires a different mindset.

Correctional emergency plans should also conform to the government's National Incident Management System (NIMS) so that in the event of any emergency that will require working with external agencies, the facilities will be using the same incident management systems. The government is recommending that any facility be able to "stand alone" for a minimum of 72 hours.

CC: Are all of these steps things that you think can be accomplished in the near future?

BS: What we have discussed are only a few examples of some operational steps that could be and should be taken if a facility incarcerates terrorists. There are many more that will be in my book. While currently there is not a large number of terrorists in American prisons and jails, that could change very quickly in corrections. While there is time, correctional agencies should be planning and training for the time when American correctional facilities incarcerate international terrorists.

CC: That was Bill Sturgeon, whose new book on terrorism and corrections will be published on Corrections.com in early 2008. For Corrections.com, I'm Ann Coppola, and thanks for listening.

Related Resources:

Listen to the podcast

From the BBC: Jail 'hardening' terror convicts

Learn more about NIMS

Read a blog on terrorism and corrections


---