N.H. graduates thirty-six
By Jim Montalto, News Editor
Published: 11/14/2007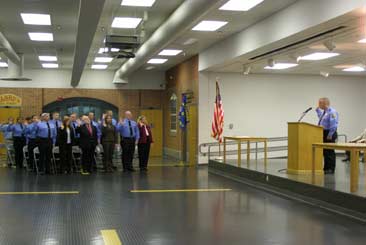 NH Department of Corrections Training Lieutenant Brian Baxter (right) swears in new employees during the graduation of Corrections Academy #86.


Thirteen COs and 23 non-uniformed employees graduated from the New Hampshire Department of Corrections' academy program earlier this month. The 36 new hires attended an eight-week pre-service training, which included offender management, inter-personal communication, CPR, ethics, basic New Hampshire law, health and fitness, emergency preparedness, and other skills.

The non-uniformed employees, who include seven mental health professionals, two pharmacy technicians, a dental assistant, two medical records assistants, four Human Resources specialist, and other support staff, primarily attended the educational portion of the academy. Security staff received further training in firearms, defensive tactics, radio use, cell extractions, and searches. Both groups also worked on resolving scenarios that simulated daily unpredictable challenges they might face.

Five COs will be assigned to the New Hampshire State Prison in Concord, three to the Northern NH Correctional Facility, two to the Lakes Region Facility in Laconia, two to the New Hampshire State Prison for Women, and one to Concord's Secure Psychiatric Unit/Residential Treatment Unit.
---