Santa Ana, meet your match
By Ann Coppola, News Reporter
Published: 12/03/2007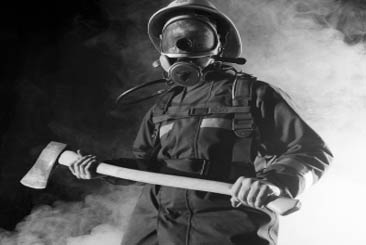 Crime fiction writer Raymond Chandler once wrote that "anything can happen" when the hot, dry Santa Ana winds sweep through Southern California in the late fall and winter. The author might not have had the corrections world in mind, but when the Santa Ana winds roll in, the California Department of Corrections and Rehabilitation's inmate firefighting crews roll out.

The CDCR fire crews are part of the state's Conservation Camp Program, established in 1946. There are 42 adult and two juvenile conservation camps that house more than 4,400 offenders. CDCR jointly manages the "campers" with the California Department of Forestry and Fire Protection (CAL FIRE) and the Los Angeles County Fire Department. All together, the camps provide 200 crews to respond to all types of emergencies, including wildfires, floods, earthquakes, and search and rescue. They can be deployed anywhere in the state and are located in the areas most likely to need their help.

"These inmate fire crews go where the heavy equipment can't go," explains CDCR public information officer Terry Thornton. "They're the hand crews cutting fire lines, going deep into canyons and places inaccessible to bulldozers."

This October wildfires in southern California displaced hundreds of thousands of persons in the largest evacuation in California history, burning approximately 450,000 acres of land and 1,600 structures. They were in large part blamed on the Santa Ana winds for fueling the flames. Throughout the disaster, more than 2,300 CDCR inmates and 170 custody staff joined city and county firefighters to battle and control the fires.

"I've seen this done," Thornton says. "You're in a very heavily wooded area, and you have to go in with chainsaws, axes and pulaskis."

The pulaski is a special hand tool used in wildland firefighting. Its combination axe and mattock, a hand tool similar to a pickaxe that breaks up hard ground, makes it one of the most useful tools for creating firebreaks.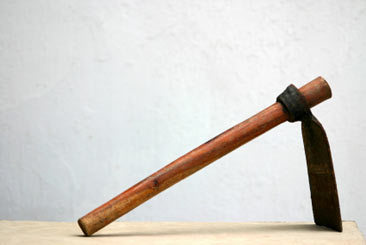 A mattock

"They use the axes, picks, and chainsaws and literally cut a path in all the underbrush to make the fire line," Thornton adds. "It creates a break so the fire has a place to stop. It's very critical work."

Minimum custody adult inmates are eligible to go to the camps if they are medically cleared and have no history of violent crime. Once they get selected for camp, inmates complete a two-week physical fitness program followed by a two-week fire safety and suppression techniques course. Inmates spend an average of eight months in the camps, where they receive ongoing firefighting training. From CAL FIRE's perspective, the work they do is an invaluable addition to its overall firefighting force.

"In the case of a large fire, these crews are generally directly right near the fire, on the front lines," says Marvin Hopper, camps program manager for CAL FIRE. "When there are high winds, they try to get in front of the fire and move the fuel or vegetation out. In some cases, they can use a road to stop the progress. There are many different ways of trying to suppress a fire."

Oftentimes the inmates provide critical support to aircraft fire suppression operations.

"If they had air support and get an air drop with water or foam or an air tanker with retardant or foam, the crews go in behind the drop and finish the fire out," Hopper adds. "The aircraft is a wonderful tool, but at the end of the day there has to be somebody on the ground putting the fire completely out. We couldn't do what we do without the people on the ground."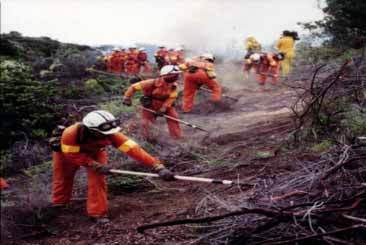 Crew fighting a fire. See more photos of the CDCR fire crews in the slide show at the end of the article.

The work is especially empowering for the inmates who come to the women's camps.

"Three of the adult camps and one of the juvenile camps are all female firefighters," Thornton says. "They really push themselves to surpass what the men do. Firefighting is very empowering for all of the offenders, but especially for the women. A lot of our offenders in this program are drug offenders, people who feel like they haven't been very successful. By training to be a firefighter, a woman has to carry 60 pounds of equipment on her back and hike for miles to cut a fire line."

On average, conservation camp inmates provide three million person hours in firefighting and other natural disasters or emergencies. Their work saves California taxpayers more than $80 million a year. The inmates benefit financially as well.

"They earn a dollar an hour," Thornton explains, "and they get two days off their sentence for every one day they participate in program."

The average sentence for adult inmates selected for camp is less than two years. Juvenile offenders must have between four and 36 months left to serve. Even those in the juvenile camps go out on the front lines.

"The juveniles do exactly the same work as the adults do," Thornton explains. Inmate firefighting crews are common throughout the U.S., but none are on the same scale as California's conservation camps. Thornton knows of at least 14 other states that train inmates in firefighter assistance.

"But our program is probably the largest of its kind in the country," she says.

In fact, it remains one of the most successful agency collaborations in California history. As long as the Santa Ana winds are rolling, the conservation campers will be on their guard, ready for anything.

Related Resources:

Check out more photos of the crews

Watch video of the inmate crews in action

Learn how to help victims of the Southern California fires

New York Times article on the Santa Ana winds


---