Helping Katrina's kids
By Don Dease, Field Representative, Correctional Peace Officers Foundation, South Carolina and Georgia.
Published: 02/11/2008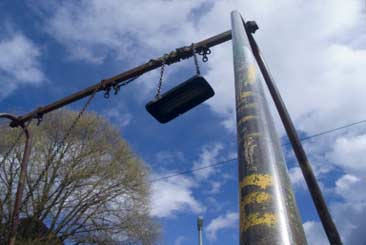 Editor's Note: As Mardi Gras comes to a close, we thought we'd re-run this piece by Don Dease and his experiences helping Louisiana neighborhoods still recovering from Hurricane Katrina. Dease and the National American Association of Wardens and Superintendents are currently sponsoring a fundraiser to help re-build playgrounds in New Orleans and surrounding areas. To help out, see Dease's information at the end of the article.

Several years ago, in the wake of Hurricanes Rita and Katrina, I wrote an article about my trips to take supplies to Louisiana and Mississippi and my observations along the way. In October, I had an opportunity to visit New Orleans, and want to share my experiences and observations with you again.

The purpose of this trip, as you will fully understand later, was to determine what we as corrections professionals can do to continue to aid our brothers and sisters in that area and in other affected areas.

Last year I was talking with Art Leonardo, Executive Director of the North American Association of Wardens and Superintendents, about the fact that very little had been done for the children of corrections professionals in the New Orleans area who had lost their homes in the storm. We have all heard about Federal Emergency Management Agency trailers and FEMA cities, and we remember the pictures of the Orleans Parish Prison being evacuated by boat, and all the destruction and misery caused by the storm.

We also remember our brothers and sisters in Mississippi who were also devastated by the storm. Art asked me if I thought the Correctional Peace Officers Foundation would be willing to work on a project with NAAWS to put up a playground for the kids of corrections professionals in the area so that they had something to do.

In Kansas City at ACA, I attended a meeting with NAAWS about this project and how we could do something now. Warden Venetia Michael, who was representing Richard Stalder, Secretary of the Louisiana Corrections, provided us a very detailed report of the needs. Following a very positive meeting, it was decided that someone should go to look at the sites and determine what could be done.

On October 8, Superintendent Mel Williams, from the Willard Drug Treatment Campus in New York, and I met at the airport in Charlotte, North Carolina and flew to New Orleans. We were met by Susan Lindsey, Regional Director for Probation and Parole in Louisiana, and a resident of the New Orleans area. Susan and I know each other from the Southern States Correctional Association. After a great meal of Jambalaya we were off to pick up Tracy Coleman, from the New Orleans Probation Office and on to look at several sites.

As you can imagine, recreation sites are not the city's highest priority at this time. When we arrived at the first site, a lot of storm damage could be seen, but it was mainly things that are easily corrected. As we headed to the next site, we started to see the real damage and destruction of the storm.

As we drove along in the Ninth Ward we saw many empty homes that were in the same condition as they were after the storm. They still had the marking on the front of the house from the rescue teams that came through looking for survivors. Some homes had been torn down and some families were obviously trying to rebuild.

Susan and Tracy advised us that many corrections families lived in this area. We pulled up to the second site. It was an abandoned playground. The grass and weeds were three to four feet high. We could not really tell how much work it needed because the grass was so high. The other thing that impressed us was that we could see a construction site where 1,500 families will move in either December or January. After looking at more of the area and going past a playground with a FEMA trailer park on it we headed back to Susan's office. As the evening settled in, Mel and I headed to our hotel and another great meal of catfish with crawfish etouffee. It was great!!

Bright and early the next morning, Deputy Warden Bobby Tanner met us at the hotel to take us to Rabon Correctional Institution. As we headed across Lake Pontchartrain and eastward, we were able to see the downed trees and damage from the storm. Bobby pointed out that all the telephone poles were new because the old ones were broken down. As you looked into the woods, you could still see debris from the storm.
We arrived at the prison and met with Warden Jeff Travis. We talked about why we were there and headed on a tour of sites. Because Rabon is a very rural facility, we looked at areas that the staff would use. The first site was a ball field in Bogalusa. The site had several baseball fields; it needed some swings and play equipment for smaller children. The only drawback on this site is that it is only used during baseball season.

We then moved to another site in Bogalusa that was very similar to the first site except it had baseball and soccer fields and was much larger. Due to the fact that this field is used more we felt it was more desirable than the other one. We then drove to Franklinton, the county seat, to look at the "fairground" site, which has an existing playground. The playground is small and needs to be expanded. While we were there, we saw several families using it. Warden Travis felt this site would be used by more of the staff.

As we left Franklinton and headed for lunch, the three of us discussed the three sites and, I think, agreed on rehabilitating the second Bogalusa site. We envisioned swings and playground equipment, shelters and possibly some outdoor grills.

It is important to remember our brothers and sisters in Mississippi. They did not get the media coverage that other areas got, but they were hit just as hard and they suffered just as much. So, we contacted Mississippi Department of Corrections Commissioner Christopher Epps concerning Moss Point, a small Mississippi town within a few miles of the Gulf that was also hit hard.

Now, this is where you can become a major player in our efforts. We need funds and people power to complete these two playgrounds. You can see the need but believe me; the pictures do not do it justice. The people in this area have and are continuing to suffer. It has been more than two years since Katrina and Rita changed their lives and like any natural disaster, unless you have been through it, you cannot imagine what all folks in this area, and especially the corrections professionals, have endured.

Our goal is to complete both of these playgrounds next spring, after Mardi Gras. A plea for workers, not supervisors, will go out as we develop the project and know how many people we will need. Also, if you know anyone who manufactures playground equipment and might be willing to donate or sell it at a reduced price, please contact me at deaserus@aol.com or 803-407-8693, or Art Leonardo at elart26@aol.com or 508-786-6801.

Anyone who works in corrections knows that we are at our best when there is a crisis. This is a crisis, and the ball is on our courts. Let's see how we, as a family can respond to help our bothers and sisters.

Don Dease is a Field Representative for the Correctional Peace Officers Foundation in South Carolina and Georgia. He retired from the South Carolina Department of Corrections in 2002, and held the positions of Warden, Regional Director, Assistant Deputy Director and Institutional Division Coordinator. He has served as an auditor with the Commission on Corrections and is a past president of the Southern States Correctional Association and the South Carolina Correctional Association. Don is a graduate of The Citadel with a BS in education and a Master Of Arts in teaching. He also has a master's degree in Criminal Justice from the University Of South Carolina.

For more information on the playground initiative, contact Dease at deaserus@aol.com or 803-407-8693.
---