Safety in numbers
By Richard Hough , Criminal Justice Program Coordinator
Published: 12/24/2007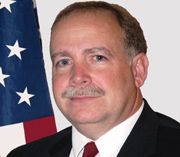 Richard Hough is a faculty member at University of West Florida in Pensacola. He also teaches at the local corrections and law enforcement academy, online for other universities, and provides consulting on use-of-force and correctional management.




In three different recent lectures, I found myself describing how inmates group together, form gangs, carry weapons, and negotiate turf and trade-offs all often out of fear. I went on to explain that adolescents in many parts of the U.S. do very similar things. Kids often tell of how they carry weapons to school or in their neighborhood out of fear. This same fear causes many of our nation's youth to join a gang.

Now, the banding together of people with similar fear and other agendas, whether its inmates inside the walls or juveniles on the streets, most often follows the familiar pattern of racial or ethnic identity. The familiarity of faces that look like their own faces, or sub-cultural practices that they have in common provide a common bond. This bond certainly extends to an understanding of mutual protection.

Fear, really?

Many officers (and the lay public) just do not see it. With images of HBO's OZ or FOX's show Prison Break, the viewing public envisions prison or jail as an endlessly predatory environment with assault or worse lurking around every out-of-sight corner. As practitioners, we are sensitized to the potential danger ever-present when working with an incarcerated population but we also see the shifts of interminable boredom.

While banding together creates some feeling of greater security, it can also embolden the group's members to initiate a confrontation. This is an old story but one that holds importance for correctional officers. Law enforcement officers on the street and COs in facilities know to separate an individual to speak with when they are in the midst of a group. The group dynamic gives the individual actor a sense of power. Trying to intimidate the subject in the group setting inevitably leads to a loss of face and frequently prompts the offender to be at best uncooperative. At worst, the subject may "buck" the officer or cause other trouble to regain their "honor. "

This can be a bit confusing psychologically for everyone since when inmates fight, they often want officers to pull them apart, to stop them so they will not get hurt or lose face by losing the fight outright. This does not mean they won't take a cheap shot on the break. An officer's understanding of how scared or aggressive people act and react is critical to facility safety and security.

All for one

When a fight or assault occurs, we often believe it is an isolated, spur-of-the-moment, incident. What we find is that it had been planned or had been brewing. If weapons were involved, the "victim" may offer that he was only carrying to protect himself. We recognize that this may very well have been true. Inmates know that officers are not always going to be in a position to protect them. Direct supervision housing, while much safer than linear remote, is still not the norm after twenty years of experience with the concept.

Reaction always follows action. If an attacker picks their time and place, they have a significant advantage. Ask anyone who has worked a protective security detail. You plan for what you can anticipate, you watch your sight lines, you remain vigilant. The would-be attacker watches for a vulnerability.

So yes, inmates know that if someone is intent on settling a score, there are a number of opportunities in the day for it to happen. So, how to avoid the attack? Join a gang! In joining a gang, an inmate buys insurance. As with any insurance policy there is usually small print. This may come in the form of responsibilities including participating in an attack when ordered by the gang's leadership. The security of the gang exists when the members of the gang are together.

This increases the potential for violence when a group is present. The presence of the group itself does not ensure a problem, it just heightens the ability for one or another group to exert their will, or not back down. They could cause the opposite effect of remaining calm because they have less fear.

I described this phenomenon to the gangs session of a law enforcement academy class. I noted that a solid, competent CO relies on the cooperation of inmates, and typically gets it because the inmates generally prefer the stable environment that consistent staff members create. If a respected officer is attempting to break up a fight between inmates and one of the inmates turns their aggressiveness toward the officer, it is not uncommon for other bystander inmates to restrain the hostile inmate. This can be attributed to not wishing harm to an officer doing their job or the practical realization that if an officer is resisted or injured, that a lock-down will surely follow, and that affects everyone. Gang members are particularly sensitive to this reality.

R-E-S-P-E-C-T

I once spotted a biker gang member who I needed to speak to. Unfortunately, given the way gangs congregate, he was in the midst of about ten other bikers driving down U.S. 41 in South Florida. I turned around and stopped the whole group. No, I was not able to call in all of the tags. Yes, I was appropriately nervous given my role as a n officer survival tactics trainer. I chatted a few minutes with the guy, ignored the feeling that I was not on the group's Christmas card list, and sent them all on their way. It could have gone differently.

I was not interested in the equipment violations that may or may not have been present with the group. I was not there to conduct a check-point all by myself. I was appropriately straight-forward but in control. I did not disrespect anyone in the group, and I did not feel the need to speak harshly to the gang member I sought. I paid close attention to my body language and gave no one a reason to sense that I was doing anything other than getting and receiving information.

While our correctional environment is always uncertain, there are ways that professional officers conduct themselves that keep it manageable on a shift to shift basis. The same type of story above did not go as well with a group of largely Cuban INS (at the time) detainees housed in one of my jail facilities. The group's self-appointed "leader" was trying to cause trouble because he knew what trouble he faced if returned to the island. He ended up extracted by our C.E.R.T. and the disturbance quickly dissipated.

Deal directly and professionally with gang members. Gather information each and every time you interact with a member, and then remember to document the information, even if it does not seem particularly important. Do not miscalculate your safety, but do your job. Stay safe.
---