Community heroes
By The Corrections Community
Published: 01/14/2008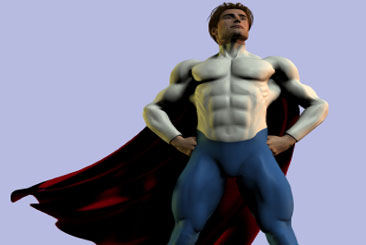 Editor's Note: We wanted to know how those in the corrections field impact their community beyond the expected responsibility of keeping the population safe. So we asked those in the know, and the response we received was incredible.

Below you'll find an incredible array of stories written by those who go above and beyond their work obligation to improve the lives of others or submitted by someone who believed they should be recognized. The stories are so good, and so vast, that we'll continue them next week. We hope you find them as inspiring as we did.

OREGON

Donkey Basketball

The City of Umatilla, Oregon needs a library and what do the employees of Two Rivers Correctional Institution (TRCI) do? They strap on helmets and ride unruly donkeys in a game of Donkey Basketball. TRCI employees played against the Umatilla volunteer firefighters, local police officers, school district employees and alumni association members. The firefighters won, but a great time was had by all.

The Umatilla community came together to raise money for a new building to house the local public library. Over the last nine years the library has almost tripled the number of books, added 2,000 audio and video materials and added seven computers for public use. Currently, the library is squeezed into a 1,600 square foot building. The new building will be 5,000 square feet and will have study rooms and a community room.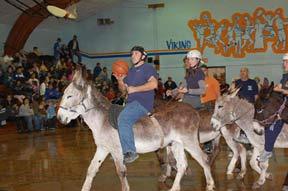 Library activities include: a youth summer reading program, story time for children, Head Start support, special education classes and other special programs and parties. If plans remain on track, move-in day for the new building will occur in February 2008.


Officer Danny Monahan

The Donkey Basketball game raised $1,335 for the Friends of Umatilla Library. The organization hopes to raise $625,000 toward the construction of the new library. TRCI organizers and players included: Superintendent Guy Hall, Linda Schutt, Cindy O'Bannon, Dr. Michael Putnam, Lieutenant Cal Harris, Lieutenant Jason Jorgensen, Sergeant Jim Taigaafi, Officer Danny Monahan, Officer Scott Rada, Lavon Starr Meyers, Danielle Fuzi and Cindy Dieter.

SOUTH CAROLINA

Give me shelter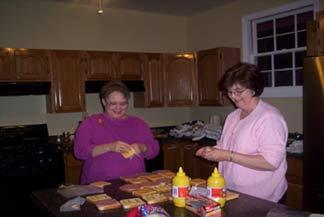 For the past two-and-a-half years, every other Wednesday afternoon, Linda Derrick, left, and Linda Mathis, right, help prepare approximately 40 bag suppers for the homeless. They also assist with the preparation of meals for seniors in the community twice a year. Both are members of Christ Lutheran Church, in the Denny Terrace Community of Columbia, South Carolina and are employed with the South Carolina Department of Corrections, Division of Budget and Resource Management.

"We are told in the Bible that as we do it unto one of the least of these, we do it unto Christ," Derrick says.

She feels this is a charge to us to help feed the hungry, and clothe the needy. Several times a year Derrick and Mathis also distribute hygiene items and hats and scarves.

"There are those in our city who refuse to go to a shelter and we need to help feed these people," adds Derrick.

Remembering to give, giving to remember

Debra Long's brother, Jimmy, was going to walk her down the aisle, but passed away from lymphoma cancer in 1987, just one month before her wedding. During his two-and- half-year fight with cancer, Long saw first hand the many units of blood Jimmy received to fight the disease. As the cancer progressed he began receiving blood platelets until he lost his battle at the age of 24, one month after his son turned three.

During that time, Debra realized how important blood donations were in helping to save lives and began donating blood twenty years ago. This year, she also began donating blood platelets. Debra tries to go every other Sunday morning before church. It takes approximately two hours to donate platelets, but she feels it's the closest thing one can do to save a life. She also became a bone morrow donor and an organ donor in honor of a close friend who passed away at 42. Debra feels that the greatest gift any of us can give is the gift to possibly save another life.

Debra is employed with the South Carolina Department of Corrections, Division of Budget and Resource Management.

Adding a little flava to life

Cpl. Wanda Gaillard conceived an idea of support for staff at Broad River Correctional Institution that would embody all areas of one's life. She decided to organize a monthly session for one hour regarding nutrition, exercise, financial, dreams and goals, and anything touching an individual's life. They have been approved by Associate Warden Larry Cartledge and have become one of the most successful opportunities for staff to convene for a positive, uplifting, and exciting hour.

Gaillard has used her own funds to provide a nutritious luncheon for staff, and staff has volunteered and contributed all sorts of goodies (some prepared from home from special recipes) toward this event. Approximately 20 to 25 staff members attend regularly and the feedback has been absolutely positive.

She has already received a certificate of appreciation signed by staff for establishing the support group "Flava for Us." Other institutions have sought her expertise in establishing like groups, and she has been told that her support group can serve as a model for other institutions around the country.

RHODE ISLAND

Go team go

With the primary mission of keeping kids off the streets and out of prison, 21-year RIDOC veteran, Chico Sykes, recently completed the fourth season of the North End 49ers Youth Football League, cleaning up with five state championships and two division titles.

"We accomplished more than some organizations that have been around for 30 years," the minimum security officer boasts.

To bolster his nearly 30 years of youth sport volunteering, Sykes recruited Capital Police officers, and other RIDOC officers, like Joseph Soares and Anthony Marshall, to coach different leagues. He believes law enforcement officers can serve as positive role models for youth, particularly in an area where they are typically afraid of the authorities.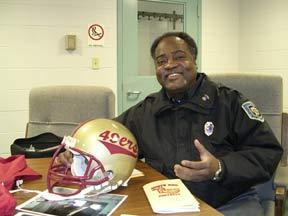 According to Sykes, inmates have thanked him for starting the league. "They see that it is making a difference in their child's life," he says.

Sykes is happy that the league offers hope to many different groups. "We all experience good and bad days in our jobs," he says. "On the bad days, I look forward to going to the field to work with over 200 kids."

The league currently has 11 teams, all co-ed, include Pee Wee, JV, Varsity, and flag football, now in its third undefeated season.

A strong calling

For the past 25 years, Administrator of Community Confinement Maggie Picot has felt an obligation to look out for the under-represented and underprivileged in her community. She describes this as "a second calling." Her volunteer work includes victim's services and domestic violence for men and women. She also provides family and couples' counseling for low-income families at no cost.

In addition, she coordinates disaster relief for Latin countries, the collection of food donations, and Toys for Tots for the Hispanic Community with various Hispanic community organizations. She has been invited to do motivational speaking for public schools. Any profit from the sale of her book, Tus campinas claman el llanto de mi alma is donated to victims' services. Lastly, she is a member of the Governor's Commission on Hispanic Affairs.

Adventures away

Since April 2005, Michelle Alexandre, an adult counselor, at the RIDOC Maximum Security facility, has been volunteering for the Rhode Island Urban Search and Rescue Task Force. This team responds to terrorist incidents involving explosives, along with structural collapses caused by earthquakes, hurricanes, air crashes, and other natural or man-made disasters.

Alexandre also is a canine search specialist with her dog, Patience, a five-year-old Border Collie. There are 13 members on the canine team, led by Matt Zarrella, Team Leader. The team trains once or twice a week with two mandatory trainings each month. During her time on the team, Alexandre and Patience have been exposed to many varied environments, which have included riding in Black Hawk helicopters, rappelling off six-story buildings, crawling through mazes of smoked-filled, underground tunnels, searching City Hall, and searching and climbing countless piles of rubble up and down the East Coast.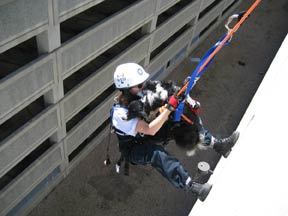 "Patience does the hard work of searching for the victims and never backs away from a challenge. I am proud to have her as a partner, " Alexandre says.

She was granted administrative leave in November to attend a Canine Specialist course led by FEMA evaluators.

Alexandre and Patience jump off a roof


Semper Fi

Donna Narcovich, a senior word processing typist, in the planning and research department, wanted to participate in community service with her twin adopted grandchildren. Together they became involved in the Rhode Island Young Marines, an official youth program of the Department of Defense for Youth Drug Demand Education.

The program is geared for boys and girls ages 8 through 17 and instills character building through a combination of self-discipline, teamwork and leadership. It also promotes a healthy, drug-free lifestyle. Currently, the organization has 27 Young Marines, and 25 new recruits who graduated in December, with Narcovich's 11-year-old granddaughter receiving a promotion to PFC.

Narcovich initially became involved in this program by helping out in the office. She was later asked to join the volunteer staff. She serves as the organization's paymaster, which includes collecting dues and registration fees, providing office help, assisting at the RI Food Bank, and participating in weekend encampments with new recruits and Young Marines. She also takes part, along with the kids, in walks for asthma, heart disease, and other causes. Since joining the organization, Narcovich has obtained a donation for its ongoing work and has gotten a local paper to do a news article on it.

FLORIDA

Feeding and adopting

The Bureau of Finance and Accounting has been providing dinner since January 2006 for The Shelter, a facility serving homeless clients. At the end of 2007, the other bureaus within the Office of Administration, Procurement and Supply and Management and Budget joined the effort. In addition, several small groups from other state agencies participated in serving the meals.

Each month, monetary contributions are collected within the Office of Administration to purchase food for a standard meal of baked chicken, mashed potatoes, green beans, fruit, rolls and cookies. Volunteers buy the food, prepare it, and then deliver it to The Shelter on the first Wednesday of each month. Seven or eight volunteers assist with serving the food too.

During the summer months, about 150 men, women and children are fed each night at The Shelter. During the winter months, the number served grows to well over 200.

Each year the Bureau of Finance and Accounting also adopts a family from a local non-profit organization. This year, Big Bend Hospice was chosen and wishes were fulfilled for two of their patients and caregivers as well as Christmas wishes for several children.

ALABAMA

Getting back into the community

In 2007, two young ladies working in the Alabama Criminal Justice System received community awards for outstanding service to currently incarcerated and newly released offenders.

Meta Eatman, a community resource officer for Alabama's Board of Pardons and Parole received the Trailblazer of the Year Award from the Dannon Project, a non profit, community-based organization providing reentry services to non-violent ex offenders. Eatman has assisted The Dannon Project link probationers and parolees to an array of community programs that help them integrate back into the community.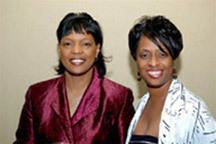 Elana M. Parker received the Humanitarian of the Year Award from the Omicron Omega Chapter of Alpha Kappa Alpha Sorority, Inc., the oldest Greek Pan-Hellenic social service and civic organization for women. Parker was recently appointed Reentry Coordinator for the ALDOC.

Meta, left, and Parker

For the last several years, she has been committed to providing community and supportive services to active substance abusers and persons infected with HIV/AIDS.

Parker has volunteered her services to the visually impaired, and is developing a statewide reentry program to assist currently incarcerated and newly released offenders with accessing basic resources to promote successful transition into the community. Parker also serves as a Liaison to the Alabama Dept. of Public Health where she assists with the integration of Health Education and Discharge Referrals for the Department of Corrections.

Tip off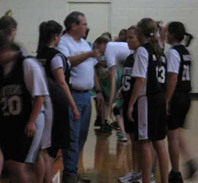 Twenty-four-year ALDOC veteran, Thomas Sorrow, is the drug testing officer at the St. Clair Correctional Facility, but in the community he coaches in the seventh and eighth grade girls basketball recreation league.






For love of the people

Every year for the past six years, Alexander City ASAI, Georgia Ann Staples, has been petitioning churches, businesses, and local people to help her feed and clothe the needy, during the Christmas season. Her food and toy drive also sponsors a program consisting of a Gospel concert, where people can bring their donations and listen to great Gospel music.

She founded the Laborer of Love Ministry too, which feeds five to 10 families during the Christmas holiday, and has given toys to more than 20 families with children.

Staples says she does this work because of her genuine love for people and because of the Christian duty we all have to help those who are hurting. Last year and this year her food and toy drive was featured on the front page of the local paper, which encouraged more people to help out.

NEVADA

Bikes not bombs

The Southern Desert Correctional Center donated refurbished bicycles to under privileged children and to veterans in need this past holiday season.

The Nevada Department of Corrections, Southern Desert Correctional Center receives and donates more than 500 bicycles a year, with a majority of them going to charities focused on low income children and special needs Veterans in the Greater Las Vegas area. The bikes come from the Las Vegas Metropolitan Police Department, and the North Las Vegas Police Department, and as private donations by DOC COs.

Bicycles are given to children throughout the year for academic achievement, reading programs, and for staying in school. The veterans use the bikes as their means of transportation.

MISSOURI

African connections

Stan Jackson, a 10-year Missouri Department of Corrections' veteran, is returning to Cameroon, West Africa in March 2008 for a two-week mission's trip. Jackson, who works at Potosi Correctional Center, plans to speak to school children about AIDS prevention, assist with an agricultural outreach to the Baka Pygmy people, and meet with prison officials in the capital city of Yaounde to share ideas and thoughts on correctional management in the United States.

In January, 2006, Jackson, a functional unit manager involved in implementing the Missouri Reentry Process, participated in a medical outreach in the city of Kumba, Cameroon. Bread for Life International, the sponsoring organization, arranged for him to meet with correctional staff at a regional prison in that area. He presented a slideshow outlining Missouri DOC inmate disciplinary processes to prison officials, and distributed free supplies and gifts to school children.

As a board member of Bread for Life International, Jackson has traveled to Atlanta, Georgia and San Antonio, Texas to work with other volunteer board members in formulating policy, budgets, and strategic planning for the organization. Jackson says his goal is to help promote self-sufficiency among the Africans of Cameroon.

NEW HAMPSHIRE

Keeping Pace

Eight years ago, NHDOC COs Scott Newton and Shanon Berwick started a project in the local schools to expose at-risk youth to the consequences of their choices. NHDOC inmates discussed with the kids their impaired judgment and the consequences, and spoke freely about their background, life on the streets, the choices they made and their incarceration.

Time constraints, staffing shortages and funding threatened the continuation of the program. It was brought inside the prison, and staff was asked to volunteer to support it. Letters went to area social service agencies outlining program goals and target population, and fortunately, social service agencies responded with multiple referrals.

Now, five NHDOC staff members present two ninety-minute Prison Awareness Choices Education (PACE) programs four to five times a year to groups of eight to ten youths. All participants are referred to the program and are generally first time offenders. Newton still coordinates the program.

Communication and personal life review is stressed with both the parents and their children, and inmates continue to talk with the kids and their parents about the importance of proper choices and support.

Sergeant Newton also is active in his local community where he works with the American Legion Chapter to bring a traveling Vietnam memorial to the area. Other New Hampshire employees also are active in their community. Case counselor, Diane York, volunteers in the youth sporting program and is active in the Coos County Juvenile Justice Project. Case counselor Pat Perkins is an adjunct faculty member at the New Hampshire Community College, where he sits on the Criminal Justice Advisory Board. Administrator of Programs, Sue Young, is board member at St. Kierans' Community Center for the Arts, is a Trustee at the Northern Heritage Forest Park, and a member of the education sub-committee of the Androscoggin Valley Economic Recovery group.

WYOMING

For the kids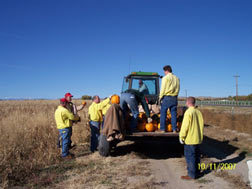 Probation and parole agents at the Wyoming Department of Corrections volunteer at their local Boys/Girls Club. Other WYDOC employees donated bikes to shelters and prepared holiday food baskets.

Thanks to the practitioners who head the WYDOC's farm program, students at seven elementary schools received 1,048 pumpkins this past fall.

Other community services projects include bicycle donations to shelters and preparing holiday food baskets for those in need.



---