A matter of choices, part II - The interview cometh
By Raymond E. Atchley
Published: 03/03/2008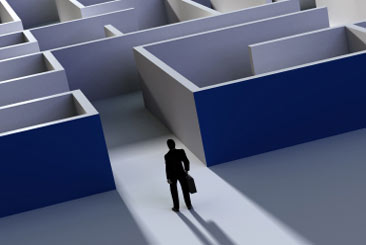 Editor's note: In Raymond Atchley's first piece, A matter of choices, 2/1/0/08, he wrote about his decision to return to the corrections profession, and the process he had to go through to get there. In part two this week, he continues with his interview process.

I had been anticipating a call for an interview at the detention center, but after a few days turned into a couple of weeks I had pushed the thought to the back of my mind. As I answered the ringing phone I hadn't looked at the caller ID and became a bit anxious when the most pleasant female voice I could ever remember asked for Mr. Raymond Atchley.

Anticipating a telemarketer, I cautiously replied that it was me speaking. To my surprise, the caller identified herself as the deputy warden of the detention center, and asked me if I was still interested in employment with the county jail. Having yet to find a job, and still searching for direction I told her I was. We settled on an interview date and after thanking her for her call I silently mouthed a prayer of thanks as I re-cradled the telephone. Maybe I wasn't as obsolete as I thought.

That very next Wednesday, dressed in my best "I'm here for work" clothing, not to be confused with the "I'm here for a job [pay me 'cause I showed up]" apparel, I reported to the County Detention Administration office.

At the invitation of a receptionist posted behind thick glass, I took a seat in the exterior waiting area along with what I presumed were other applicants. I later discovered they were there for inmates—lawyers, bondsmen, some family members.

As I sat there waiting patiently to be called, I mentally took stock of the answers to questions that are typically asked in these type of interviews. I had been the interviewer on numerous occasions when I had been in a management position and the most important question I pondered, whether asked or answered, is, "why do you want this job?"

I knew why, but how could I explain my reasons, which were becoming more and more complex, especially when measured in the context of my own personal myth.

The late Professor Joseph Campbell of Sarah Lawrence College would term the narrative of my years in law enforcement as my personal "heroes' journey." Everyone has a life narrative that they consider ultimately all encompassing and life defining; it's not just for cops or soldiers, and I would certainly include firefighters, but it would seem that some occupations do take on proportions that rise above many others.

Some might pause at this point and wonder why Professor Campbell's name sounds familiar. If you've ever watched any StarWars movies, note that Joseph Campbell was special advisor to George Lucas on the religious and mythological tone of the stories. And while I sat there waiting for my turn at the interview, I kept my focus by silently humming the "Darth Vader March" in my head.

Not that I was experiencing "suffocating" dread, but in an article written by John Hurst Anatomy of a Correctional Officer , (September 1981), he quoted Jessica Mitford who stated in her own book, Kind and Usual Punishment, that if you asked a small boy what he wanted to be when he grew up and if he responded that he wanted to pursue a career as a "prison guard," then we might need to seek mental help for the lad.(1)

I certainly was no longer a small boy, at least not in physical stature. But, according to my wife, some men never really grow up, and I wasn't sure if my pursuit for a position as a "buckle and belt cop," was such a good decision.

I was asked once why I tended to refer to detention and correction officers as "buckle and belt cops." It certainly is not meant to cast any aspersions on the custodial services, but I have always noticed that in the cop movies and plethora of crime drama television shows, detention and or correction officers are usually only shown as a "from the waist down" uniformed presence or if a shot of the officer's face is shown, it is usually because the detention, corrections, probation, or parole officer is the antagonist in the storyline.

If we were to believe the ramblings of Hollywood writers, most of us reading this should be as deep behind bars as our charges. If we examine our collective retirement benefits maybe we are in fact doing 25 to life.

When I initially pursued my law enforcement career as a patrolman there certainly was a huge mythical influence in what I did. God bless Joseph Wambaugh, my pursuit of a career in the jails certainly didn't smack of any fictional delusions of a zealous rookie cop. I found myself holding a very honest self view of what I wanted to accomplish and most importantly—why.

The door to the entry hall opened and a young blonde woman with the most engaging personality called my name. As nice as she was, I recognized the lady as the deputy warden of the facility and had no doubt that if need be, she had no qualms in the use of needed force.

Her looks and stature belied the fact that she could and would likely pepper spray your sorry person if you didn't keep yourself in proper check. Good for her; our society has come a long way. And she certainly garnered my undying loyalty when she noted to the interview board on our entry into the meeting room that "someone knows how to dress appropriately for a job interview!"

I stepped into the room and faced a typical "stress type," board of inquisitors, to include a unique positioning of the tables and chairs. I took my seat dead center, acknowledged each member, which include the Warden and Captain along with the Deputy Warden.

"So why do you want to go to work for us?"

I had heard the question in my head a hundred times before entering the room and still it sounded surreal and dream-like.

"Because Warden," I replied, "I want to make a difference. I want to help others make informed choices."

To be continued...

End Note: Hurst, John , "Anatomy of a Correctional Officer," Police Product News, September 1981, 41.

Raymond E. Atchley is a detention teacher coordinator at Curry County Adult Detention Center in Clovis, New Mexico.
---