Survey of violent youth, Part II
By Tracy E. Barnhart
Published: 04/14/2008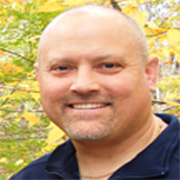 Tracy Barnhart is a Marine combat veteran of Desert Storm / Desert Shield. In 2000, he joined the Ohio Department of Youth Services at the Marion Juvenile Corrections Facility, a maximum security male correctional facility housing more than 320 offenders. Barnhart works with 16 to 21-year-old, male offenders with violent criminal convictions and aggressive natures. In his monthly column, he discusses everyday issues affecting corrections professionals.

Editor's note: In his article, Survey of today's violent youth, 4/7/08, Barnhart discussed the challenges families, corrections practitioners, and society face regarding today's violent youth. This week, he continues with those ideas and concludes with a discussion about what it means to lead a "thug life."

National self-report studies indicate that the age of highest risk for the initiation of serious violent behavior is 15 and 16, and that the risk of initiating violence after age 20 is very low. If persons have not initiated serious violent behavior by age 20, it is unlikely that they will ever become serious violent offenders.

The highest rates of participation in serious violence are at ages 16 and 17. At these ages, 20 to 25 percent of males and four to ten percent of females report one or more serious violent acts. After age 17 however, participation rates drop dramatically. Approximately 80 percent of those who were violent during their adolescent years will terminate their violence by age 21.

While both offenders and victims are disproportionately male, black, urban, and from low income and single-parent families, this characterization of violent youth is misleading. Among children, the gender difference in victimization is small, whereas among adolescent victims and violent offenders, it is quite strong.

Among violent offenders, race/ethnic and social class differences are small during adolescence; they become substantially greater during the adult years. For example, by age 18, the cumulative proportion of blacks involved in serious violent offending is only 18 percent greater than that of whites.

There is little evidence from the national self-report studies for any difference in predisposition to violence by race, once social class is taken into account. Thus, youth violence is very widespread in our society.

It is not just a problem for the poor, or minorities, or those in our large cities. It crosses all class, race, gender and residence boundaries. It is a problem for all Americans (Youth Violence: An Overview Dr. Delbert Elliott, Ph.D. Director, Center for the Study and Prevention of Violence March 1994).

Most violent behavior is "learned behavior." Unfortunately, for too many youth, violence is either the only or the most effective way to achieve status, respect, and other basic, social and personal needs.

There is little modeling of alternative ways of dealing with conflict. Like money and knowledge, violence is a form of power, and for some youth, it is the only form of power available.

When such limited alternatives are combined with a weak commitment to moral norms and little monitoring or supervision of their manipulative behavior, violent behavior becomes rational. The potential rewards are great, the perceived costs minimal.

You are seen as what you can do for them and not as a human being deserving respect. You become a barrier to doing what they want and it seems more and more that eliminating those barriers in whatever way possible is acceptable. This is evident through their defiance toward any authority and they will resort to violence against you without fear of consequence or repercussion.

They want to be what is known as a "T.H.U.G."

Thug Life actually stands for, (The Hate U Gave Lil' Infants F***s Everyone). Part of the actual code of the thug life is as follows:
All new jacks to the game need to know; He's going to get rich; He's going to jail; and he's going to die.


Snitches are outta here, snitches get stitches.


The boys in blue don't run nothing; we do, control the hood and make it safe for squares.
There are actually 26 codes to the thug life, and it is meant to bring about positive rules of engagement into the street gang warfare. But today's youth are getting caught up in the glamour of what they see and hear in rap music and on television; that being a rebellious, criminal and remaining antisocial is the way to go.

Remember, when you were a child, and you watched "Leave it to Beaver," "The Adams Family," "The Walton's?"

Well, today our youth watch "South Park," "MTV Cribs" "Pimp my Ride," and a host of others idolizing the T.H.U.G. life.

Morals and real world values are no longer seen as real good. If you do not have a pocket full of cash and are not having sex with three or four girls then you are looked at as second class.

There is no respect for authority or even for parents. Parents seem handcuffed by the system to discipline their children, and children are taught in school to report parents who attempt to discipline them to police, or school officials.

But much of the time, the parents just allow their children to do as they wish but then chastise the system when they are caught up legally. "No" is not a word they have heard a lot during their childhood. Instead, parents allow the streets to teach their children about morals and livelihood.

Other articles by Barnhart:
Leaders vs. managers, 2/24/08

How to tick people off, 1/28/08
---