Run riot!
By Ann Coppola, News Reporter
Published: 05/26/2008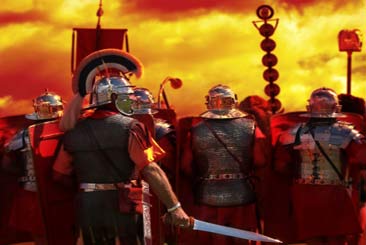 The first few weeks of May bring blooming roses to the White House gardens and full, fragrant orange blossoms to the California groves. Before long, Memorial Day weekend brings the unofficial start of summer to the New England coast. And in a small city in West Virginia, hundreds of men and women from all over the world bring their A-game for a down-and-dirty, no holds barred prison riot.

Last week, 1,305 law enforcement professionals from Ireland to El Salvador to Singapore descended upon the former West Virginia Penitentiary in Moundsville, West Virginia for the 12th annual Mock Prison Riot. Hosted by the Office of Law Enforcement Technology Commercialization (OLETC) and the National Institute of Justice (NIJ), the riot gave tactical team members the opportunity to test new technologies in riot training scenarios for four non-stop days. Even in the drizzling, overcast West Virginia weather, spirits could not be dampened.

"It was awesome!" exclaimed Corporal Alfreda Skinner-Rolle from Her Majesty's Prison Service in the Bahamas. This year marked the first time the Bahamas sent representatives to the riot. Five team members from HMP attended as observers. Skinner-Rolle was among the crowds of hundreds checking out the OLETC Technology Showcase, which had more than 60 exhibitors with close to 80 booths displaying current and soon-to-be-on-the-market technologies.

"The cell phone detection technology looked very, very good," Skinner-Rolle said. "In the Bahamas, we've had problems with our cell phone jammers because our institution is built in a residential area. With detection, we don't have to worry about jamming cell phones outside the prison walls."

From new faces to new technology, the riot kept up its yearly trend of having something new to show. Research and development company InterScience, Inc. introduced its night vision goggle that's so new it doesn't even have a name yet.

"We debuted a night vision goggle that can bring up to a 240 degree view, as opposed to the typical night vision goggle in the market that only brings in 40 degrees," said InterScience representative Barry Bloomfield, who unveiled the technology at the riot. Riot teams got to test out the new monocular goggles in the basement of the old West Virginia penitentiary, a blacked-out catacomb of hallways and small rooms.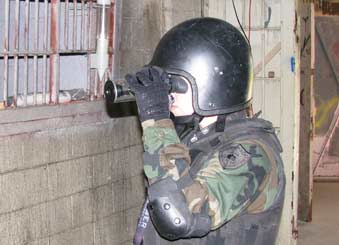 A participant tries out InterScience's night vision goggles
See more mock riot photos

"The goggle's vision is not just left to right, it's floor to ceiling," Bloomfield added. "You can see the ceiling and your feet, which brings the total peripheral vision. If you look forward you can see to your left and right and even a little behind you."

Taser International also introduced a new technology to the riot crowd. The Shield Conversion Kit's Taser Repel Laminate Film Technology can turn ordinary riot shields into electroshock weapons. It features a peel and stick perforated film to apply to the shield, a power supply, and the necessary conversion equipment. The laminate becomes electrified, which can be used to keep suspects or rioters at bay.

Captain Paul Simmons, special operations commander for the West Virginia Department of Corrections, has attended every mock riot since the beginning. This year he brought nearly 70 participants in multiple teams. His teams participated in a Taser scenario with the new shield kit.

"We're going to have to wait and see about the shield kit, but Taser is coming out with a new product, a shotgun, that I found interesting," Simmons said. "We didn't get to actually use it, they only talked about it. It can shoot 45 to 50 feet, so it increases the distance for the use of the taser."

Taser expects the shield kit to be on the market in late 2008. In addition to the taser experience, fourteen of Simmons' team members walked away with one of the riot's most coveted titles.

"We finished first overall in the skills competition," he said. "Last year, we placed third, so we moved up."

The skills competition included events like Mouse Trap, where teams of five had to rescue a dummy "downed officer" and transport it to a secure location. The individual event Super SWAT Cop timed skills like disassembling and assembling a duty handgun and firing on a target as part of one giant obstacle course.

"The young members of my team were just ecstatic to get to attend something like this," said David Mason, team leader for the Ministry of Correctional Services for Ontario, Canada. For its second trip to the mock riot, the Ministry sent nine members, up from five last year. Mason's team got to enact a day room disturbance and a hostage rescue scenario. The team tried out a new bendable defense shield and a new form of pepper ball launcher.

"I personally recommend for any corrections officer in the world to attend the riot," Mason added. "You learn how to network and you learn from others' scenarios. If you don't do that, you can become stale in your tactics. This gives you new ideas, and it's not just that, you get in touch with law enforcement professionals from all over the world."

Compared to last year, the riot's overall numbers were on the decline. Total attendance dropped from 1,687 to 1,305, and the number of teams from 41 to 37. While much of the world is currently experiencing an economic downturn, OLETC says the riot was not significantly affected by the uncertain financial climate.

"To some extent, a lot of times participating teams have to cancel their registration due to budget issues," says OLETC project coordinator Sharon Goudy. "Sometimes departments have to pull funds or funding for travel. But for the most part our event has grown, especially over the past three years."

Plans for next year's mock riot are already underway, and many plan to return. Next year, the Bahamas looks to bring a larger group of officers, leave the sidelines behind, and get in on the action.

"We want to do the obstacle course," Skinner-Rolle says. "Oh man that was something!"

"We'll be back next year if they let us!" Mason adds. "For the technology, it seems each year the device or whatever it is tidies up a little bit and improves in some way."

"I think each year the riot gets better," Simmons says.

So whether you think of May as a month that's about springtime, the Kentucky Derby, or Cinco de Mayo, for the international law enforcement community, it's all about the riot.

Related Resources:

Check out photos of this year's riot

Learn more about OLETC


---