To honor and celebrate
By Jim Montalto, News Editor
Published: 06/09/2008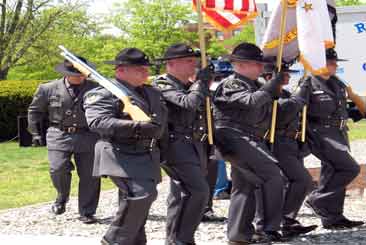 The month of May in the U.S. is most notable for the events commemorating the nation's fallen war heroes. Inside the world of corrections, it serves as a time to not only remember, but also to honor those that serve and have served behind the walls of every prison and jail across the country.

Ever since former president Ronald Reagan's May 5, 1984, decree proclaiming the first ever National Correctional Officers Week, departments of corrections have been holding celebrations the first week of May to recognize the numerous employees who keep their facilities safe and secure.

The U.S. Senate in 1996 officially changed the recognition event's name to National Correctional Officers and Employees Week to include all corrections staff regardless of title or job responsibility. This year, many DOCs recognized a variety of workers who elicited acts of bravery, courage, and the ability to go above the call of duty.

After kicking off its week with an official proclamation by Governor Edward Rendell, Pennsylvania honored employees in facilities across the state. In Harrisburg, sixteen practitioners were celebrated for outstanding performances. Other department employees across the state were also recognized, such as Erie Community Corrections Center director, James H. Wright, who was credited for expanding the center's population from 70 to 100 residents and for leading numerous center initiatives. Building trades and custodial maintenance repair instructor, Michael A. Filkins, was given a medal of valor for saving a man from drowning in a creek.

"Mike's willingness to put others before himself was displayed not only on May 5, 2007, but by his actions every day," SCI Cresson Superintendent Kenneth Cameron said in a statement. "Mike is a dedicated employee, an outgoing citizen and an exceptional person. It is a great pleasure to recognize him for this heroic deed and for his exceptional everyday contributions to his community."

Pennsylvania Correctional Industries laundry manager, Greg Heidler, also was honored for improving laundry facility performances and for his cost savings, training education and reentry initiatives in two PADOC facilities. Corrections employment vocational assistant Christine E. Meukel was given the PADOC's outstanding performance award for her willingness to assist others, while Christopher Robertucci was awarded the K-9 Handler of the Year award. CO George J. Smith received a medal of valor for aiding a staff member who was being attacked by an inmate, and CO Amy Nixon also was given a medal of valor for donating a kidney to a family member.

New Hampshire Governor John H. Lynch visited New Hampshire State Prison to celebrate the week. Lynch thanked employees for their dedication and hard work, and signed a decree proclaiming May 4 – 10 corrections employees week. The NHDOC will hold employee recognition ceremonies at individual facilities for a week beginning June 9.

The New Jersey Policeman's Benevolent Association Local 105 recognized the week with a luncheon that honored the New Jersey Department of Corrections' 2008 officers of the year.

"There can be no greater honor in the law enforcement family than to be recognized by one's peers," said NJDOC Commissioner George Hayman. "This is an opportunity to say, 'Well done,' to colleagues who have exhibited such qualities as bravery and resourcefulness, both on and off the job.

"Congratulations to all of the honorees and their families, and on behalf of Governor Corzine and the citizens of the Garden State, many thanks for the fine job you do each and every day."

According to Minnesota Department of Corrections communications and media relations director, Shari Burt, her department held " low-key events at our facilities and central office, like a lunch paid for by managers, pizza party, etc. "

She said the week served as time to come together and recognize our team efforts.

Virginia honored COs with a flag raising ceremony, and California recently held a medal of valor ceremony in Sacramento. The Calif. Department of Corrections and Rehabilitation awarded medals to COs Elizabeth O'Campo and William A. Roper, youth correctional officer Benjamin Flores, and parole agent Jimmy Gruender.

O'Campo was honored for rescuing a fellow officer who was being attacked by more than nine inmates. Roper saved the life of a woman whose pickup truck was on fire after an automobile accident, and Flores protected a youth correctional counselor from attack. Gruender successfully located and saved an elderly man stuck in a burning house.

In Texas, COs held a ceremony remembering their peer Susan Canfield, who was killed while trying to prevent two inmates from escaping. According to Michelle Lyons, a director of public information for the Texas Department of Criminal Justice, similar ceremonies were held at the Texas Prison Museum.

Highlights included a twenty-one-gun salute, the playing of "Taps," and a special presentation of a rider-less horse, which symbolizes the loss of a fallen comrade. During the ceremony, a tree was planted in Canfield's honor in the museum's living memorial display.

Hundreds of Missouri Department of Corrections employees joined Director Larry Crawford at the Jefferson City Correctional Center to celebrate correctional employees week. A choir consisting of department employees performed as Crawford presented the Director's Award of Valor to Farmington Correctional Center CO Jonathan Korn, who saved an 18-year-old female from a car fire.

The Florida Department of Corrections honored those killed in the line of duty by laying a wreath at an employee memorial located at the Wakulla C.I. training building. The ceremony honored 37 FLDOC staff that died while on duty.

Rhode Island also held a wreath laying ceremony to honor correctional professionals nationwide who killed in the line of duty.

Wyoming celebrated Correctional Professionals' Week with activities through out the department, and the Arizona DOC joined Governor Janet Napolitano in celebrating and recognizing department employees.

"ADC is proud of the work that our correctional officers perform," said Director Dora Schriro. "There isn't a day at the department that our correctional officers do not make a big difference improving public safety."

Illinois Department of Corrections Director Roger E. Walker Jr., and Illinois Department of Juvenile Justice Acting Director Kurt Friedenauer, honored five front line employees as 2008 correctional officers of the year at a ceremony in Springfield.

"In recognizing excellence during Correctional Officers' Week, and in recognizing correctional workers, your contributions extend well beyond prison walls," Walker said. "Many of you are leaders in your communities and many of you have served our country. You bring distinction to the job each and every day and we thank you for that. Through this steadfast support, IDOC continues to meet the challenges in operating one of the safest, largest prison systems in the nation."

Honorees included CO Sisawat Singmuongthong, CO Lynn Hodge, correctional residence counselor, Jonathan Stewart, parole agent James Stiers, and youth supervisor Dario Gonzalez.

Regardless of place, time, or activity, the nationwide celebrations of corrections employees' week all held a similar theme. They reinforced the message that every employee holds a special place in their respective facilities, and while their achievements may be celebrated just once a year, they are considered heroes every shift of every day.
---