Forty-five-year RIDOC veteran honored
By Jim Montalto, News Editor
Published: 06/18/2008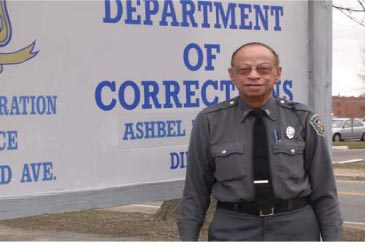 At a recent Rhode Island Department Corrections career awards ceremony Director A.T. Wall, II, recognized 79 employees who recently retired or reached significant anniversaries regarding their state service. Included in the celebration was 78-year-old Lloyd Hedges an Intake Service Center correctional officer who was honored for his 45 years of service.

In the Spring/Summer 2007 edition of the department's newsletter, RIDOC Review, Hedges discussed his career, experiences and accomplishments. He recalled being asked to install glass windows in a facility because no contractor was willing to do the work. Hedges said he put in 100 panes of glass in ten-degree weather as inmates sat quietly and watched. Not every experience was that tranquil Hedges remembered as he discussed the numerous riots, fights, and confrontations he faced, including being held hostage, twice, and frequently dodging televisions thrown at him by angry inmates.

He says he has a wall at home filled with honors for his years of service. One includes the Distinguished Correctional Officer Award he received in 1988 for his dedication and acts of bravery, which ranged from taking away the Mafia's paint cans filled with Canadian Club whiskey to saving an inmate's life after a suicide attempt. Hedges says he is very proud of the fact that he had been a CO for 42 years and ten months before calling in sick.

When asked about the advice he'd give young COs, Hedges said they should: seek God for wisdom, knowledge, and strength for each day; stand their ground and do what they're supposed to do; don't let anyone talk them into anything; and do what they think is right.

Hedges continues to work the 3 p.m. to 11 p.m. shift at the intake service center where he's been for 25 years,. He says he has no plans to retire any time soon.
---