Time Out!
By Our Readers
Published: 08/25/2008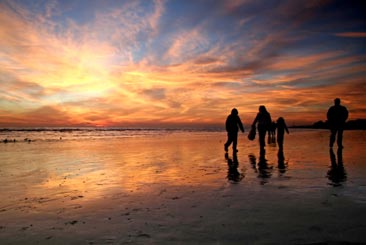 Editor's Note: This week and next we go beyond the job on the inside to recognize the activities practitioners enjoy on the outside. Whether it's the annual camping trip or supporting the Coast Guard, the dedication these professionals have to their off-time activities is quite an inspiration.



David S. Lloyd, Probation/Parole Agent, Wyoming DOC

I like to take a vacation with my son, Jonathan. I don't have custody of him, so I try to pack a lot (no pun intended) into our summers and holidays together.

We recently went backcountry hiking in the Colorado Rockies with my best friend and his oldest son, and it was incredible. We were miles from the nearest road, and everything looked pretty much like it would have thousands of years ago.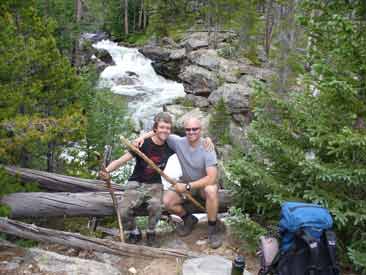 The highlight (for me) was the continental divide. For our sons, I think the highlight was seeing the parking lot after four days of hiking!

This is a photo of Jonathan and myself. I think it was day two, and we're sitting next to a river that starts at the continental divide and grows as it's fed by smaller streams on its way down.


Bob Carbo, Harnett Correctional Institution psychologist, Lillington, N.C.

It's a bird! It's a plane! No—it's a flying pumpkin!

By day, Bob Carbo is a mild mannered psychologist at Harnett Correctional Institution overseeing the SOAR (Sex Offender Accountability and Responsibility) program, in Lillington, NC. In his spare time, however, Carbo is one of the world's best punkin chunkers--hurling pumpkins great distances with the help of a homemade contraption modeled after a medieval catapult.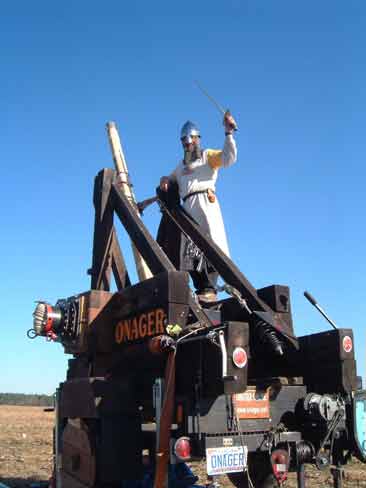 Punkin chunkin is not your average hobby. Hundreds or even thousands of spectators, young and old, come out to cheer as punkin chunkers compete, aiming for distance and sometimes at targets.

On the chunking field, Carbo stands out in his medieval headgear and chain mail with his catapult that looks like a medieval siege engine, complete with wooden wheels. His catapult's name, Onager, literally means "wild donkey" because of its nasty kick. Team Carbo consists of Carbo, his wife Michelle, his brother Paul, his longtime friend Gregg Bradstock, his son Ryan, and fellow Harnett Correctional psychologist Rich Bruner.

When it is time to fire, Team Carbo attaches the winch cable to the catapult arm. They cock back the arm, turning the winch via pedal power, thanks to Rich Bruner. The team carefully attaches the sling, containing a pumpkin, onto the arm. After a loud horn sounds AhhhOoooGah, they pull the release cord, sending the pumpkin flying through the air, over 1600 feet.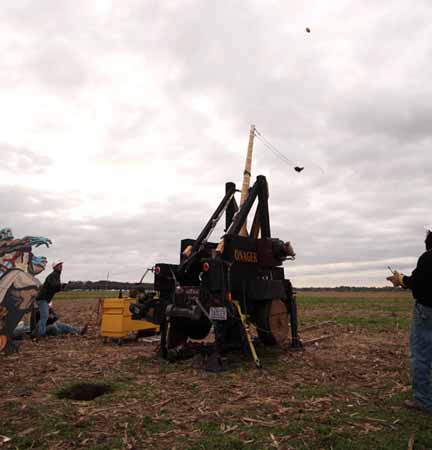 Carbo says he got started in 1994 when he went to his first competition out of curiosity and he got hooked immediately.

"There's just something so fascinating and fulfilling when the pumpkin sails through the air and goes splat," said Carbo. "It's a great stress reliever."

He started by building a miniature model catapult that launched golf balls, but his catapult is now pulled behind a pick-up truck and weighs over two tons.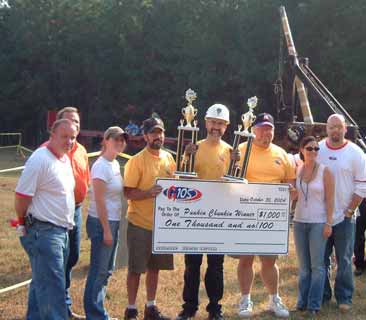 Carbo has earned some bragging rights over the years. He is a former world champion at the annual World Championship Punkin Chunkin in Delaware, a three-day festival attended by 50,000 spectators with more than 100 machines competing in various classes.

Team Carbo and the Onager has appeared in TV commercials, TV programs, and in a recent documentary called "Flying Pumpkins the Movie".

Team Carbo's web site is devoted entirely to the Onager and Punkin Chunkin. Beware if you decide to visit the web site – you may just find yourself getting hooked!

Dan Foor, Probation Officer, Michigan Department of Corrections

I have been with the MIDOC for 20 years, and currently travel the country and soon, the world with the Next Generation Power Force formerly known as the Power Team. For 20 years we have been the #1 school assembly in the United States.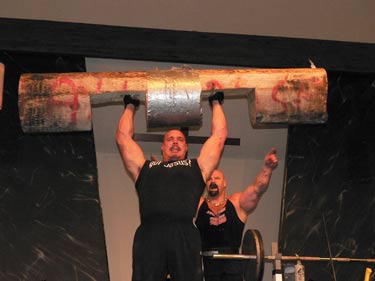 We use feats of strength to encourage children to remain drug and alcohol free, abstinent and to make good choices as they are growing up.

We have held school assemblies in front of more than 6,000,000 students and have been to 40 different countries. We have been featured on "Walker Texas Ranger" with Chuck Norris, People magazine and CNN.

Visit Foor's team website.

Jack Meyerson, Senior Clerk, Florida Department of Corrections, Probation and Parole

I collect seashells, from beaches like my local Lake Worth beach as well as places like Sanibel Island and other South Florida beaches.

Along with shells, I'll gather up interesting looking coral rocks to use as a base for making crafts, and the occasional piece of sea glass to add to the craft. The crafts can range from incense burners, to tea light candle holders, to paperweights.

It started one day when I happened to just pick up a seashell and place it on top of an interesting looking rock that rolled up in a wave, and I realized how neat it looked to put together unique shell sculpture pieces. I now have my crafts selling in a local downtown Lake Worth store.

Now and then I'll get a chance to attend craft fairs to sell them there and sometimes other local beach area shops are willing to put them on display in their stores as well. I also love to give them away as gifts.

When I'm not doing the beach thing, I find my other hobby interest is gardening; like taking seeds from my veggies and fruits and starting plants from the seeds. I guess overall, I love the outdoors and nature.

Donald Kirstine, Alaska Department of Corrections

I am the Correctional Industries Laundry Manager at the Lemon Creek Correctional facility in Juneau Alaska. I have been a licensed amateur radio operator for the last 20 years.

I can usually be herd on the 40 meter ham band checking into the Alaska Bush Net between 8 and 8:30 p.m. each evening. I am also on Echo link most evenings. I have lived in Juneau for the last 17 years with my wife and a platoon of pug dogs.

I also enjoy Scroll saw woodworking, metal detecting, and gold panning in my spare time. I have been with the Dept. of Corrections for the last 8.5 years. This laundry does all the laundry for the Alaska Marine Highways vessels in the southeast Alaska aria. We also do the laundry for eight of the small cruise ships (125 passengers or less) in the summer time.

Terri Telkamp, POIII, Barrow Adult Probation Office, Barrow, Alaska

This is what I do with my off-duty time, and how it came to pass. During my interview for a Mental Health Clinician II position at Spring Creek Correctional Facility in Seward, Alaska in 2004, Dr. Williamson, the man who would be my supervisor asked, "if you get the job, what will you do with your off-duty time?"

As a private pilot, I had long considered re-joining a volunteer organization I had been a member of for years in my youth, so without hesitation I replied, "I plan to renew my membership in the Civil Air Patrol, which is the voluntary search and rescue unit associated with the US Air Force."

Apparently that was the wrong answer, because Dr. Williamson literally tossed his pencil down on the table and stated emphatically that I would do no such thing!

I was shocked and my frazzled brain, which had already been grilled for the past half hour, went into overdrive. With a smile that helped me realize he was only joking, the good doctor explained that there was a far more interesting volunteer organization in Seward, called the Coast Guard Auxiliary (CGA), and if I joined any volunteer group that should be the one. Turned out, he happened to be Commander of the local Flotilla.

I got the promotion, moved to Seward, and within a month checked out this Coast Guard Auxiliary. To my surprise, I discovered I liked boating every bit as much as flying, even though I honestly didn't know port from starboard.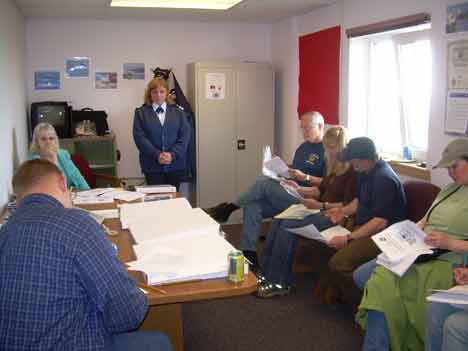 The training is intense, but within a year I was Crew Qualified on the Coast Guard Safeboat, which is a 25-foot high-powered fast response rescue boat. Working closely with the active duty Coast Guard, my teammates and I have donated many hours and provided many rescues, towed many stranded boaters throughout Alaska's coastal and inland waters, and taught safe boating classes.

But generally I've had more fun than you can imagine. By the end of my second year I earned my Coxswain rating, which means I can now "captain" the Safeboat. Four years later, my qualifications remain current and I still enjoy my off duty time working among the most dedicated and professional team of volunteers I've ever known. Dr. Williamson retired from DOC this year, but I can never thank him enough for getting me into this incredible organization.

I've since left the mental health profession, though not the Department of Corrections, as I switched careers and became an Adult Field Probation & Parole Officer in 2006. After a year in the Anchorage Probation Office, I was promoted to a supervisory position and now work with felony offenders from the Barrow Probation Office.

When I arrived in Barrow and anyone asked me "what do you do for fun?", you can imagine my reply. What was surprising, however, was the interest my off-duty "hobby" generated in those who heard about it.

On July 10, 2008, I hosted the first, ever, Coast Guard Auxiliary meeting in Barrow, Alaska. I have recruited two police officers, a court clerk, a computer technician, a state trooper (and his wife), and the attorney in charge of the Public Defender Agency. All will be sworn in later this summer, after we put on our first ever boating safety class at the local school.

And just to add even more excitement, the Active Duty Coast Guard recently arrived with some terrific "toys" to display on the beach as they begin their mission to determine the feasibility of an active duty presence in Barrow. You can bet that my off-duty band of potential new members and I will happily assist them, as we work together to bring boating safety and education to everyone in this very unique place on the edge of the Arctic Ocean.

Next week, more practitioners share their off-time stories
---