The process of dialogue
By Caterina Spinaris
Published: 09/08/2008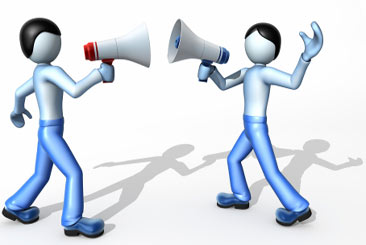 Editor's note: This story is being shared with us by Desert Waters Correctional Outreach. The non-profit organization and its newsletter, Correctional Oasis, are dedicated to the well being of correctional staff and their families.


Dialogue
1. a talking together; conversation
2. interchange and discussion of ideas, esp. when open and frank, as in seeking mutual understanding or harmony
From Yourdictionary.com

I heard once that we have one mouth but two ears because we need to listen twice as much as we speak. The need for strategic listening is never greater than when we find ourselves in disagreement with others, whether in our professional or in our private dealings.

Being alive includes experiencing friction with others. Whether it is administration negotiating with unions, supervisors clashing with subordinates, parents battling teen children, or husbands butting heads with their wives, conflict happens. In disagreements, our first urge is to try to overpower our opponents, to prevail in the argument and convince them that we are right.

However, conflict resolution experts suggest that, when at an impasse with others, we need to dialogue with them if we want to enjoy possible satisfactory resolutions and to preserve relationships. The goal of dialoguing is to try and find common ground with people with whom we disagree. That is why successful dialogue is exploratory in nature. It aims to help both parties identify and clarify complexities about their positions.

If arguing to win resembles a fierce game of tennis, dialoguing looks like deep-sea diving with our opponents in each other's territory with the goal of bringing discovered treasures to the surface. Dialoguing is built upon respect of the other party, humility to accept that we don't have all the answers, self-control and patience with the process of discovery and discussion, and the desire to maintain a working relationship with our opponents.

Effective dialoguing requires approaching each other with the goal to better understand each other's history, concerns, interests, context and foundational assumptions. Dialoguing also seeks to identify what is acceptable, valuable and meaningful to each party. This takes having a vested interest in long-term outcomes, not just brief victories.

Dialoguing presumes that all parties involved hold pieces of the puzzle, that they all have validity in their perspective. Through dialoguing all parties have the opportunity to recognize the value of each others' stance, and to acknowledge that the other party's contributions can advance and enrich everyone's thinking. This takes humility and a realistic self-assessment.

While engaging in dialogue all parties are expected to present their positions, while at the same time maintaining the willingness to reevaluate them in light of additional evidence. This takes integrity, courage and flexibility.

Ultimately, dialogue conducted effectively can help all parties come up with creative new possibilities to address their disagreements. For example, instead of verbally attacking someone over their doing something a certain way, dialoguing entails both parties presenting their positions.

Topics to be covered include the reasons for one party's displeasure with the other party's method; the other party's reasons for doing things their way; issues that would be impacted by change or lack of change for both parties; and alternatives that exist for addressing both parties' agendas effectively. Of course all this takes time and effort. Dialoguing is hard work.

When we look at the toll of broken relationships and divided teams, however, it becomes apparent that investing in dialogue is well worth it. In fact, we can't afford not to dialogue!
---