Night at the museum
By Ann Coppola, News Reporter
Published: 10/06/2008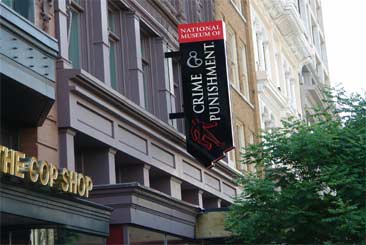 The National Museum of Crime & Punishment (NMCP) is the ultimate crime junkie's dream. The 28,000 square-foot venue, located in Washington, D.C., offers exhibits on everything from the masked executioners of the Middle Ages and bank robbers Bonnie and Clyde to the science behind DNA testing. But the museum, which opened last May, isn't just about the aspects of the criminal justice world that end up in movies and on television.

"An important component of the National Museum of Crime & Punishment is that it pays tribute to the law enforcement officers dedicated to the safety of the public," says John Walsh, the museum's founder who is best known as the host of America's Most Wanted. An entire level of the museum is devoted to the year-round filming of the crime fighting television show.

"From personal experiences, both in life and traveling the world for America's Most Wanted, I have seen first-hand their unwavering commitment to the fight for peace and justice," Walsh adds.

NMCP took just seven months to complete. Three floors of five galleries dive into crime history, crime fighting, crime scene investigation (CSI), and crime's consequences. Instead of assembling long hallways simply filled with things to look at, NMCP created a truly interactive experience.

"We have so many interactive features," says NMCP Chief Operating Officer Janine Vaccarello. "I can't even say how many families have come through with parents saying they have to drag their kids out of here."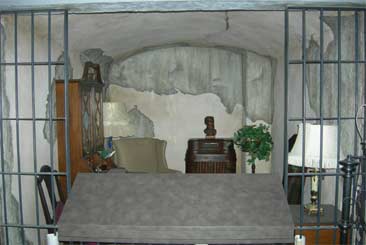 Replica of Al Capone's cell



In the CSI wing, visitors enter a crime scene and interact with evidence to solve the case in a real crime scene lab. "Murder in Apartment 13" asks museum-goers to solve the whodunit by gathering clues and evidence. At the crime lab, visitors learn how forensic technology uses finger prints, dental identifications, and facial reconstruction to solve crimes.

"We want to show a more realistic view of what law enforcement has to go through in terms of solving a case, from beginning to end," Vaccarello explains. "A lot of what you see on TV shows isn't reality. We want to teach people not just about the history, but to give them a better understanding of the law enforcement community."

Those interested in what life after committing a crime is like can experience several authentic artifacts and scenarios. NMCP has a full-scale model police station where visitors can try out a simulated lineup queue with auditory orders, a lie detector test, a booking and mug shot room, and a jail cell. The gallery even features "the ultimate implements of punishment" - a guillotine, gas chamber and electric chair.

Visitors can test out their own crime-fighting skills in the simulated Federal Bureau of Investigation agent training exhibit. The gallery offers a shooting range and a high speed police pursuit in video-game like simulators. Both tools are currently used by the FBI to train its agents.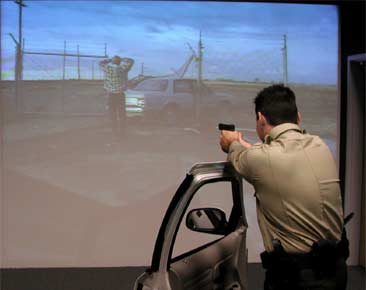 The shooting range simulator



In the fast-paced and constantly evolving world of criminal justice, it's likely that many of the museum's exhibits will need to be updated frequently. Just a few weeks ago, federal prosecutors declared scientist Bruce Ivins the sole culprit in the 2001 anthrax attacks via United States mail. NMCP had a board on the case in its "Unsolved Cases" section and had to update the exhibit.

Despite all of its artifacts and high-tech gadgets, NMCP is most proud of its mission to give back to the community. McGruff the Crime Dog is in the museum every day, providing safety tips and posing for pictures with children. NMCP also provides free fingerprints and printout identification cards for children.

"We feel like we're providing a service to the community," Vaccarello says. "It's not just having a place for people to come and learn and interact. It's also a place to do community outreach."

NMCP is still only a few months old compared to its famous Washington, D.C. museum counterparts, but it strives to be on par with the museum elite.

"We would like to be able to mimic what the International Spy Museum does, which is attract 700,000 to 750,000 visitors a year," Vaccarello adds.

Given our seemingly limitless fascination with the world of crime, that doesn't seem too far off.

Related Resources:

Visit McGruff.org


---