Disturbance on Lake Ego
By Joe Bouchard
Published: 12/15/2008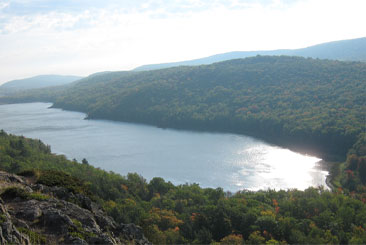 (Photo: Lake of the Clouds in Michigan, by R. Bouchard)

Let's take a trip – an ego trip. It is very easy to do, and it is a journey in self-exploration. Just relax and let the words take you there.

Imagine yourself on a warm and isolated beach on an idyllic inland lake. Fragrant winds blow inland. You are comforted by the pleasing mix of pine and maple trees that form a green and natural barrier from outside intrusions.

Blissfully alone, you are in your safe place and secure from any outside threats. As you skip a flat stone on the glass-like, placid surface, tiny ripples develop. They cause nothing but pleasure.

It is as if the lake is at your will as shapes manifest on it by your actions. In effect, you are lord and master of this little slice of paradise.

Suddenly, out of nowhere, there is a colossal cataclysmic collision of boulder on water. A stone as large as a rhinoceros shatters the lake's glass-like surface, and heaves into your aqueous sanctuary by some unseen and powerful being.

Ripples flood the shore. You are helpless as the surrounding vegetation in the danger that comes with the wake. Your world is shattered.

Now, think of yourself as a big fish in another little lake. You command this body of water as if it your own. Smaller fish kowtow to you. Little did you realize that there is a bigger fish in the lake. You do not know how it got there. But, it is there! Then, as if you were never the big fish, you are no longer in control.

In our work life, how often do we see the big fish in the little pond, swimming by with arrogant assurance? Yet, there comes a time when that fish is blown out of the water by another fish that may be smarter, more talented, or more determined.

Certainly, we need assured and ambitious types in corrections. They push the envelope and excel, serving as points of aspiration for us all. Their enthusiasm, when properly directed, makes for a quality that makes a great mentor.

However, some ambitious individuals are imprisoned by their own egos. They build a reputation around themselves and their workplace. They declare themselves as the local champion.

Yet, even as they are settled in their comfortable corner of the world, others may threaten their primacy with ability. Often, the challenger inadvertently treads on what the local hero considers his or her own sacred ground.

This disruption may cause an interpersonal rift. Though the new challenger may simply be a dynamo, the local champion feels that this is a personal assault designed to discredit and disrupt the status quo.

This can result in many offensive moves. One might see slander, sabotage, hyper-competition, and harassment. And all of this is in the name of protecting a fragile ego. Unfortunately, this may cause the productive new element to react defensively, exacerbating the rivalry.

Of course, this is dangerous in corrections, as some could encourage staff division for their own comfort and possible profit. In other words, opportunistic offenders and unscrupulous staff can stoke the fires of division, making the facility a perilous place.

The danger lies in the inability of feuding staff to cease hostilities and monitor their areas for danger and contraband. Unfortunately, ego-driven contests detract from safety.

There are many ways to lessen the ill effects of egos gone wild on the worksite. Here are some suggestions.

Focus on the bigger picture. The worksite should promote the mission statement and the notion of safety for all and by all. Training should be offered on teambuilding.

Giving credit in good measure is important. Climbers often seek acclaim, even if it is not warranted. Yet, there are many who achieve many good things under the radar. It is imperative that supervisors sing the praises of the unsung heroes, while not over-praising climbers.

Do not disenfranchise future talent by deifying current talent. Refrain from rewarding glory grabbers with undue recognition for ordinary tasks. Look at the results and process rather than the presentation. Credit given should be credit earned.

Place those who crave attention and praise on special assignments. Let them earn the kudos.

Lake Ego can be a very relaxing place. And it is even more comfortable when there are few visitors to challenge the reigning champion of the neighborhood. However, Lake Ego is not completely inaccessible. Some would want to stagnate in their own paradise, but that is not the way of the field.

Those who believe that they are safe from challenges from other areas need to assess the geography. It may disturb the peace of mind.

But knowing that Lake Ego can be reached by others prepares one for professional and personal growth. In the end, an unbridled ego can be modified and transformed into a healthy component of the team.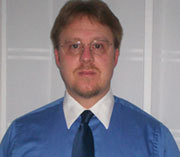 Regular Corrections.com columnist Joe Bouchard is a librarian at Baraga Maximum Correctional Facility within the Michigan Department of Corrections. He also is a member of the Board of Experts for "The Corrections Professional" and an instructor of Corrections and Psychology for Gogebic Community College. You can reach him at (906) 353-7070 ext 1321.

These are the opinions of Joe Bouchard, a librarian employed with the Michigan Department of Corrections. These are not necessarily the opinions of the Department. The MIDOC is not responsible for the content or its accuracy.

Other articles by Bouchard:

Jon and Kate, plus 800?

Eek! It's the B.A.T.
---