A helping of great help
By The Corrections Community
Published: 12/29/2008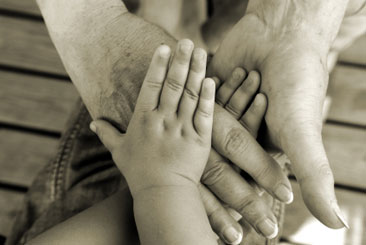 Editor's note: From across the nation, we find examples of corrections professionals giving up their free time or giving a part of themselves so others not so fortunate can benefit. These are their stories.

North Dakota

Hidden gems
By Don Redmann, Warden, James River Correctional Center

Jamestown, North Dakota, pop. 14,600, sits in the middle of the state along Interstate I-94. Often referred to as the "Buffalo City", Jamestown is noted for it's three albino buffalo belonging to a herd managed by staff at the National Buffalo Museum, which is located on the outskirts of town.

One of the hidden "gems" of this community is the staff at the James River Correctional Center. This state run prison is "home" for 415 medium custody inmates.

Originally a medical ward for the North Dakota State Hospital, it was converted to house inmates in 1998. Supervising this inmate population is approximately 200 well-trained, professional staff.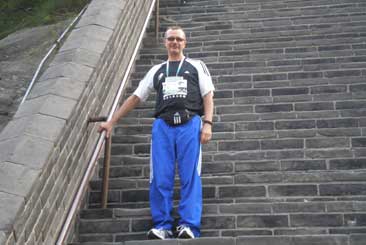 In addition to the rigors of correctional work, this caring group of people has been working feverishly to raise monies in support of Special Olympics, in particular the Law Enforcement Torch Run. The Law Enforcement Torch Run, charity of choice for most law enforcement agencies, is a national event held to raise awareness for Special Olympics and the athletes who participate in the program.

JRCC staff initially began participating in the Law Enforcement Torch Run in 1999. Next year will mark the tenth anniversary of JRCC's involvement.

JRCC staff also has been actively involved in fund raising efforts for the Torch Run. These efforts began in 2005, with a "Tip A Cop" event at the local Paradiso restaurant.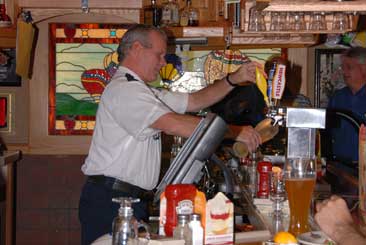 "Tip A Cop" events involve local law enforcement staff waiting tables in exchange for "tips" for Special Olympics. This one night event raised over $900.00.

Other fund raisers that have been held for Special Olympics include: Cheeseburger sales to the inmate population, t-shirt sales, raffle ticket sales, Tip A Cop – Applebee's, and last, but not least, the Polar Plunge.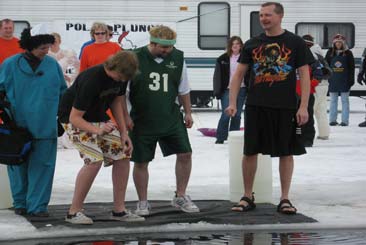 The Polar Plunge, which is North Dakota's only Polar Plunge, began in February 2007. This has turned into JRCC's biggest fund raising project.

It involves cutting a large hole in the ice. Participants raise donations for the "privilege" of plunging into the icy waters.

Prizes are awarded to plungers who raise the most money, have the best costume, and who has the best belly flop. Even though no one had ever removed ice that was three feet thick from a lake before, staff was up to the challenge and has since mastered the process. The initial event raised $18,000.00 and last year's event rose over $20,000.00. The upcoming Polar Plunge is going to be held on February 14, 2009 (Valentine's Day).

New Jersey

Ho, Ho, Ho
By Matt Schuman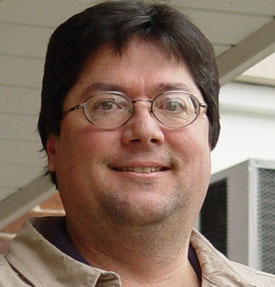 Shortly after the birth of his daughter, Greg Grochowski came up with a holiday alternative to waiting in line at the mall so that his child could spent a few precious moments with jolly old St. Nick.

He purchased a Santa Claus suit of his own.

"What happened was, a neighbor found out about the suit," related Grochowski, a classification officer who came to the New Jersey Department of Corrections in 2001.

"Then another neighbor heard about it," he continued. "And another. It reached the point where I began walking around the development in the suit and visiting kids a few nights before Christmas."

Victoria is 6 now and attending New Egypt Elementary School, which hosts a holiday bazaar each December. Naturally, the featured guest at the bazaar is the fellow from the North Pole with the white beard and the red outfit.

A short time before last year's bazaar, Grochowski was approached by the mother of another New Egypt student. She knew about his Santa Claus suit.

"She said to me, 'My gosh, the Santa we had last year was just terrible,' and she asked me to do it this time. So I did," reported Grochowski, who spent 17 years with the State Parole Board before coming to the NJDOC.

Instead of playing Santa for his own children – Victoria and her 5-year-old brother Benjamin – and a few kids in the neighborhood, Grochowski spent an entire day at the school, where more than 300 students sat on his lap and shared their Christmas wishes with him.

As it turned out, Santa enjoyed himself at least as much as the hundreds of youngsters with whom he met.

"A few years ago, I dressed like Tigger (a character from Winnie the Pooh) for a nephew's birthday party, and, to be honest, I felt pretty dumb," Grochowski said. "But Santa is a totally different kind of experience. I don't know how to explain it, other than to say it's just special.

"The kids are so excited to see you. They're waving and shouting your name. Then they tell you what gifts they want. Some kids actually bring along a list with maybe 35 or 40 items on it. They show you photos. One of the things that makes it so enjoyable is that each child reacts a little bit differently, you never know what to expect."

One child requested a quad, while another wanted a BB gun. "I think the child's mother was mad at me," Grochowski said with a chuckle, "because I said maybe instead of no."

Grochowski's most emotional conversation of the day was with a young man perhaps 12 years old who was accompanied by two sisters and a brother.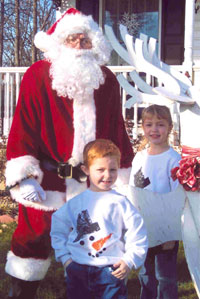 Santa Claus (a.k.a. Greg Grochowski) is joined by his two children – Victoria, 5, and Benjamin, 4.



"The kid looked me square in the eye," Grochowski recalled, "and said, 'I don't want any toys. I want my father to come home from Iraq for Christmas.' I told him I'm really good with toys, but that's a tough one. Then I asked if he'd be happy with a phone call from his dad somewhere close to Christmas, and he said that would be great. So we took a few bucks from the proceeds [generated by the bazaar] and gave the family a phone card."

As it turned out, all three of the boy's siblings had the same request.

"It was difficult," he admitted. "I told the photographer to give me a few seconds to get my composure, and we ended up taking a short break. Those are the kinds of things that stay with you for a long time."

So successful was Grochowski's performance at the bazaar that the parents of a group of developmentally disabled students at the school asked him to make a return visit on behalf of their children. He's gladly accommodated them.

"The kids really responded well, including a few who were autistic," he said. "One parent told me it was the first time her child, who was about 7, ever sat on Santa's lap. The photographer was having trouble taking pictures, because by the time we were finished, practically everyone was in tears."

This might have been the first time Grochowski served as the official Santa Claus of New Egypt Elementary School, but it certainly will not be the last.

"Somebody from the PTA told me that when my children graduate from high school, I'll be allowed to go," he said. "Until then, I'm their Santa Claus."

Rhode Island

The true meaning of the holidays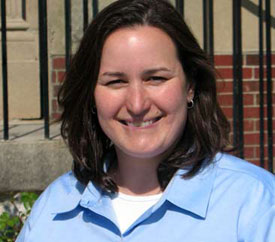 Heidi DuPerry, a Rhode Island Department of Corrections probation and parole officer, recently received the Torch Run Flame of Hope Award for her continued support and tireless work to support the Special Olympics Rhode Island. She was called an extraordinary volunteer who exemplifies the meaning behind the Torch Run Flame of Hope Award.

Heidi first became involved with Special Olympics Rhode Island as a member of the RI Sheriff's Department Honor Guard, marching into Opening Ceremonies at the State Summer Games. A short time later, Heidi became the department coordinator for the Sheriff's Department, selling Torch Run shirts and Harley raffle tickets to anyone and everyone she saw.

Heidi is a member of the Torch Run Executive Committee and attends many Special Olympics Rhode Island events, such as the Sports Celebrity Carnival and the Fashion Show. Not only does Heidi sell tickets for the Fashion Show, she also has the hard job of recruiting men from her department to model.

Heidi also isn't afraid to "take the plunge" as she has participated in both the annual Jamestown Penguin Plunge and helped to coordinate the1st annual Torch Run Plunge. Basically, there isn't much that Heidi can't or won't do. She has genuine love and passion for the mission of Special Olympics. As the recipient of the 2008 Guardian of the Flame Award, Heidi has truly "inspired greatness."

Michigan

Little gifts bring big rewards and save lives
by Joe Bouchard

It is no secret that corrections staff place their lives on the line every day. Everyone in the profession - officers, support staff, programs professionals and administrative personnel - work in a potentially dangerous place. These are the few who are equipped to face peril on a daily basis and keep staff, offenders and the public safer.

In another sense, there is a group of corrections professionals who literally become a life enhancing part of the public. In a very real way, they give their life essence to those who need to maintain and prolong health and life. These are the staff who donate blood.


Blood is needed for emergencies and for people who have cancer, blood disorders, sickle cell, anemia and other illnesses. Some people need regular blood transfusions to live. For nearly 5 million people who receive blood transfusions every year, your donation can make the difference between life and death. In fact, you may help save up to three lives with just one donation.
Some corrections staff donate the precious life-giving gift on their free time. This is also done on a worksite or facility level.

Many agencies encourage blood donor centers to come to their institutions and accept donations. Often, employees are permitted to give blood while on the clock.

I am fortunate that the facility that I work for has constantly supported blood drives, making it easier for staff to feel part of a larger, worthwhile cause.

There are so many benefits to blood donation:
The constantly taxed blood banks can be replenished; Local medical centers can rely on a steady flow of blood resources from corrections worksites;
It is the ultimate version of recycling – blood is a renewable resource;
Male staff benefit by lowering iron in the blood with each donation;
All staff benefit through a pre-donation health check;
The public who uses the blood are given a second chance at health or life;
Staff can gain a quiet sense of inner pride in helping others;
Some may feel a spiritual connection in prolonging the lives of others. Still others feel a pragmatic pull toward the cause. What ever the philosophy, giving blood benefits donors and recipients.
A blood mobile comes to our facility at least 3 or 4 times a year. And it is heartening (no pun intended) to see regular staff return.

Truly, little gifts can bring great rewards. But do not be dissuaded from giving with the thought that one donation will not matter. It is the notion that though we may give a figurative drop in the bucket, it all adds up. And corrections staff who donate blood are heroes – one pint at a time.

You can learn more about donating blood by visiting www.redcross.org.

Wyoming


A healthy connection
by John R. Horton

The Order of Eastern Star is a Masonic organization that both women and men belong to. I have been a member since 1990, but this year I am the highest male officer in the state, called the Worthy Grand Patron.

The highest officer is always a woman, and many of the other officers have to be women. Eastern Star, whose symbol is a five-pointed star with each star referring to a female character in the Bible, is fraternal, charitable, educational and spiritual, but it is not a religion.

My job this year was to visit every chapter in Wyoming, usually by visiting two on many weekends. So far, we have made two 650-mile weekend trips, and have attended the annual state meetings in Colorado and Utah.

Our special project this year was to raise money for Susan G. Komen of Wyoming to help them combat breast cancer. My partner is a breast cancer survivor and is presently undergoing chemotherapy while she is making all of these official visits all over the state with me. Jana is my good friend and a very good leader for Eastern Star this year.

Everyone needs something to do that connects them with the community away from WDOC. For me, the Order of Eastern Star has connected me with a wide range of people in all walks of life who are interested in taking care of each other, the opposite of hurting each other.

Tennessee

Helping their own

This year, Corrections Corporation of America employees nationwide donated approximately $312,000 to fellow employees through the company's CCAssist Fund. By November, the Fund, which helps employees faced with mounting bills related to personal crisis, had provided aid to more than 700 employees and their families.

"Much of the assistance we provide helps employees who have faced the devastation of floods, tornadoes and hurricanes; major illness of the employee or a family member; and overwhelming funeral expenses," says Steve Groom, CCA deputy general counsel and vice president, who also serves as chairperson of the CCAssist Board of Directors and its Advisory Committee.

The CCAssist Fund was established in 2006, to reduce the financial strain employees experience when faced with accidents, medical misfortunes and natural disasters that practically no amount of planning could have prevented. Since its inception, the Fund has distributed nearly half a million in employee-donated dollars to fellow CCA employees and their families.

Many CCA employees in Texas this year received assistance in the aftermath of Hurricane Dolly in July and Hurricane Ike in September. Nearly 80 percent of employees at the company's Houston Processing Center and Willacy County State Jail (Raymondville, Texas) applied for aid to repair damage to homes and vehicles.

Overall, 2008 has represented a record year in giving for the CCAssist Fund. During 2006 and 2007, the Fund distributed $21,000 and $138,000, respectively. "Each year, we have seen the level of employee giving climb, with nearly 20 percent of our workforce now contributing to the program" says Rick Seiter, CCA executive vice president and chief corrections officer, who also serves on the CCAssist Board of Directors. "We take care of each other. These funds, which have helped employees tackle a range of dilemmas."

Employees submit requests privately and, if approved, receive assistance confidentially. The Fund is available to CCA's nearly 17,000 employees nationwide in the event of a qualifying hardship. Any CCA employee, regardless of position or time with the company, can apply for immediate assistance of up to $500.


---