Reducing recidivism - an exploration of one county's effort, Part I
By Aaron M. Henderson and Deb Perry
Published: 02/02/2009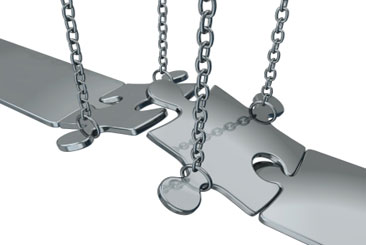 Editor's note: This three-part series discusses a three-year study that monitored the effectiveness of an Indiana county's efforts to reduce recidivism rates on individuals assigned to probation and/or community corrections programs. Part one begins assumptions and background of the study.

In order to evaluate social service in the field of delinquency, it is necessary to check up the service from time to time. It is well to ascertain what results are achieved toward the readjustment in the community of the handicapped individuals who we commonly call 'social misfits', (Menken, 1924).

Therefore, in an effort to determine the effectiveness of local evidence based programming on offenders in Blackford County, Indiana, a three-year study has been conducted to compare the rates of recidivism between those who received evidence based practice programming and those who have not. The data was collected matching offenses, basic risk assessment and level of offenses against those who have successfully completed specific programming and those who have not.

This article will outline the programming provided to individuals based upon their risk, and the programs to which they have been assigned. In an effort to understand the totality of the situation facing the judicial system in Blackford County, a foundation for the need for this study is outlined as well as the progression which has led to the change in attitudes and activities associated with the supervision and efforts at rehabilitation.

Many other projects of research have helped define the need for localized community based programming to aid in reducing the rate of recidivism. As noted, "the greatest reductions in recidivism are often associated with community-based programs, not programs found in institutional settings," (Rhine, 2002).

Background

Beginning in 2003, efforts began within the Blackford County Community Corrections Department and the Blackford County Probation Department re-analyzing the programs and methods in which offenders were served. Based on historical knowledge of recidivism and the classifications of offenders that were often dealt with, little progress was being made to reduce an individual's likelihood to return to the criminal justice system.

While the continuum of sanctions within the judicial system clearly increased supervision based on the return to the criminal justice system, many offenders were classified and categorized based on a rudimentary risk classification system. As a result it was determined, inaccurately, that those who presented a higher risk to re-offend were automatically destined to return to supervision in the future.

Conversely, those at a lower risk were categorized as having the potential to return and were thrust into specified programming. However, changes within the criminal justice community led to an overhaul of the current system and provided a glimpse of hope that an offender's likelihood to re-offend could be dramatically reduced.

Efforts were then made to accurately understand risk and the factors that increase an individual's risk as well as those factors that can reduce risk.

Assumptions

A host of studies have been conducted to determine the effectiveness of evidence- based practices, or those practices that are supported by sound scientific documentation outlining their effectiveness and proven success. While the results of those surveys are independent of the present study, there is a need to compare localized results to those national surveys conducted and analyzed.

In January, 2006 a national survey was conducted comparing multiple programs and their success/failure over a 35 year period. Results of that survey notes that a variety of factors contribute to an individual's likelihood to re-offend.

Most notably it was found that those programs which provided intensive supervision coupled with treatment-oriented programs, proved to reduce the rates of recidivism far better than those programs which did not offer both in combination, (Aos, Miller, & Drake, January, 2006).

While it is the focus and direction of local resources to reduce the likelihood that an individual will re-offend, it is necessary to investigate and research the likelihood that a program may increase the risk to re-offend. Such research has been conducted and analyzed through multiple sources.

The findings of these studies have concluded that placing low-risk offenders in programs designed for high-risk offenders actually will increase the rates of recidivism for this population.

"Research has indicated that intensive treatment and supervision for low-risk offenders has increased this population's recidivism rates," (Andrews D. , Zinger, Hoge, Bonta, Gendreau, & Cullen, 1990).

Therefore, there is an apparent association with a person's risk/needs and their likelihood to re-offend. This further supports the need to closely match the offender with specific needs and risk.

Reducing Recidivism

"National recidivism rates are staggering; 2/3 of inmates will be re-arrested within three years of their release," (Moll, 2006).

A recent study by the Indiana Department of Correction indicates that approximately 1/3 of all State Inmates will return to the Indiana Department of Correction within the same time period. (Garner, 2008). In an effort to reduce costs associated with incarceration in addition to secondary costs of criminal behavior within Blackford County, great care and consideration has been given to ensure that the correctional opportunities are in place to effectively reduce the rates of recidivism among offenders.

Changes in policies and procedures over the past three years have allowed for additional evidence-based practices to be utilized with offenders in the Blackford County Criminal Justice System. It is the overall goal of these programs to reduce the rates of recidivism while preparing offenders for re-entry into society with the social tools necessary to be successful and productive members of society.

"Eventually, 93% of all inmates are released back to their communities," (Dennehy, 2006, December). Therefore, it is necessary to do everything possible to make sure that a substantial number of these individuals do not return to criminal behaviors, especially when evidence can support the reduction of recidivism by the implementation of specific programming.

In part two, next week, the Risk/Need Principle and assessment tools are discussed.


---